The Reason Ambrosia Salad Is A Southern Holiday Tradition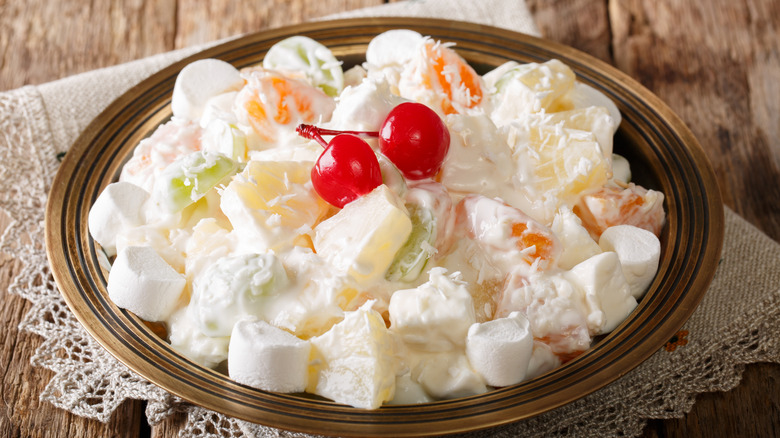 AS Food studio/Shutterstock
The holidays are a time for gathering with family and friends — but also for indulging in foods that you may only get to enjoy once a year. Everyone has their favorite holiday food traditions, whether it's Grandma's homemade fudge, the juicy glazed ham that's always on the Christmas dinner table, or the gingerbread cookies you bake with your family. According to a YouGov poll, however, what you eat during the Christmas season may also be affected by where you live. The survey found that people who live in the Northeast, for instance, are more likely to eat lasagna or baked ham at their holiday meal while those in the South are more likely to dig into black-eyed peas or macaroni and cheese.
Another popular dish in the Southern United States is ambrosia salad. But don't be fooled by the "salad" moniker — this traditional dish doesn't contain any lettuce or veggies. Instead, it's typically made with Cool Whip, canned fruit, and shredded coconut, and topped with maraschino cherries. How did it become something associated with holidays in the South? Here's some of the history of ambrosia, and how it came to be what it is today.
The first recipe for ambrosia was invented in the South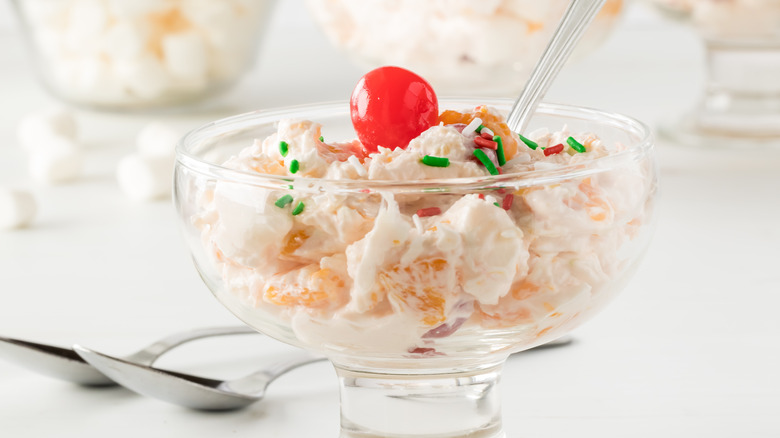 Toasted Pictures/Shutterstock
For many people who live in the South, ambrosia salad is somewhat of a way of life, especially around the holidays. It wouldn't be a Christmas dinner without a bowl of the fluffy, fruity, sweet stuff sitting front and center on the table (after all, it's a side dish, not a dessert, according to Southerners!). The first reported recipe for ambrosia came from a North Carolina cookbook titled "Dixie Cookery: or How I Managed My Table for Twelve Years" in the 1860s and contained just three ingredients: Oranges with the pulp removed, fresh grated coconut, and sugar (via Serious Eats). It grew in popularity primarily in the South because that's where oranges were grown and where they were cheaper and more accessible.
Through the years, ambrosia salad has remained a tradition in the Southern states. "It is not fancy, but it tastes happy," As Lifehacker explains, the dish is not a fancy one but it tastes like an upscale treat with sweet and tangy notes, which many have compared to that of cranberry sauce. The outlet also adds that ambrosia now comes in all different variations, one of which features Cool Whip, cherry pie filling, canned pineapple, and condensed milk.