Duff Goldman Revealed The Favorite Cake He's Ever Made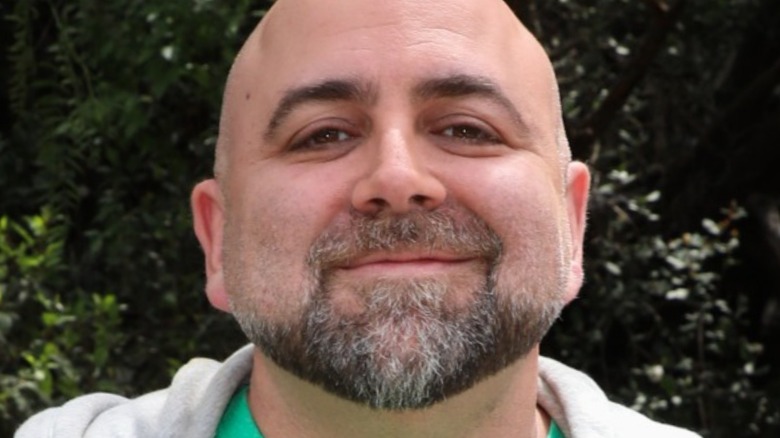 Paul Archuleta/Getty Images
If you look at Charm City Bakes Instagram page, you will know that there's nothing, absolutely nothing that the "Ace of Cakes" host Duff Goldman and his team of pastry wizards can't make. A three-tiered cake is easy-peasy for the pastry chef when both Goldman and his Baltimore-based bakery are famous for creating realistic cakes fashioned after the likes of burgers, fries, and a soft drink (via Instagram). Even more stunning are Goldman's life-sized cakes inspired by creatures of nature, like a giant elephant bigger than Goldman himself (via Twitter) and a deer and lion masterpiece created on his show "Buddy vs. Duff" (via Instagram).
There's nothing that you can imagine that Goldman can't bring to life with some sugar, eggs, and flour. Naturally, Goldman is the baker that even celebs ring up in their hour of need. In fact, he's a pretty famous pastry chef in Hollywood. Goldman told Parade that he's been baking cakes for "Harry Potter's" American premiers for years. His stunning showstopper for "Harry Potter and the Deathly Hallows: Part 2" premiere was a replica of Hogwarts and even had fire and smoke (via Food Network).
As prestigious as having the honor of Rupert Glint cut into his cake may be, the Hogwarts replica isn't Goldman's favorite cake.
Duff Goldman is a Star Wars fan
Answering to Food Network's "Obsessed" podcast host Jaymee Sire's rapid-fire questions, Duff Goldman was quick to admit his favorite cake was a giant R2-D2 robot cake that he baked for the "Star Wars" director George Lucas himself.
In a previous interview with The Daily Beast, Goldman confessed that he is a huge sci-fi nerd. So when he got the opportunity to not only bake a cake for Lucas, but also spend one week at Lucas' workplace Skywalker Ranch near San Francisco to bake it, the experience made it his favorite creation. "It's the most amazing thing that's ever happened to me," he confessed to Sire on the podcast.
Considering Goldman is a "Star Wars" buff and that he was baking a cake for the legendary director — and the fact that it's Duff Goldman that we're talking about — this was no ordinary robot cake. According to Forbes, the R2-D2 cake was a life-sized cake creation big enough to feed 400 people and had over 300 LED lights.
Since then, per Goldman's Twitter, the pastry chef has recreated the R2-D2 cakes many times, but none have been as extravagant as the one he made for George Lucas.