Pizza Hut's Returning Triple Treat Box Is Enough To Feed Your Whole Family
Feeding your whole family can be challenging enough on busy weeknights, but during the holiday season, it can be even trickier. While Mashed has some cheap and easy meals your family will love and easy one-pot recipes, sometimes it's quicker to just order out and spend time cooking a special dinner later. Thankfully, Pizza Hut's got your back this season with its returning Triple Treat Box, which includes dinner and dessert.
Chew Boom recently announced that Pizza Hut's Triple Treat Box — which has been a limited edition item during the holiday seasons — will be returning for 2021. According to the outlet, you'll be able to pick up the deal at Pizza Huts all around the country. Packed with plenty of goodies, this box will be enough to feed your whole family. Of course, you can also order the Triple Treat Box for two and save some for later.
What's in Pizza Hut's Triple Treat Box?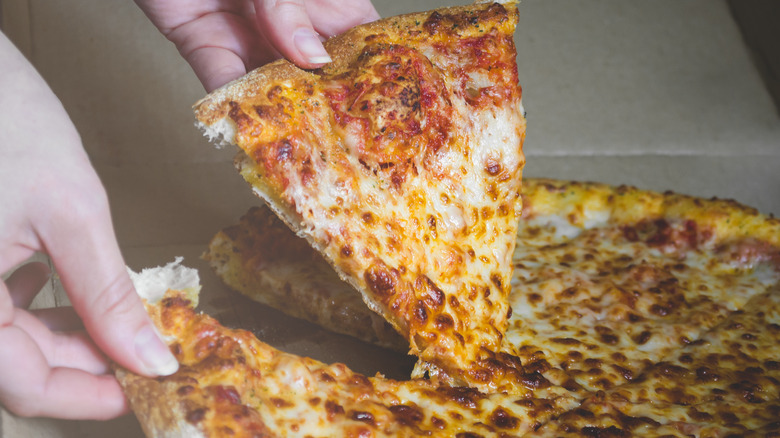 Joey Laffort/Shutterstock
A press release from 2020 said Pizza Hut's Triple Treat Box includes two medium pizzas with one topping each, five breadsticks, and 10 mini cinnamon rolls from Cinnabon. Chew Boom reported the same inclusions in the box for this year and reported that one treat box will cost $22.99. For this much food and convenience, that's a great deal. Plus, you can pick your own toppings to make sure whatever pizzas you get will be crowd-pleasers. "You'll have visions of cheese, parmesan dusted breadsticks, and frosted cinnamon swirls dancing in your head," the 2020 press release read, and we absolutely think that this is an accurate description of the Triple Treat Box. 
Holidays can get hectic, so order dinner from Pizza Hut and spend more time decorating, wrapping presents, and spending time with your loved ones. Want to add more than just the Triple Treat Box to your order? Here are the popular Pizza Hut items ranked to help you choose the most delicious products on the menu.