Chef Nyesha Arrington's Chocolate Cranberry Ganache Tart Recipe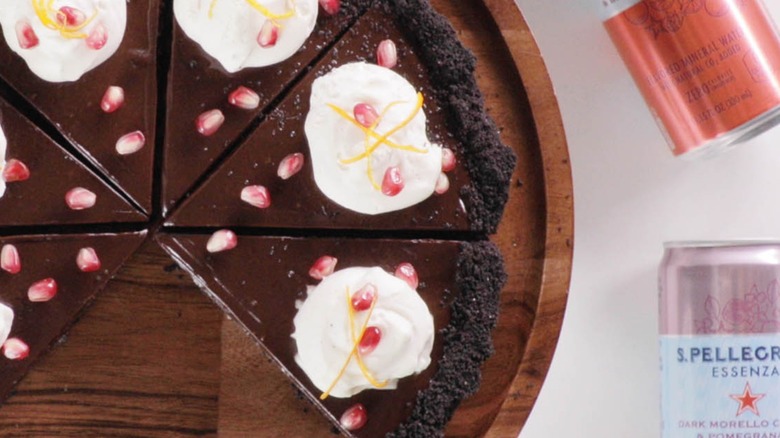 S.Pellegrino
Happy holidays — or happy any day (trust us, this tart is too good for just one season) — from Nyesha Arrington, comes a dessert your taste buds won't forgive you for never having sampled before. The beloved "Top Chef" contestant and co-host of the up-and-coming "Next Level Chef" doesn't treat something sweet as an afterthought. "Growing up and having family holiday dinners was great, but it always came down to, 'what's for dessert?'" Arrington leveled with Mashed. 
The chef weaves her singular magic by evoking family memories through food. She's already given you the keys to her Great Grandma Lena's lemon meringue pie, a recipe that you'll find on Instagram. As for the chocolate cranberry ganache tart that Arrington shared exclusively with Mashed? It's inspired by her father's sweet tooth. We'll hand the mic to Arrington to convince you to make it. "The nuances of orange and vanilla play elegantly with the deep richness of chocolate," the celebrity chef told us. "It's fun creating the perfect bite from the accents of vanilla notes in the whipped cream and tartness from pomegranate seed garnish."  
Arrington might have honed her skills in Michelin-starred kitchens, but you won't need to have trained under the likes of Joel Robuchon or Alain Ducasse to master this recipe. You will need 10 minutes to dedicate to prep, 20 to cook (including a meager 10-15 minutes of oven time), and two hours worth of patience, while you wait for the tart to set. Completely achievable, right? 
The chef developed her chocolate cranberry ganache tart recipe as part of her partnership with S.Pellegrino — which has the perfect fizzy match for her dessert: Dark Morello Cherry & Pomegranate Essenza. "It's going to give it a nice little effervescence," Nyesha explained.  
For more information and additional holiday recipe inspiration, visit holidaymoments.sanpellegrino.com and follow Nyesha on Instagram.
Chef Nyesha Arrington's Chocolate Cranberry Ganache Tart Recipe
Chef Nyesha Arrington created this elegant twist on a holiday classic with chocolate, vanilla and, citrus that make for the perfect festive bite.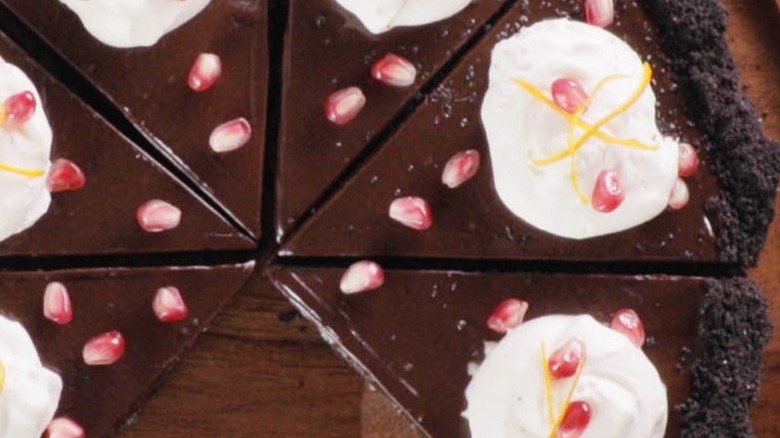 Ingredients
30 chocolate cookie wafers
3 oz of butter melted and cooled
4 tablespoons sugar
12 oz dark chocolate, roughly chopped
¼ cup dried cranberries
½ orange zest
4 cups heavy cream, split
3 tablespoons powdered sugar
½ cup pomegranate seeds
1 vanilla bean, scraped
Directions
Preheat oven to 350 degrees F.
Place chocolate wafers and sugar in a food processor, begin to process while slowly incorporating the cooled melted butter. Look for the crumbs of the cookie to have the consistency of sand.
Press crumb mixture into a greased 9-inch tin, making sure to press firmly around the bottom and edges. You want an even crust that will have no holes or breaking points.
Bake for about 10 to 15 minutes. Allow for the crust to cool completely before adding in the filling.
For the filling, start by heating up 2 cups of the heavy cream, in a heavy bottom stainless steel pot. Careful not to boil the cream (200F).
Place the chocolate in a medium glass bowl, and begin to gently pour over the warmed heavy cream, allow to rest 2 mins, then emulsify chocolate and cream together using a rubber spatula. Gently fold in orange zest and cranberries.
Pour the mixture into the cooled chocolate crust and let set in the refrigerator for approximately 2 hours.
For the whipped cream, set up a stand mixer with a whisk attachment. (Chef note: place mixing bowl and whisk attachment in refrigerator before use).
Add the 2 cups of heavy cream, vanilla bean, and sifted powdered sugar to the stand mixer. Start by mixing on low and gradually increase the speed. Whip approximately 3 minutes or until med stiff peaks are formed.
To assemble plate -- slice a piece of the tart and place on a plate, finish with a dollop of fresh whip cream, and sprinkle over pomegranate seeds.
Nutrition
| | |
| --- | --- |
| Calories per Serving | 897 |
| Total Fat | 74.2 g |
| Saturated Fat | 44.3 g |
| Trans Fat | 0.4 g |
| Cholesterol | 187.6 mg |
| | |
| --- | --- |
| Total Carbohydrates | 53.7 g |
| Dietary Fiber | 6.1 g |
| Total Sugars | 35.1 g |
| Sodium | 186.0 mg |
| Protein | 7.5 g |