Lidia Bastianich's Autumn Strudel Is The Perfect Thanksgiving Treat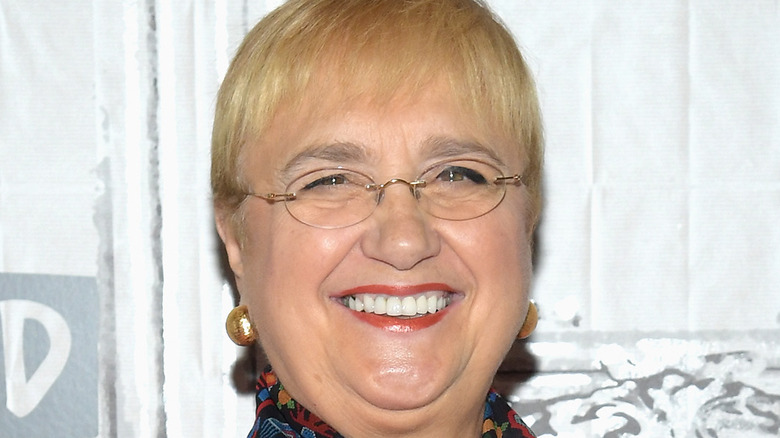 Ben Gabbe/Getty Images
When Thanksgiving rolls around, there are certain foods guaranteed to be found at the dinner and dessert table: A big ol' turkey, mashed potatoes, pies, macaroni and cheese, cranberries, and of course, that green bean casserole. On the one hand, the return of these familiar foods every year is what we really look forward to because they're part of the Thanksgiving tradition. On the other hand, there are so many amazing recipes out there for new and unusual dishes that are also delicious, and it would be a shame not to give them a try. Who knows? Maybe the newest member of the treasured holiday tradition is waiting right around the corner!
Author and host of "Lidia's Kitchen" Lidia Bastianich just shared a dessert on her Instagram page that is beautiful enough to fit the celebration, large enough to feed a crowd, and most importantly, looks really delicious: autumn strudel with squash and cranberries. This old-fashioned pastry is filled with sweetened winter squash and rustic cranberry sauce. The contrasting layers of orange-gold and ruby red filling are stunning and a perfect palette of late fall/early winter colors. Best of all, this is a dessert that your out-of-town guests or family can help with because it's easier to make with an extra set of hands or two.
Make this dessert the traditional way, or use a shortcut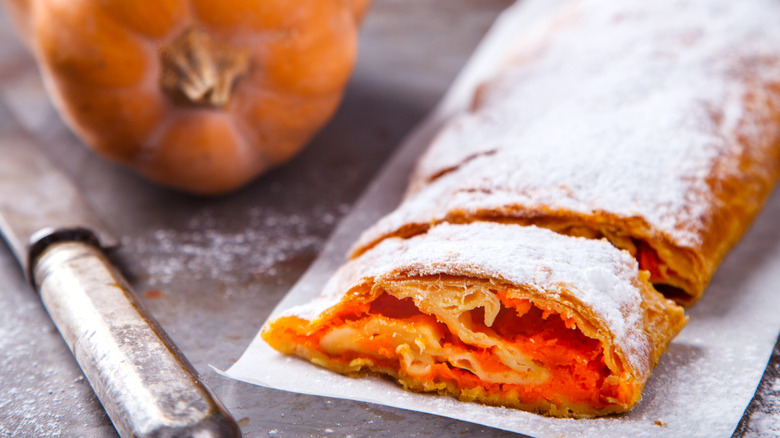 Stolyevych Yuliya/Shutterstock
Strudel consists of a paper-thin dough rolled around sweet or savory fillings, according to The Nibble. A traditional dessert of Austria that evolved from Turkish baklava, its history goes back hundreds of years. Lidia Bastianich's recipe for autumn strudel with squash and cranberries — which she shared on her official website — begins with preparing the filling: Winter squash cooked with sugar and lemon juice and cranberries cooked with orange juice. Bastianich makes strudel the traditional way using her own homemade strudel dough, which is rolled to make an extremely thin and large rectangle — 24 inches by 18 inches! With the help of a cloth underneath (and an extra pair of hands or two), the dough and fillings are rolled up into a long log. After shaping, baking, and slicing, you get a fragrant, sweet-tart filling wrapped in layers of light, flaky crust.
While nothing beats the authentic dough and traditional method of homemade strudel, pre-made frozen phyllo dough is a great option if you're a beginner or tight on time, according to TheKitchn. Used in place of strudel dough, it saves some time and is more manageable to fill and roll, especially if you're making it by yourself. Prepare Bastianich's squash and cranberry filling, then follow TheKitchn's directions to roll up and bake it in phyllo dough. Now, watch your hungry Thanksgiving crew light up as they bite into this unique, autumnal dessert.