Alex Guarnaschelli's Secret To Perfect Cranberry Sauce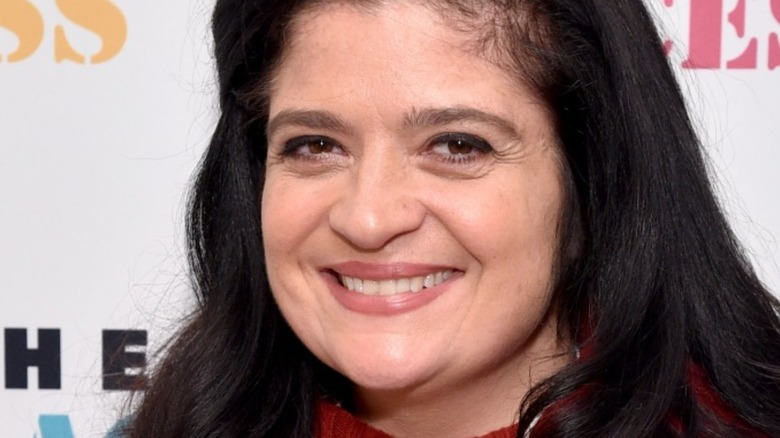 Bryan Bedder/Getty
It's the big day. You're assembling the components for your feast of feasts, the festival of food that is the American Thanksgiving meal. The turkey's roasted, the potatoes mashed, the stuffing soft and savory but not soggy. You go to grab the can of cranberry sauce and, wait, what? It's not there? If you discover that you've forgotten to purchase the cranberry sauce (hopefully before the actual food service), you're not alone — cranberries are the season's most forgotten shopping item. Many dishes can be overlooked or explained away, but apart from the turkey, cranberry sauce, in some form, is really requisite to the complete Thanksgiving feast.
The question then becomes: canned, homemade, or both? Though many foodies turn their noses up at the gelatinous glob of sweetness that is canned cranberry sauce, it's a staple for many Americans, who consume 5 million gallons of it during the holiday season (per Ocean Spray). As it's a written-in-stone item to quite a few feast-eaters, even the most accomplished cooks will often offer both the canned and homemade versions of the sweet staple.
Alex Guarnaschelli, TV host, "Chopped" judge, and executive chef of Butter in NYC, has a few tips for the perfect Thanksgiving event, as well as the secret to perfect cranberry sauce. It's safe to say that this daughter of a renowned cookbook editor — who grew up taste-testing the many different cuisines that her mother's works encompassed — knows a thing or two about how to throw a well-thought-out Thanksgiving.
Perfect cranberry sauce, perfect feast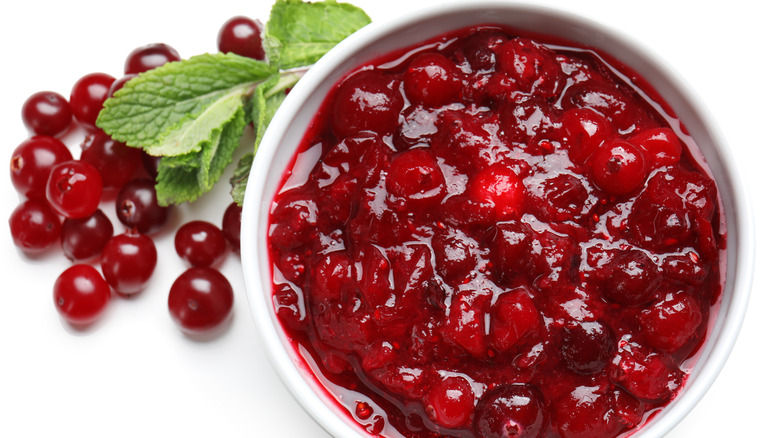 Pixel-Shot/Shutterstock
According to People, Alex Guarnaschelli recommends getting your space guest-ready and setting the table completely before you enter the kitchen. And once there, she suggests preparing a snack to tide your guests over as you put the finishing touches on the meal. She also thinks it's a good idea to start with a menu, and after writing it, you should discard one item. After all, fewer dishes translate into better food and more time to hang with your peeps, which is what this holiday is really all about. And along those lines, save the clean-up until after your guests leave.
So what's Guarnaschelli's go-to cranberry sauce advice? According to Today, after cooking the cranberries and accompaniments (she throws in sugar, a cinnamon stick, ground cinnamon, allspice, nutmeg, and apple cider) until the cranberries break apart, strain the liquid and cook it down, reducing it until it boasts a syrupy consistency. After you're done, add it back to the cooked cranberries.
Cranberry sauce can be prepared up to a week in advance. So, in an effort to stay ahead of the game while filling your kitchen with a sweetly herbaceous aroma that will put everyone in the holiday mood, whipping up the quintessential cranberry sauce ahead of time makes perfect sense. Many cranberry sauce mistakes can be avoided or remedied with a little patience and perseverance, and rendering the sauce and adding it back in will surely wrest the "oohs" and "ahhs" that are the mark of a successful Thanksgiving feast.