Why TikTok Is Making Fun Of Rachael Ray's 'Bedroom Kitchen'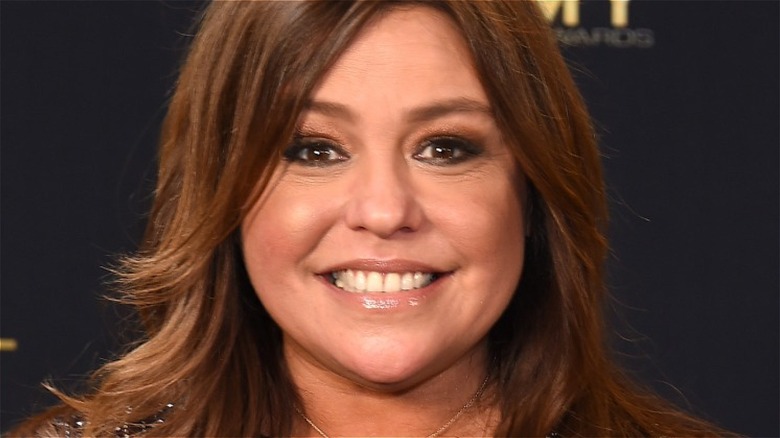 Gregg Deguire/Getty
No doubt that fans of Rachael Ray have been tuning into the A&E Facebook Watch show "Rachael Ray's Italian Dream Home" to follow the renovation of Ray and husband John Cusimano's villa in Tuscany. The couple bought the home in a run-down, uninhabitable state and refurbished it into a glorious Italian retreat (per "The Rachael Ray Show"). The home includes a generously sized kitchen and dining space — per your expectations — but also a second, smaller kitchen and eating area off of the bedroom. A "bedroom kitchen," if you will. 
Ray recently posted a TikTok giving users a tour of her special space. The video starts with her exiting the bedroom with the caption, "One thing I've always dreamed of having in my bedroom ... a kitchen!!" as the door opens into a beautifully lit kitchen with high ceilings, a rustic dining table, and a pasta-making area. Throughout the rest of the video, we see the large living space, Ray's bedroom, and views of the villa's grounds with stunning vistas of the mountains in the distance.
TikTokers say Rachael Ray's bedroom kitchen looks suspiciously like a studio apartment
Rachael Ray's bedroom kitchen is without a doubt alluring, but TikTok has been making a bit of fun of the video, with many users commenting that the bedroom kitchen is akin to a studio apartment. "So, a studio apartment. I been living Rachael Ray's dream for years and didn't know it," commented one TikToker. Another wrote, "You got way too much money to be thinking of ridiculous ish like this." Others poked fun more subtlely with comments like "It's not a studio apartment yall ... it's a studio château" and "You need a Keurig on the nightstand ... life would be complete."
Ironically, Ray posted the same video to Instagram in October, and users loved it, chiming in with mostly supportive comments like "Bellissimo!!!" and "Stunningly gorgeous." But not all comments on TikTok were seemingly mocking, like one from a user who posted, "So happy for you! It's beautiful! Thanks for sharing your dreams with us."