Nearly 41% Agree This Is The Best Frozen Fish Brand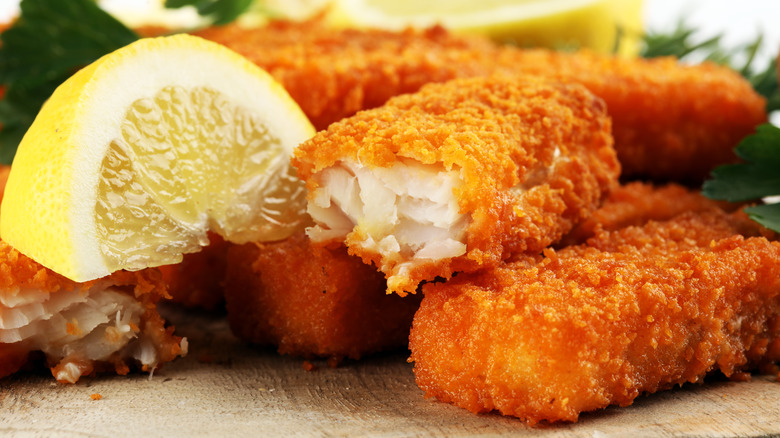 beats1/Shutterstock
While most seafood lovers can agree the best type of fish to cook with is fresh fish, frozen fish can be a versatile, affordable, and universally accessible way to work seafood into a diet if your access to fresh fish is limited.
Whether you're a fan of crispy breaded frozen fillets, fish sticks, or fancier grilled and frozen options, there is no shortage of seafood brands offering a variety of products that will keep your freezer well-stocked with the oceanic protein. But, when it comes to which brand is best for crafting your favorite fish dishes, opinions can be divided.
Mashed polled 604 U.S.-based respondents on their favorite frozen fish brand and found that one big name brand stood above the rest when it comes to the freezer-proof protein. Respondents were asked to choose between six of the most popular seafood brands: Gorton's, Fremont Fish Market, Young's, Mrs. Pauls, Van de Kamp's, and Kroger. 
This British fish brand came dead last in the poll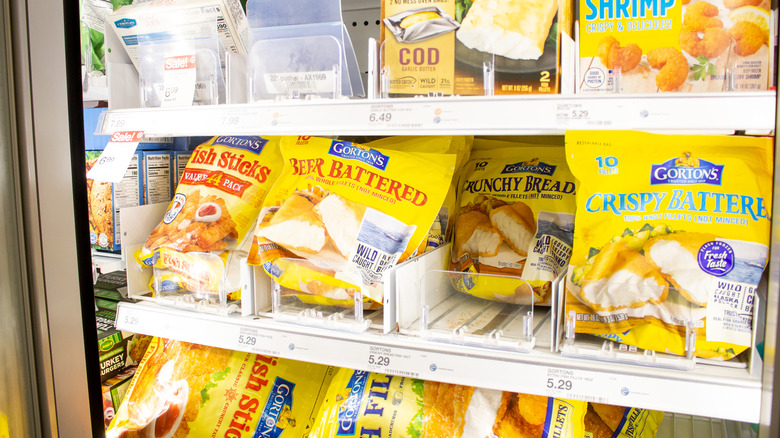 TonelsonProductions/Shutterstock
Receiving the least amount of votes and coming in last place in Mashed's poll was Young's — a 200-year-old seafood company from across the pond that specializes in recreating "the authentic taste of classic British fish and chips" — with just 4.80% of the vote. Mrs. Paul's, which offers frozen fish sticks, fillets, and crab cakes, received the second least amount of votes, with 5.30%.
The in-house brand of the grocery chain Kroger received 15.23% of the vote — surprising, given that Kroger received the most votes in our poll of the worst frozen fish brand — edged out just slightly by Fremont Fish Market, with 16.06% of the total. Van de Kamp's snagged the second place spot with 17.88% of the total.
Taking the top spot with a whopping 40.73% of the vote for the best frozen fish brand was the seafood juggernaut Gorton's, which offers a wide variety of frozen fish products ranging from beer-battered fish fillets to healthier flame-grilled options. So, whether you're looking to snack on some ketchup-dipped fish sticks or craft a tasty tartar sauce-topped fried fish burger, Gorton's just might be your best bet.