This Shark Tank Oatmeal Brand Was Just Spotted At Costco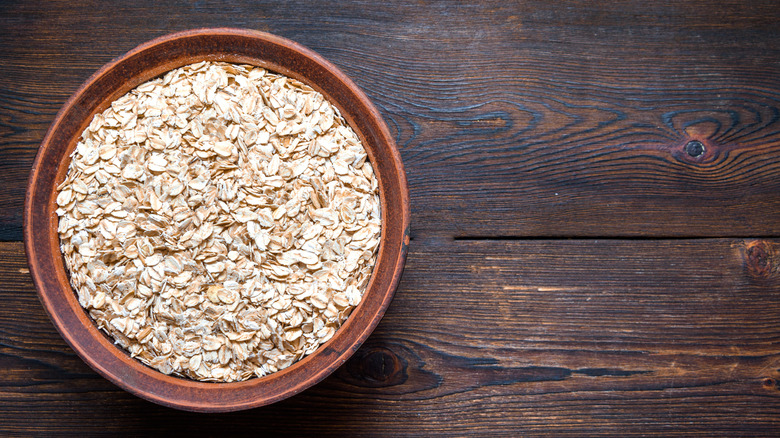 Sergey Diordiev/Shutterstock
Run, don't walk, and get yourself to Costco quickly for a big new deal we just spotted. According to @costco_doesitagain, the warehouse now offers eight-packs of the popular MUSH ready-to-eat oats. Per MUSH's website, these special oats are immersed in "dairy-free milk for hours" and come in a variety of flavors including blueberry, apple cinnamon, dark chocolate, and even snickerdoodle. The pic featured on Instagram is the vanilla almond crunch flavor, though it's unclear if any other flavors are available right now at Costco. 
According to the post and the MUSH site, this wholesome product contains "no artificial anything" and is gluten-free, dairy-free, sugar-free, and vegan. MUSH oats are designed to be enjoyed at any time of the day you're looking for a boost of flavor and nutrients, but it's especially great for breakfast and post-workout since it offers lots of fiber and protein to fill you up. The fact that Costco has stocked the oats comes with a super big bonus: discounts! In fact, @costco_doesitagain reports the eight-pack they found in the Northeast region of the country costs just $11.39, while ordering a 12-pack from the MUSH website will set you back $59.99 (though, it's important to note the cups of oats are different sizes and flavors).
MUSH has an inspiring backstory
MUSH founders Katherine Thomas and Ashley Thompson met while working in finance and soon bonded over their love of health food. They saw a gap in the availability of healthy foods that could be eaten on-the-go, so they joined forces to create MUSH. The pair started out with Thomas working from London and Thompson from NYC, and, interestingly, they found that Americans were generally eating more processed, unhealthy foods than their English counterparts. The business partners believed the industry needed to shift, and so they created MUSH to bring more wholesome, nourishing products to busy professionals, athletes, and all those looking to eat healthier (via Shark Tank Tales).
Since launching, the brand has been applauded by health professionals, including wellness expert and actress Alyssa Lynch, who said, "MUSH is the best brand to eat and have in your home at all times." Crossfitter Noah Ohlsen has also endorsed the product, stating, "I have been eating their overnight oats with my breakfast EVERY DAY for quite some time ... your future would be better with MUSH" (both endorsements can be seen on MUSH's website).
MUSH was featured on Shark Tank with big support from Mark Cuban
According to Dallas Business Journal, MUSH was featured on Season 9 of "Shark Tank" in October 2016, with company founders Thomas and Thompson asking the Sharks for an investment of $300,000 for a 10% share in the company. Mark Cuban bit, offering the entrepreneurs exactly what they asked for and adding on an unlimited line of credit. Cuban not only provided the pair with a generous investment, he also shared his wisdom and provided guidance. Two months after the "Shark Tank" episode appeared, MUSH was inundated with thousands of orders, and Thompson and Thomas pulled 10 consecutive all-nighters to get the orders out. Eventually, they ran out of containers. They emailed Cuban wondering what to do. Cuban told them to go home and sleep, and then the next day helped them find a new, better container for the product. "It was great to have that outside perspective," Thompson said in the Dallas Business Journal article.
In 2020, MUSH shared a video on Facebook that Cuban made to celebrate the three-year anniversary of his investment. "You Mushers know how incredible MUSH is. I mean, literally, it's one of my favorite 'Shark Tank' companies of all time ... MUSH is incredible." Cuban goes on to point out that since Thomas and Thompson were featured on the show, they have grown their business in spades, and MUSH is now available in 5,000 retail stores, which, apparently now includes Costco. Head out and grab some of these awesome oats before MUSH disappears from shelves!