Duff Goldman Revealed The Racy Way He Bakes Cookies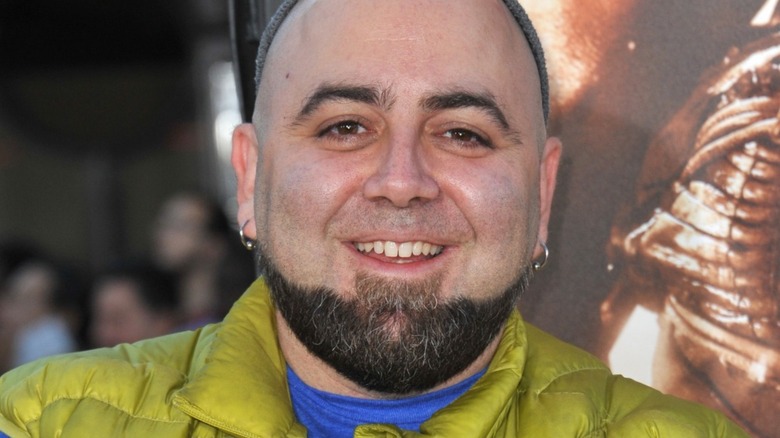 Featureflash Photo Agency/Shutterstock
Duff Goldman has many a unique trait. While he's best known for his whimsical and mindblowing cake-decorating prowess, he's admitted that he and his staff built their skills from the ground up, which is what made "Ace of Cakes" so unique as a cooking show. Since the series ended, Goldman has still been busy with Food Network shows but has also been melting fans' hearts with baby pics on Instagram. And of course, he's always offering up kitchen tips, and his latest baking secret might throw fans for a loop.
Past Goldman tips have included making sure to have the right tools — like "a cake wheel, serrated knife (for carving), filet knife (for 'getting underneath things'), spatulas (for spreading icing)," and more (via TheStreet) — and urging people to clean their work station before starting a baking project as it will help them organize their space, per Insider. These seem pretty self-explanatory, but the latest insight into how the Ace of Cakes bakes is definitely somewhat new and unorthodox, yet somehow not at all surprising for the eccentric mad genius of a baker.
Duff bakes in the half-buff
Goldman took a break from gushing over his adorable daughter to share an Instagram post of one of his latest baked creations, Thanksgiving gingersnaps. The picture shows a tray of perfectly browned cookies with Goldman's head peeking up from behind the counter. Instead of captioning the photo of his cookies by explaining, say, the inspiration behind the recipe, he shared a surprising proclamation: "I'm hiding, I'm just not wearing a shirt. That's how we bake in the woods." There you have it. It seems that Goldman likes to go bare from the torso up when he is preparing a new creation.
Fans are going wild over the admission, with one joking, "Chest hair is for special clients!!" and another commenting, "You and my husband, why you gotta be nekked in the kitchen?!?!!" Apparently, baking in the semi-buff is a thing? Well, if Goldman is able to churn out such good-looking cookies as his Thanksgiving gingersnaps sans shirt, we say, "Whatever way makes the cookie crumble."