Padma Lakshmi Turns Heads With Intense Post-Holiday Workout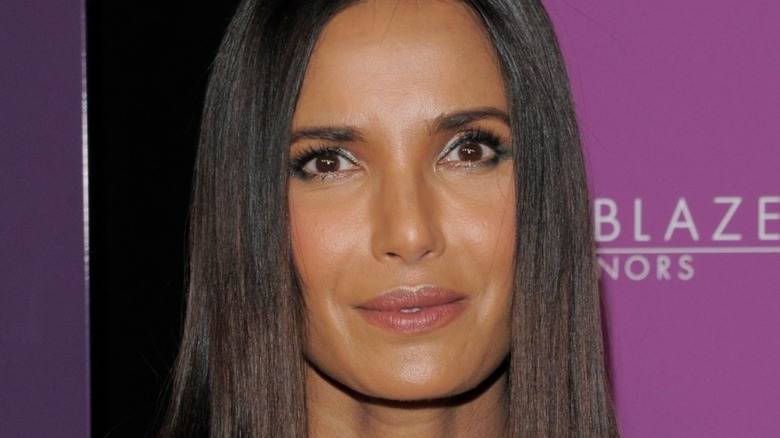 Ron Adar/Shutterstock
Like many Americans, Padma Lakshmi's Thanksgiving plans often include a lot of delicious food. The "Top Chef" host's spread tends to feature a traditional roasted turkey, sweet potatoes, mashed potatoes, stuffing, green beans, cranberry chutney, and — Lakshmi's favorite comfort food — gravy (via Delish). It's all prepared, of course, by Padma herself — after all, that's the benefit of being a professional chef, cookbook author, and renowned foodie.
But while Lakshmi likely spends a lot of Thanksgiving feasting and relaxing with family, she gets right back to her usual routine the next day. And for the 51-year-old, that involves moving her body. "I spend a lot of time working out," she told E! Online. "I'd rather eat more food that I enjoy and just put more time in the gym than starve myself because that's not healthy and I'm not capable of that anyways." In a recent Instagram post, Padma shared her post-holiday exercise routine — and it's no joke. Here's how she worked out after Turkey Day this year. 
Boxing is one of Padma's favorite workouts
Padma Lakshmi has long been a proponent of staying active. But while you might assume her love of exercise has to do with her love of food — and all of the dishes she eats on a daily basis judging "Top Chef" — Lakshmi says it actually has more to do with her mind than it does her body. "Exercise has often lifted my mood and given me my strength and confidence," she wrote in her Instagram post, adding that the positive impact on her mental well-being "far surpasses any physical benefit." In the video, Lakshmi lifts tires, swings battle ropes, and slips on boxing gloves for a few hooks and jabs. Boxing is one of Padma's go-to workouts, and she's often spotted at Mendez Boxing Gym in New York City. She's previously admitted that "Light sparring is good for the soul" (via Bravo TV).
However, while Lakshmi loves boxing, she admits in an interview with Parade that it's been tough on her joints lately, so she's focusing more on lower impact activities. Some of her favorite exercises these days include jumping rope, weight lifting three times a week, and P.volve, which is a trendy home workout focused on functional movements.