Ina Garten Swears By This Pepper Mill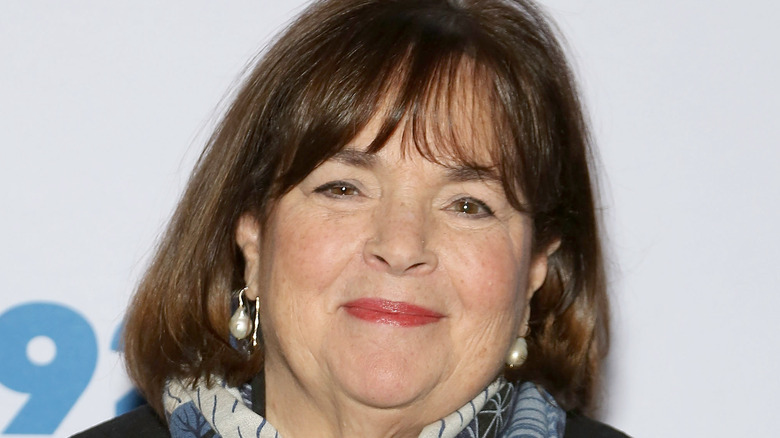 Manny Carabel/Getty Images
We may receive a commission on purchases made from links.
We don't know about you, but when Ina Garten speaks up about her favorite tips for cooking and entertaining, we listen. Garten is also known as the Barefoot Contessa for her Food Network series, cookbooks, and career-launching specialty food store and catering business of the same name (via her official website). She's also a cooking and hosting doyenne whose level of influence in the industry can only be rivaled by her pal Martha Stewart (via People).
We have paid close attention to the recipes and advice Garten has offered over the years, from the ingredient she calls her "secret weapon" (hint: it's booze) to the vanilla brand she swears by (it's Nielsen-Massey). So when we noticed that the Barefoot Contessa seems to have an affinity for a particular brand of pepper mill, we knew it would be worth taking a closer look at that, too. Read on to find out more about this favored kitchen gadget.
It's a PepperMate, mate
Ina Garten, aka the Barefoot Contessa, seems to have it all figured out when it comes to cooking and entertaining. The Food Network star shares her carefully tested recipes in addition to helpful kitchen tips such as why it's important to store fresh garlic at room temperature and how supermarket Grey Poupon mustard can come to the rescue of many a dish.
Garten is also a devotee of basic but functional kitchen tools that help get the job done. A comprehensive list on her website includes Contessa favorites such as a wooden citrus reamer and a Krups coffee grinder for milling dried spices. And in an Instagram video in which she demonstrates a homemade crouton recipe, Garten busts out an intriguing-looking white plastic pepper mill with a little tray on the bottom for catching the ground pepper.
In the comments of the post, a Garten fan asked what brand the pepper mill was. Garten responded that it was from PepperMate (via Kitchn). And lo: the PepperMate grinder is indeed featured on the products list on Garten's website. According to the mill's Amazon description, it features an adjustable grind size, can also be used to grind salt, and was also favored by French chef Pierre Franey. At $38, we think we just might need this pepper mill for ourselves.