Instagram Is Impressed With The Side Eye Skills Of David Chang's Baby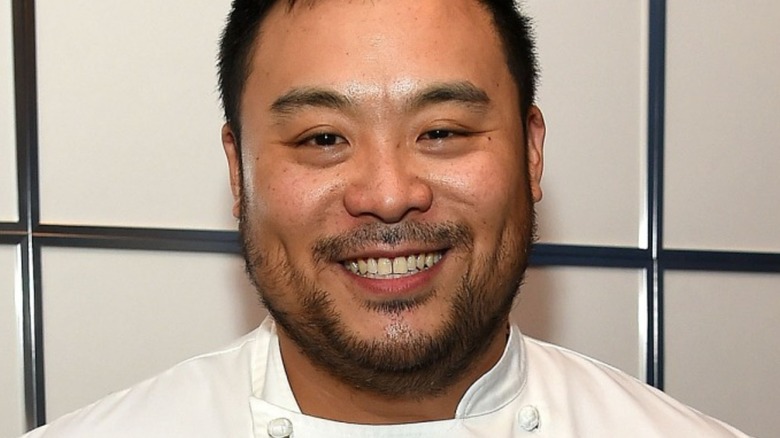 Ben Gabbe/Getty
David Chang, celebrity chef and founder of lauded restaurant group Momofuku, may have just met his harshest critic yet. His Michelin stars have nothing on the side-eye being served up by the newest addition to his family, baby Gus, and Instagram can't get enough of it.
Chang ushered in a new era of modern Asian-American cuisine when he opened the critically acclaimed Momofuku Noodle Bar in New York City in 2004 (via Momofuku). That was just a warm-up for the multi-talented chef, who went on to open 16 restaurants, star in and produce multiple television shows like "Ugly Delicious" on Netflix, publish a culinary magazine called Lucky Peach, and more. The overachiever has won a list of awards longer than a ramen noodle and earned two Michelin stars for his second restaurant, Momofuku Ko.
That's a long list of career accomplishments, but professionalism aside, Chang has proved that he can also create very adorable children. He and his wife, Grace Seo Chang, recently introduced their second child Gus on Instagram, and fans are loving the baby with a personality that already matches that of his famous father.
Chang's baby is serving up attitude
Fans of Chang can't get enough of the adorable baby seen on the celebrity chef's recent Instagram post. Based on their comments, they love that he is serving pinch-worthy chubby cheeks with a big side of attitude. Baby Gus' masterful side-eye glance has "displeased food critic" written all over it. As one Instagram user says, "He already seems like an elite Yelp reviewer." Despite the fact that Chang's restaurant Momofuku Ko has maintained its two Michelin stars since 2009, per its website, Gus seems unimpressed.
Instagram fans can't handle the cuteness and definitely see the resemblance between father and son. User @Superstarreee comments, "He's your Mini-Me," while @theamycarlson1 says, "Same barber." According to StarChefs, David Chang is known as a bit of a bad boy in the food world and has a personality as big as his culinary aspirations. If his son's side-eye is any indicator of attitude being genetic, then the celebrity chef is in for a treat with baby Gus.