Jimmy Kimmel's Turkey Almost Caused A Thanksgiving Disaster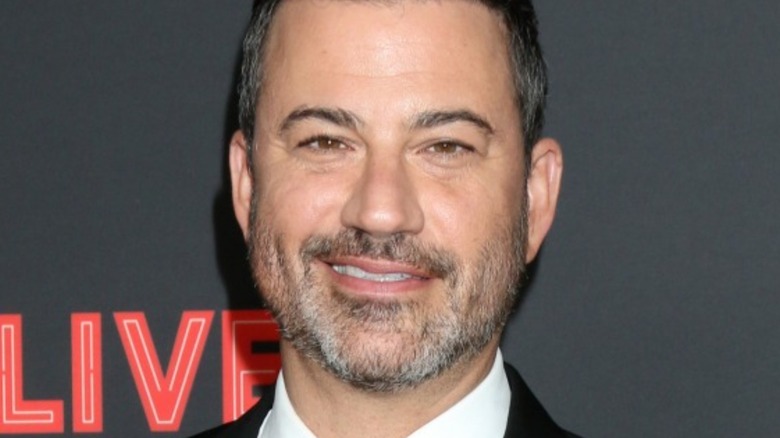 Kathy Hutchins/Shutterstock
Though many might know him from being the host of his self-named talk show, Jimmy Kimmel is also a pretty passionate foodie. Earlier this year, the television personality dished his tips for the best home-cooked pizza, stating that the power is all in the sauce.
Despite Kimmel being able to perfectly craft a great pizza, his turkey cooking technique might need some work. While we've seen that Chrissy Teigen can whip up a mean Thanksgiving roast, Kimmel came out of preparations for the holiday with a minor battle scar, as seen in a recent Instagram post.
The talk show host captioned the photo, "Happy Thanksgiving everyone. Try not to burn your hair and eyebrows off lighting the oven!" The selfie is a clear shot of Kimmel's singed hair, which actually amused many fans and celebrity friends. DJ Khaled wrote, "Take it easy my brother, love and blessings to you and your family, happy holidays."
The hilarious responses from fans to Jimmy's turkey fail
Nonetheless, Jimmy Kimmel's Thanksgiving Day injury doesn't take away from how delicious the turkey looked. In another photo, the cleaned up star wrote, "Burnt hair, smoked turkey #happythanksgiving," and revealed the finished product. The turkey appeared perfectly cooked and tender, and followers even praised Kimmel for only having one glove on when holding the hot rack. One person wrote, "And burnt right hand by the looks of the one oven mitt, lol," which garnered 12 likes in agreement.
In his previous post, Kimmel's damaged hair, which was hidden beneath a black baseball cap, was also intriguing. Another commenter wrote, "Who else zoomed in on his hair here?" alongside some cry laughing emojis.
This isn't the first time Kimmel has burned himself while cheffing up a holiday meal, either. According to People.com, the comedian burned off his beard and eyebrows after throwing a piece of ignited paper into his grill earlier in the year, on the Fourth of July. As his daughter, Katie, commented on his most recent post, "Again?" Be safe cooking, Jimmy!