Sunny Anderson Had The Perfect Clapback For This Twitter Troll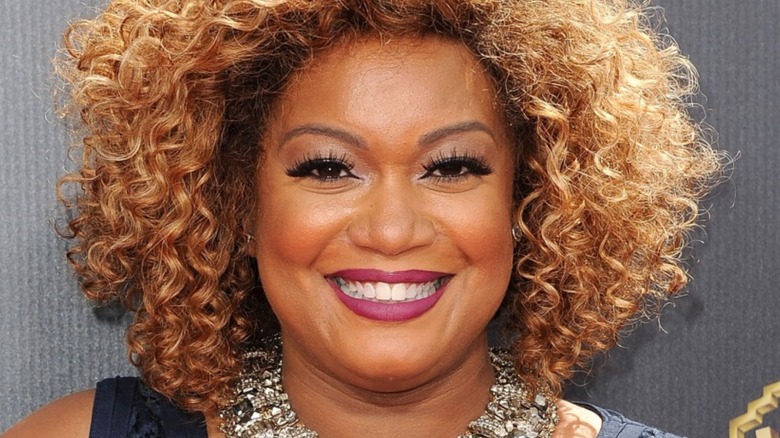 Angela Weiss/Getty
Most Food Network fans are familiar with Sunny Anderson, the celebrity chef with a personality that's as bright as her name implies. Known for her crave-worthy comfort food, Anderson has hosted numerous shows, including "The Kitchen" and "How'd That Get On My Plate." However, like any TV personality, for as many fans as Anderson has, she also has some haters. "Trolls, bullies, narcissists. They all exist here online [and] in real life," she wrote on Instagram last year, explaining that she deals with her share of criticism online but has since become immune to it over the years.
Recently, one troll took to Twitter to call Anderson out not for her cooking tips (they actually said those were helpful) but for her famously extra personality. "You need to stop interjecting your opinion into everything [Geoffrey Zakarian] makes," the viewer tweeted. "You're loud and obnoxious, and the constant interruptions are very disrespectful." It's not surprising that Anderson wasn't just going to let that slide. Instead, she clapped back with the perfect response in her own tweet.
Sunny Anderson isn't letting the hate get to her
Sunny Anderson likely lets a lot of rude comments and criticism go ignored. However, this time, the Food Network chef decided enough was enough — and stood up for herself in a quick clap back on Twitter. "Another person that wants to be a TV producer," she wrote, adding laughing face emojis. "Betcha they run a show that's been on 30 seasons like ['The Kitchen] or maybe they develop talent with many years of experience like me." In true Anderson fashion, her retweet was a little bit sassy and a little bit snarky, but also entirely valid. 
Many of Anderson's viewers took the TV host's side, chiming in with their own responses to the original Internet troll. "It's what makes The Kitchen what it is," one person tweeted. "How wonderful to get to hear all of your points of view." Even "Chopped" judge and fellow Food Network chef Alex Guarnaschelli supports Anderson no matter what, saying, "I love you just the way you are" in her own public response on Twitter.