Rachael Ray Just Spotted Her New Book In A Really 'Cool' Place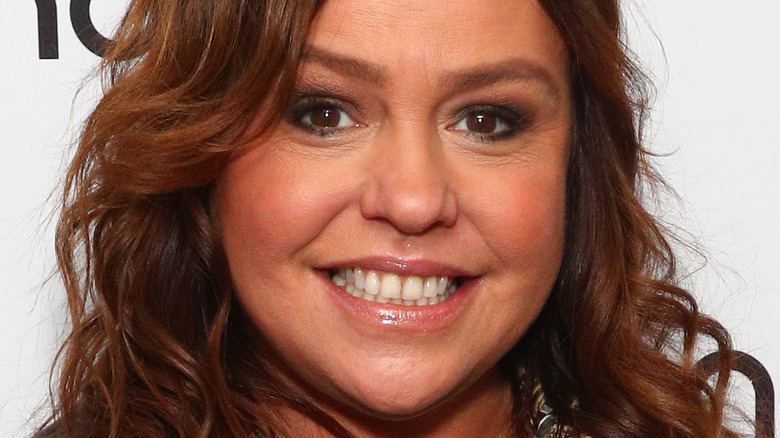 Astrid Stawiarz/Getty Images
Longtime Rachael Ray fans know that her staff affectionally calls her "Rach" — the nickname even appears in articles on Rachael, the official website for "The Rachael Ray Show." The casual moniker is a nod to the way that the laidback chef and TV veteran invites those around her to share in her life's joy and triumphs. Coincidently, that openness is also the theme of Ray's new book, "This Must Be the Place," which came out on November 9, 2021.
The book's subtitle is "Dispatches & Food From the Home Front," and was written during quarantine from Ray and husband John Cusimano's home in upstate New York. It "contains a whopping 127 recipes and 16 essays on life lessons, loss, gratitude, and the special memories that make a house a home" (via Rachael). Cusimano echoed the description, stating in a humorous Instagram video that the book "reflect[s] the past year and a half of our lives, the heartbreak, the challenges, and the happy endings."
Ray also promoted the book on Instagram, included a pic of a page from the book in which she wrote, "I wanted to sit down and write this book, focusing on what this year meant to me, because despite the social distancing ... I felt more connected to the world around me than ever before."
Rachael Ray's new book is huge in NYC — literally
While the pandemic has been tough for everyone, 2020 was extra difficult for Rachael Ray and John Cusimano, who lost their home in a fire. Ray said despite the loss, sharing her grief through this new book, in which she reevaluates the very definition of home, provided her with a sense of healing. "I wanted ... to be raw with [readers] and share the darkest and toughest times. To be completely transparent with other human beings becomes strangely cathartic," Ray said in an interview on her show (via Rachael).
Since being released, "This Must Be the Place" has been featured on The New York Times Bestseller List and has been declared to be one of the best cookbooks of 2021 by Ray's employer, Food Network (via Penguin Random House). In addition to these accolades, Ray can add top holiday present to the list, as the book has been named one of the "Best Books to Gift" by Amazon, a fact Ray found out in a super cool way: she saw it on a massive billboard above Penn Station in NYC. Ray posted a pic of the billboard (shown above) in an Instagram story, captioning it "Well, THIS is cool" with a starry-eyed emoji.
Seems like Rach, despite her fame, is still so surprisingly down to earth that she thinks a billboard featuring her brand new book is nothing short of awesome.