This Is What Marcus Samuelsson Eats Instead Of Junk Food - Exclusive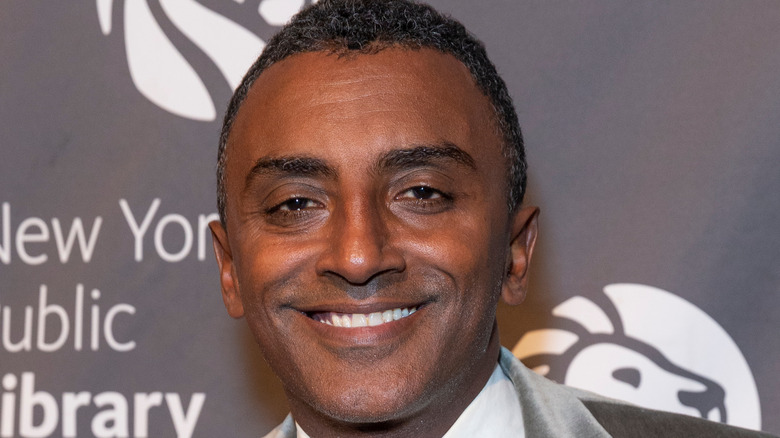 lev radin/Shutterstock
"Top Chef Masters" Season 2 winner Marcus Samuelsson has a pretty adventurous palate — which isn't surprising, considering that the James Beard Award winner was born in Ethiopia and taught to cook by his Swedish grandmother, per his official website. Plus, as a veteran of cooking shows ranging from "Chopped" to "Guy's Grocery Games" to, most recently, "Top Chef Family Style" (via IMDb), Samuelsson has had the opportunity to both taste and create recipes from all over the world.
But, that doesn't mean he will eat everything. In fact, in an exclusive interview with Mashed, the culinary star revealed that he never eats "junk food" — a term, he added, that is more appropriate for drive-thru franchise fare than the more commonly used moniker, "fast food." As Samuelsson explained, "Sometimes I eat 'fast' because I'm on a run. I mean, I enjoy a good burger. I make it for my family. My son enjoys it. It's fun, especially in the summertime when we go out to eat. [And] you can put the grill on. I love that." 
But, while he might be no stranger to his own homegrown quarter pounder, you won't find him haunting the parking lot of McDonald's and the like. "I mean, 'junk food' and 'fast food' are two different things, right?" he added. "So you can make fast food at home that is super delicious and healthy. I try to avoid [going] to big chains."
Here's what Marcus Samuelsson eats when he's in a hurry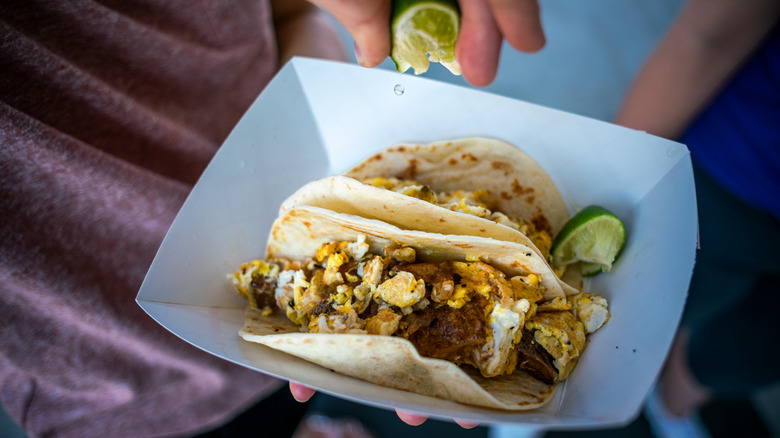 Alexander Parmley/Shutterstock
While it's true that there are fast food aficionados that might truly cherish a burger run or pine for that pizza delivery, for the majority of people, a trip through a drive-thru usually is more about convenience than pleasure (per WebMD). And, if even we can't find a free moment to prepare ourselves something tasty and homemade, surely one of the world's busiest chefs doesn't have ample free time on his hands to worry about his own sustenance. So, if it's not chain food fare, what does Marcus Samuelsson eat when he's busy? Hook him up with a lunch food truck or a taco stand any day of the week, he said. "I'd rather go to that tiny place in a different part of town and get noodles or get something else," Samuelsson explained. "It's just more my preference. But I love street food, for example."
While he doesn't look down on eating at a franchise per se, it's "just not what I have to do," Samuelsson pointed out. On the contrary, grabbing a quick bite from a street vendor is a thrill for him. "I love eating on the street, and I love honest cooked food," he said.
Learn more about Magical Elves, the company that produces "Top Chef Family Style" and other cooking shows.