The Fruity Bread Trisha Yearwood Loves To Bake During The Holidays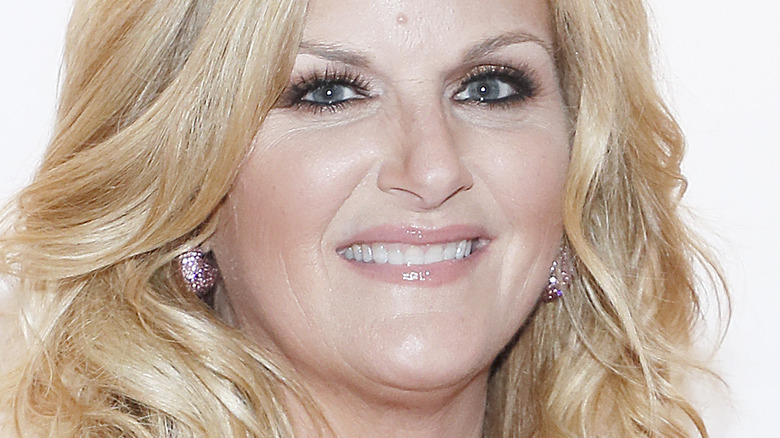 Paul Morigi/Getty Images
We may receive a commission on purchases made from links.
If there's one thing hardly anyone wants to see on the dessert table –- much less in a gift box –- is the dreaded fruitcake, so often voted everyone's least-favorite Christmas "treat." Fruited quick breads, on the other hand, are an entirely different story. Just think of banana bread, one of the best ways to use up fruits that are slightly past their prime. There's also lemon-poppyseed bread, the perfect accompaniment to a cup of coffee, and pumpkin bread, a perennial fall favorite. (Yes, the pumpkin is a fruit, OK?) There's even zucchini bread (zucchini – also a fruit), which is just about the best thing you can make with a surplus of this not always popular produce.
One of the most popular quick breads is a New England favorite, cranberry bread. While tangy cranberries are often paired with tart yet sweet oranges as in this cranberry-orange walnut bread from Yankee Magazine (via New England Today), southern girl Tricia Yearwood prefers to use a sweeter fruit.
Trisha Yearwood's holiday go-to is a cranberry pear loaf
Tricia Yearwood, who hails from Georgia (via New Georgia Encyclopedia), doesn't pair her cranberries with her home state's famous peaches. Instead, Delish says the country singer-turned-cookbook author makes her cranberry bread with pears. Actually, in Yearwood's opinion, the pears are what gives her bread the flavor, while the cranberries are there more for decorative purposes. (Those would be fighting words in New England!)
Yearwood's recipe, published in her cookbook "Trisha's Kitchen," does retain cranberry bread's traditional walnuts for some crunch, but uses lemon in place of the orange. Yearwood's bread gets an additional bit of flavoring from apple pie spice, which is similar to, but not quite the same as, pumpkin pie spice. According to Betty Crocker, apple pie spice is made by combining cinnamon, nutmeg, cardamom, and allspice.
As Yearwood tells it, her cranberry pear bread (shown above) is "great for the holidays" since it makes for a quick breakfast or brunch dish when company comes. You can also bake and wrap mini loaves for gifting purposes — they will undoubtedly be greeted with far more enthusiasm than a fruitcake!