Aldi's Chocolate Peppermint Cookies Are Perfect For Your Holiday Party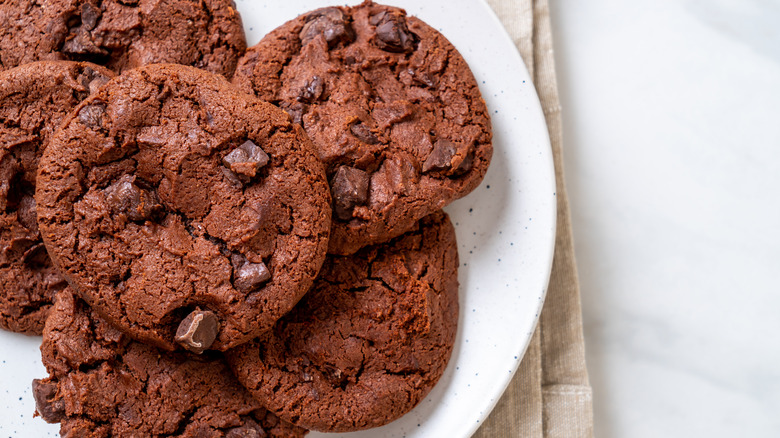 gowithstock/Shutterstock
Want to leave an extra special treat out for Santa this year, or simply jazz up dessert at your next holiday party? Aldi's got you covered with its chocolate peppermint cookies that everyone will enjoy. The popular Aldi fan Instagram account, @adventuresinaldi, recently shared a picture of the Lofthouse brand's chocolate peppermint cookies to show that they're now available in the Aldi Finds aisle.
Though Lofthouse might be known for creating those famous, frosted soft sugar cookies that we all grew up loving in elementary school, the baked goods producer also knows how to whip up a mean holiday treat. These festive cookies appear to have the same soft, crumbly texture as the brand's famous sugar cookies. Commenters on @adventuresinaldi's post include user @lizzy_sulifan, writing, "These are so good. They lasted one day in our house." If you want to skip out on buying this year's extra expensive baking supplies to make holiday cookies on your own, these might make a crowd-pleasing substitute.
Social media users can't resist these cookies
Unfortunately for us, there's no physical Lofthouse bakery. Conagra Brands, the company that owns Lofthouse, per Baking Business, has been a set supplier in providing and distributing its yummy baked goods to grocery stores across the country, including Aldi. Nonetheless, Lofthouse has continued to pump out tasty cookies for all of us to enjoy throughout the year for every occasion. Just in time for winter, this limited-edition chocolate peppermint flavor is now available at Aldi (via Instagram).
According to the packaging, these rich chocolate cookies are naturally flavored with peppermint and studded throughout with white chocolate chips and crunchy peppermint candy. Based on the comments on @adventuresinaldi's post, people have a pretty hard time eating just one of these cookies. "I don't DARE buy those. I'll eat the whole pack," said one follower, while another shared, "Oh my goodness these were sooo good!!!" The best part? They're "huge," according to the post, which means they're great for sharing at parties. (Though, based on these shoppers' feedback, they might disappear quickly.)