NBA Star Scottie Pippen's New Tea Collab Has A Boozy Twist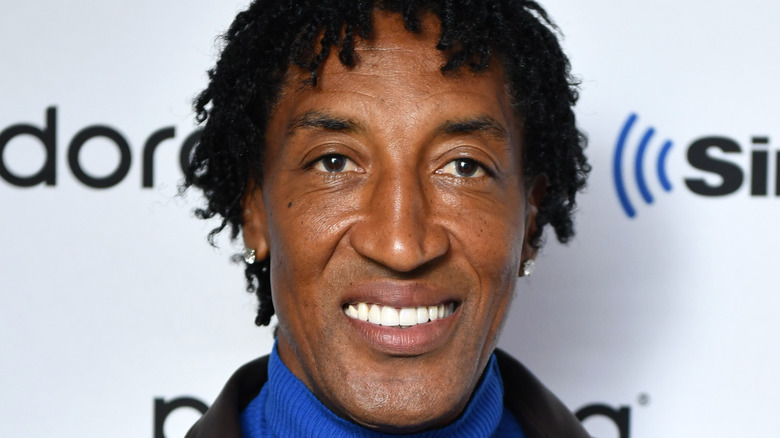 Noam Galai/Getty Images
Scottie Pippen, who is best known as a legendary six-time NBA championship winner and member of the Chicago Bulls (via Bleacher Report), is adding a new title to his already stacked resume: Tea maker.
Pippen, who released a line of gourmet popcorn this summer, is also part owner of Digits, a five-year aged bourbon whiskey made in collaboration with acclaimed wine and spirits maker Dave Phinney. The whiskey is described as "lush, velvety and a pleasure to drink with no hard edges ... packed with flavors of vanilla bean, caramel, buttered toast and maple."
Now, according to Food & Wine, the Olympian is continuing his pursuit of all things culinary by teaming up with Smith Tea, a celebrated Oregon-based premium tea company, for a unique limited-edition tea inspired by the flavors of Pippen's bourbon. The Digits Bourbon Barrel Aged Black Tea — which retails for $34.99 per 15-pack on the Smith Tea — will be available starting December 5, also known as Repeal Day, which marks the day that President Roosevelt repealed the 18th amendment, ending prohibition in America.
Scottie Pippen's latest product was inspired by his Southern roots
The tea partnership was a natural fit for Pippen, who was raised in the South and "grew up drinking sweet tea" throughout his childhood. Over the years, Pippen said he came to appreciate the brewed beverage for its comforting and healing properties, exploring different varieties of tea into adulthood. This lifelong love of tea inspired the collaboration with the Portland-based tea company. 
"I got a reputation of working with the best. Smith Teamaker is king in this business as one of the top tea companies in the world," Pippen told Food & Wine of his decision to partner with the esteemed tea brand.
The basketball legend worked with Smith's head teamaker, Ravi Koesen, on a custom blend of three black teas, including Ceylon, Assam, and Keemun Chinese, which are soaked in Digits bourbon and aged in charred oak whiskey barrels for five months before being blended with cinnamon, vanilla, coconut, caramel, butterscotch, and other ingredients. 
The resulting product is a flavorful, subtly whiskey-tinged black tea with an alcohol content of about .03% and tasty notes of spiced sticky bun, brandied cherry, and tobacco (via Smith Tea). For a boozier night time beverage option, Pippen recommends pouring a shot of bourbon into the tea after it's been seeped, or using the tea as a chaser to a glass of bourbon, for a cozy beverage guaranteed to keep you warm all winter long.