Dairy Queen Brought Back This Fan-Favorite Blizzard For The Holidays
From serving up hot food to classic frozen treats including the Dilly bar and Blizzards, Dairy Queen has been a significant player in the fast food game for more than 80 years. It all started in 1938, when Illinois dairy entrepreneur J.F. McCullough and his son, Alex developed the formula for soft serve ice cream. They trialed their new product in ice cream parlors owned by Sherb Noble, who ended up opening the first Dairy Queen in 1940, in Joliet, IL, according to Noble Stores, LLC. 
Today, DQ has transformed into a fast food behemoth with locations in over 20 countries across the globe. Part of the success of this beloved fast food chain has to be the wide variety of its menu, which includes a rotating selection of seasonal treats, including Cotton Candy and Girl Scout Thin Mints Blizzards in the summer, and Pumpkin Pie Blizzards in the fall. Right now, Dairy Queen is re-launching some of its winter fan-favorites, and there's one that has fans caroling over it's return.
DQ fans are already gifting themselves with Candy Cane Chill Blizzards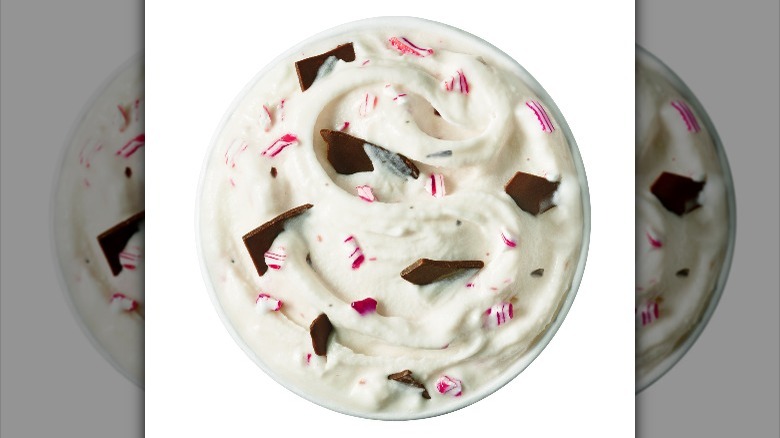 Dairy Queen
One of the best parts about the holiday season is getting to enjoy all of the Christmastime treats, from gingerbread and sticky pudding, to sugar cookies and peppermint bark. Dairy Queen jumped right on the holiday bandwagon by bringing back its frozen hot chocolate and festive snowman cake (via Dairy Queen). However, no seasonal dessert on the DQ menu signals the holidays quite like the Candy Cane Chill Blizzard Treat.
This flavorful concoction blends candy cane bits and hunks of chocolate into the brand's famous tried-and-true soft serve. Does that sound like Christmas in a cup, or what? Twitter users answered that question with an enthusiastic yes. Or as @Mattylite_25 put it, "The candy cane blizzards slap." @jbjohnbender agreed, calling the seasonal Blizzard "a top tier store bought holiday treat" that denotes "holiday joy." For @lynnandtonic, the holidays are truly a time to celebrate, but maybe not in the traditional way you think: "We made it, everyone. It's finally DQ candy cane blizzard season." 
These holiday ice cream treats are available for a limited time this holiday season, at participating locations across the country.