Chick-Fil-A's Peppermint Milkshake Pie Recipe Has Fans Divided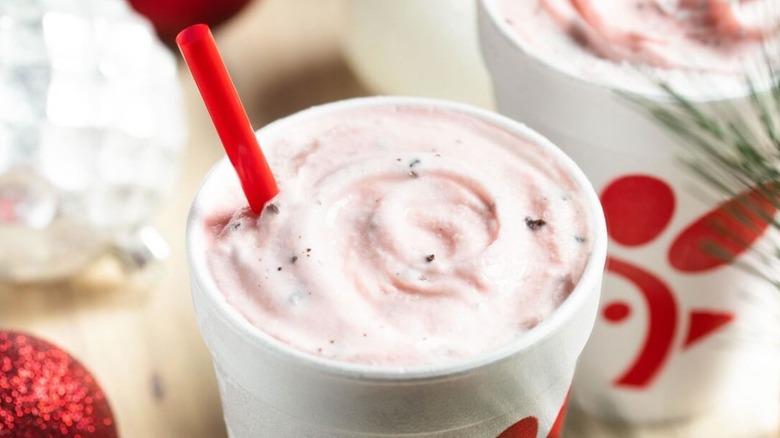 Chick-fil-A
Chick-fil-A definitely likes to hype things up for the holidays. Case in point: its seasonal peppermint chip milkshake, a sweet beverage option that's a popular pick in the fall and winter months. According to the brand's website, the milkshake was first introduced to the Chick-fil-A menu in 2008 and includes the chain's Icedream dessert, hand-spun with peppermint bark, with whipped cream and a cherry on top. 
Most fans are probably happy to get their peppermint chip milkshake from the Chick-fil-A drive-thru and then accidentally drink the whole thing in the car. Nevertheless, the fast food chicken chain recently put up a post on its Instagram account that showed viewers how to make an entirely new dessert out of the frozen seasonal beverage: a peppermint milkshake pie. While some viewers ended up digging the idea, others were less than thrilled, calling it impractical and unlikely to be an actual success in people's homes.
What's in a Chick-fil-A peppermint milkshake pie?
Chick-fil-A's Instagram recipe post demonstrated what goes into making a peppermint milkshake pie, which is similar to a no-bake icebox dessert. In the video clip, chef Christy Cook is seen working with a simple, ready-to-eat chocolate cookie pie crust, chocolate chips, whipped topping, crushed peppermint, and, of course, one whole Chick-fil-A peppermint chip milkshake to make the cool concoction. The steps seem simple enough, with just a quick mixing of the ingredients before a four-hour chilling time, but some viewers expressed doubts about the recipe.
One Instagram user cheekily wrote, "Like that milkshake would ever even make it home." Another said that they didn't like the ingredients in the pie, while someone else pointed out that the texture wouldn't be ideal. However, others were more than willing to give the recipe a shot. One enthusiastic fan wrote, "Looks amazing! Can't wait to try this!" Someone else said that they plan to buy four milkshakes in a bid to recreate the pie, and we're on the same page.