Gingerbread Ice Cream Recipe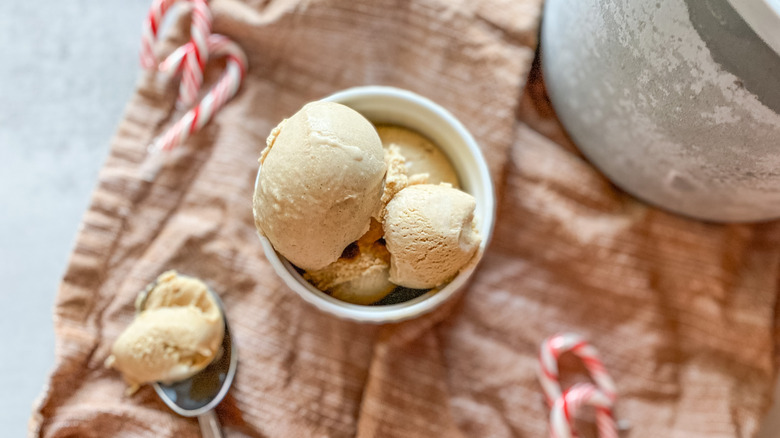 Kristen Carli/Mashed
Peppermint gets all the attention during the holiday season, but it's not the only holiday-inspired flavor out there. We love this recipe from registered dietitian and recipe developer Kristen Carli because it highlights another top-notch seasonal flavor: gingerbread. This gingerbread ice cream will be your next holiday scoop — it comes together easily using an ice cream machine and tastes great. No holiday stress required!
True gingerbread fans know that the holiday season's number one cookie ranking goes to the gingerbread cookie. They are ideal for cutting into fun shapes like gingerbread men or Christmas trees and stars. These cookies also lend themselves well for decorating with candy and icing. Additionally, the gingerbread house is a classic, albeit more challenging, holiday cookie. If you want an easy recipe to get your holiday gingerbread on, let's get started with this gingerbread ice cream.
Gather your ingredients for this gingerbread ice cream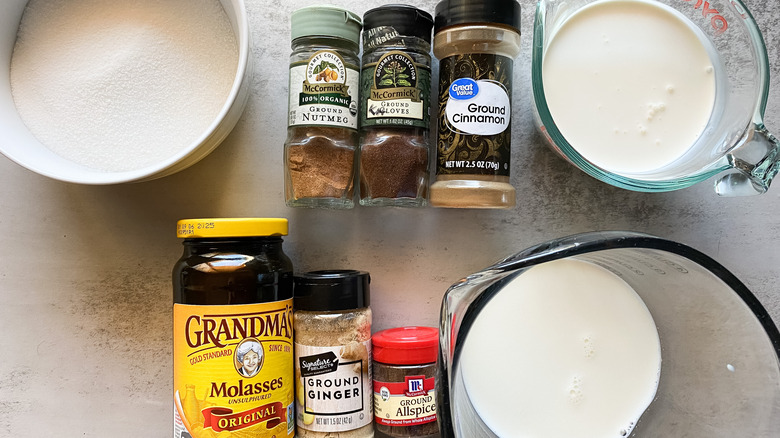 Kristen Carli/Mashed
To make this tasty gingerbread ice cream, gather up your ingredients to start. You will need heavy cream, whole milk, sugar, molasses, ground ginger, ground cinnamon, allspice, ground cloves, and ground nutmeg. You may have noticed that most of these ingredients are spices. Since this is a seasonal treat that is often enjoyed in the winter months, Carli recommends using "a variety of warm spices that are emblematic of this time of year," the most important of which is the ground ginger since this is a recipe for gingerbread ice cream.
Mix the dairy and the sugar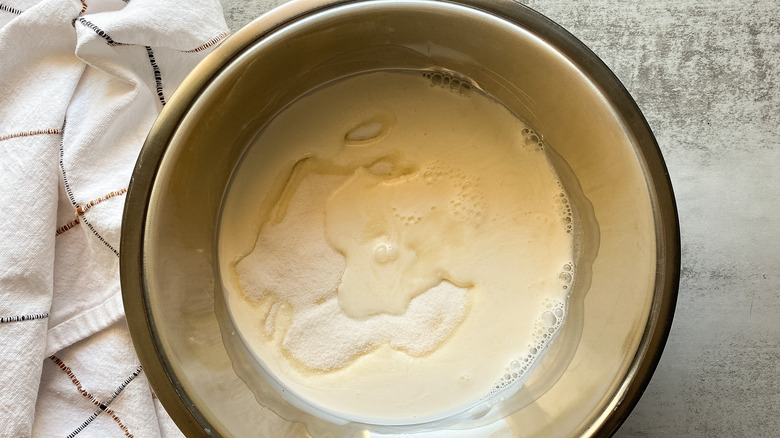 Kristen Carli/Mashed
Now we are ready to dive in! In a large bowl, add the heavy cream and the whole milk. Then go ahead and add in the sugar. These ingredients make up the base of most ice cream recipes. Carli recommends using "a mixture of heavy cream and whole milk in order to bring high fat content." She does not recommend substituting skim milk or half and half. We have to agree! We want our ice cream to be the most decadent way it can be, which involves fat!
Add the remaining ingredients and whisk well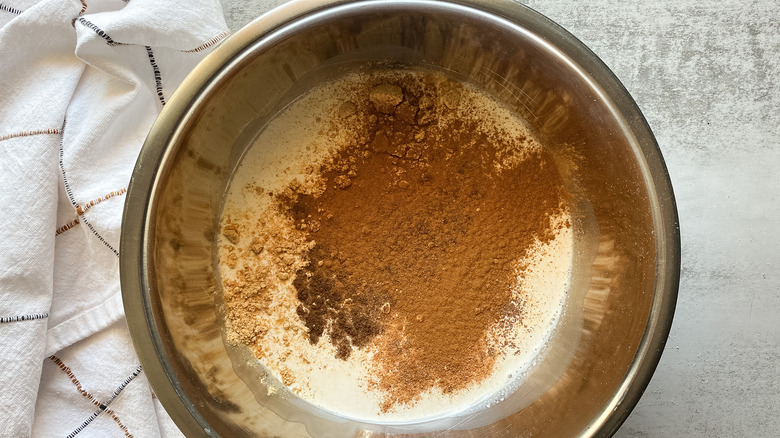 Kristen Carli/Mashed
Next, add in your remaining ingredients. Using a large whisk, stir well until all of the spices and sugar have been combined. Carli warns, "Be careful to thoroughly whisk the ingredients in well. Because there are a lot of spices, we want to make sure that they are fully incorporated, which will take a few minutes of whisking. Otherwise, you will end up with chunks." No chunks are desired here, so we will be sure to whisk well.
Churn the mixture in an ice cream machine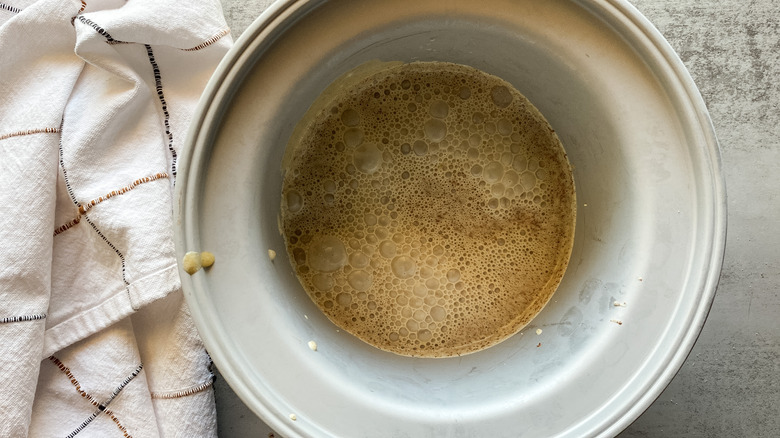 Kristen Carli/Mashed
Get out your handy dandy ice cream machine and pour the mixture into the bowl. Once the bowl is locked into place, cover it with the lid and churn. You can set it and forget it for about 25 minutes until you reach a thick soft-serve-like consistency. At this point, you may assume the ice cream is complete, but we have one more crucial step before you can enjoy a scoop. 
Freeze for at least 4 hours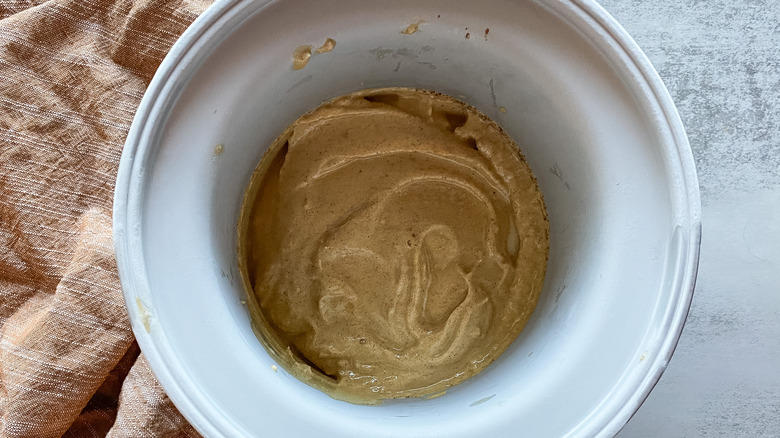 Kristen Carli/Mashed
Once your gingerbread ice cream is looking ready, you can turn off the ice cream machine, remove the bowl, and place it in the freezer. We want this to freeze for at least 4 hours until the ice cream begins to harden into your typical desired ice cream texture. Carli recommends freezing the ice cream "for at least 4 hours, but sometimes [she] find[s] it easier to freeze it overnight, and enjoy the following day."
Serve alone or as an ice cream sandwich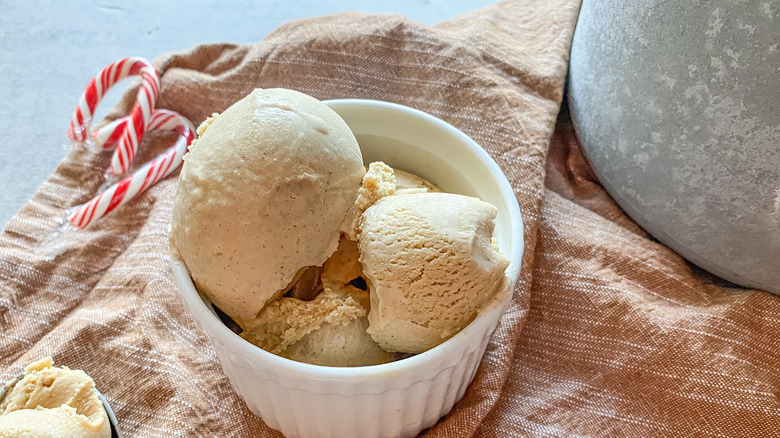 Kristen Carli/Mashed
Now that you've allowed the ice cream to harden, the wait is over! You can finally enjoy a scoop of this seasonal treat. Carli recommends "eating a scoop of this gingerbread ice cream as is, topping it with caramel sauce, or placing it between two chewy molasses cookies to make an epic ice cream cookie sandwich." Wow, we like the way she thinks and know what we need to make next. Talk about the perfect holiday spice-forward dessert!
Gingerbread Ice Cream Recipe
This spice-heavy gingerbread ice cream recipe is the perfect treat for the holiday season. Enjoy it solo or stuffed between two gingerbread cookies.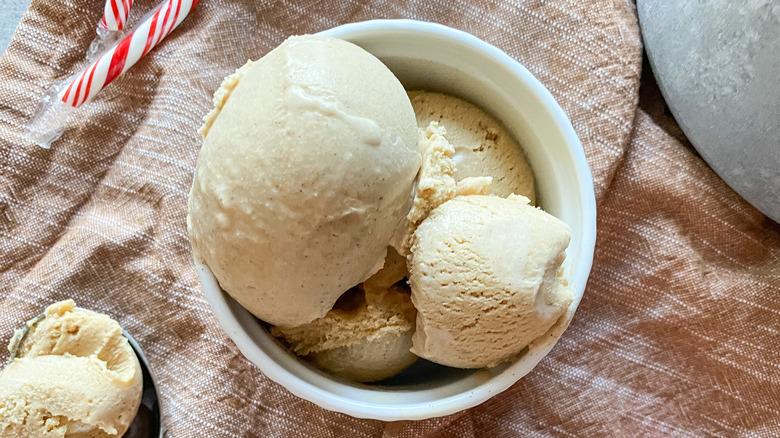 Ingredients
1 cup heavy cream
1 cup whole milk
¾ cup sugar
2 tablespoons molasses
2 ½ teaspoons ground ginger
1 teaspoon ground cinnamon
½ teaspoon allspice
¼ teaspoon ground cloves
¼ teaspoon ground nutmeg
Directions
Add all of the ingredients to a large bowl.
Using a whisk, stir well to combine, making sure to dissolve the sugar.
Pour the mixture into the bowl of an ice cream machine.
Close the lid and churn for 25 minutes.
Remove the mixture from the ice cream machine and freeze for at least 4 more hours.
Nutrition
| | |
| --- | --- |
| Calories per Serving | 425 |
| Total Fat | 24.2 g |
| Saturated Fat | 14.9 g |
| Trans Fat | 0.0 g |
| Cholesterol | 87.6 mg |
| | |
| --- | --- |
| Total Carbohydrates | 51.6 g |
| Dietary Fiber | 0.6 g |
| Total Sugars | 50.1 g |
| Sodium | 54.0 mg |
| Protein | 3.3 g |