Why Costco Shoppers Are Convinced Diplo Is One Of Them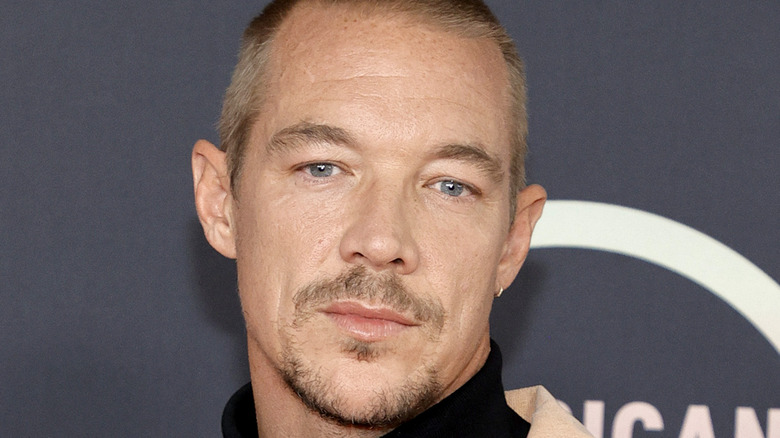 Amy Sussman/Getty Images
Even if you don't think you've heard the name Diplo, you may have heard his music. Born Thomas Wesley Pentz (per Discotech), Diplo wears multiple hats – he is a DJ, producer, record, exec, and songwriter who is known for creating hits like "Lean On" (via NME and YouTube). (Fun fact: Diplo adapted his name from his favorite childhood dinosaur, the diplodocus.) He has also worked with mega-stars like Beyonce, No Doubt, Usher, Ellie Goulding, and Snoop Dogg, and collaborated on "Welcome to the Party (via YouTube)," which was featured prominently in the "Deadpool 2" soundtrack. Plus, he might like Costco.
Diplo recently showed up on a red carpet for what appears to be an Ocean Drive event, and he was wearing a black Kirkland Signature sweatshirt. His public display of Costco attire has some fans of the big box chain believing he's just like the rest of us bulk-buying bargain lovers, according to a recent thread on the Costco subreddit. As the OP put it, "Diplo is one of us." The post received more than 300 upvotes, and another commenter appeared to agree with the OP, writing, "Goobul Gobbul one of us!"
This Kirkland sweatshirt is 'hot fire'
With an estimated net worth of $50 million (via Celebrity Net Worth), Diplo doesn't have to purchase Kirkland products that one of us might value for their low prices, but it's fun to believe he buys pretzels, batteries, and vodka from Costco. Even though the chain has presented its Kirkland Signature shirts as a way to "show your love for Costco" (via Instagram), of course, it's possible Diplo is just wearing the sweatshirt to a red carpet event as a fashion statement and doesn't actually push a giant cart around on Saturdays like other Costco fans. 
The phenomenon of this sweatshirt's popularity and its "street cred" was reported on in this funny piece by TODAY. One reviewer even argued that buying the shirt, which costs $19.99, actually makes a statement about one's finances because "nothing says 'I have money" like 'I saved money.'" If Costco's black Kirkland Signature sweatshirt was "hot fire" before Diplo donned it for an Ocean Drive magazine red carpet event, seeing the DJ give the garment his blessing will only make it harder to find. One Redditor noted cheekily, "Pssh, typical elitist celebrity got the rare black one, of course [winking face] (Seriously, though, been to three different Costcos in the past month and can't find the black one ... no longer on the website either!)" (via the Costco subreddit).