This Taco Bell Power Bowl Is Unrecognizable Under All The Hot Sauce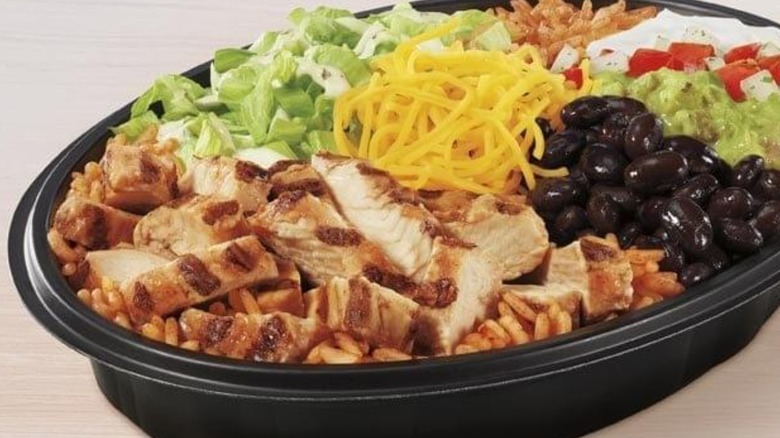 Taco Bell
While Taco Bell might be best known for its, well, tacos, the fast food chain also has plenty of other crowd-favorite items on the menu. There are burritos, nachos, quesadillas, and the wildly popular Crunchwrap Supreme, to name a few. And who can forget the chain's Power Bowls? There are two variations available: the traditional Power Menu Bowl and the Veggie Power Menu Bowl (via the Taco Bell website). 
The classic bowl is packed with grilled chicken, rice, beans, veggies, and cheese and drizzled with avocado ranch sauce. You can order the Power Bowl as is, or customize it to your liking. Taco Bell boasts "bold flavors" (per Yum! Brands), and you can certainly make this bowl bolder. One way to literally spice it up — as is the case with most of Taco Bell's items — is to add the restaurant's cult-favorite hot sauces. But just how much hot sauce is too much? Judging by the order of one Redditor, the limit does not exist.
A customer smothered their Power Bowl in hot sauce
There are people who love hot sauce and then there are people who really love hot sauce. And then, there are people like this Redditor who really really love hot sauce. The Taco Bell fan posted a photo of their recent Power Menu Bowl order — but it didn't look like the grilled chicken and rice bowl you might be familiar with. Instead, the picture featured a Power Bowl smothered — and we do mean smothered — in hot sauce. "This one goes out to any drive-thru friend who's ever doubted me when I asked them for 'As much hot and fire sauce as you can legally give me,'" the Redditor wrote.
Unsurprisingly, people had very strong reactions to the drenched bowl. A commenter seemingly approved of the amount of hot sauce poured on top, saying, "Packet per bite is the perfect food/sauce ratio." Others thought it resembled an entirely different food. One user said that "it looks like gravy on noodles or mashed taters." In a similar vein, someone else asked, "Wtf is this, your [Taco Bell] serving mashed potatoes and gravy now?" And one person even sarcastically remarked, "I love when it looks the same going in as it will coming out."