This Aldi Fan's Meat-Flower Charcuterie Board Impressed Reddit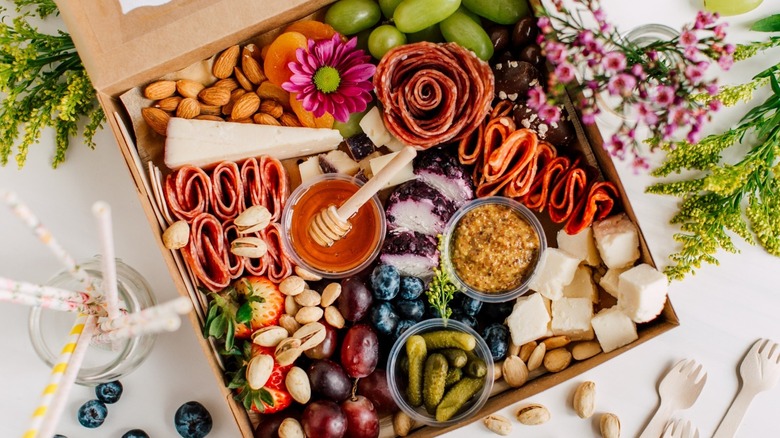 Katheryn Moran/Shutterstock
Charcuterie boards are a go-to snack for parties. They can be simple, easy plates featuring just a few ingredients; or huge, decorative platters made with top tier cheeses and meats — it's up to you to decide how much you'd like to invest in the charcuterie board of your dreams.
The charcuterie obsession has of course gotten even more intense, as it's the holiday season and there are plenty of parties to host and guests to feed — and Aldi has been all over the trend this year. In October, the supermarket chain announced via press release that it was going to form a "Charcuterie Board of Directors" comprised of seven professionals who are pros in the world of charcuterie.
On top of giving styling tips and tricks straight from the board members, Aldi also shared it would be creating in-store "Charcuterie Board Must-Have" guides and tags highlighting charcuterie essentials to make shopping easier for everyone. If you thought charcuterie boards were so 2020, well, Aldi is politely disagreeing.
One Aldi shopper (who clearly payed attention to all the tips and tricks the supermarket had to give) took to Reddit to post a picture of their charcuterie board. Made entirely with Aldi ingredients, the offering left fellow shoppers in awe of their skill.
Reddit couldn't stop admiring the salami roses
The shopper shared with fellow Aldi fans on Reddit a picture of a massive charcuterie board they had put together using only items from the supermarket. This board was no basic, tiny cheese plate: it featured three types of grapes, pretzels, nuts, spreads, olives, four kinds of cheese, and three types of meat. One comment said that the charcuterie board was so stunning they would be sad to eat it.
What seriously impressed Reddit though, were the roses made entirely out of salami. When asked how they had managed to keep the salami slices upright, the original poster shared their genius trick: "I used stemless wineglasses and actually wrapped them in plastic in the fridge overnight." Another Redditor was so impressed they suggested the poster share the photo on social media, tagging the affordable grocery chain. "They'll love it," the comment promised.