Giada De Laurentiis Returns Love To Hills Alum With Fun Side Dish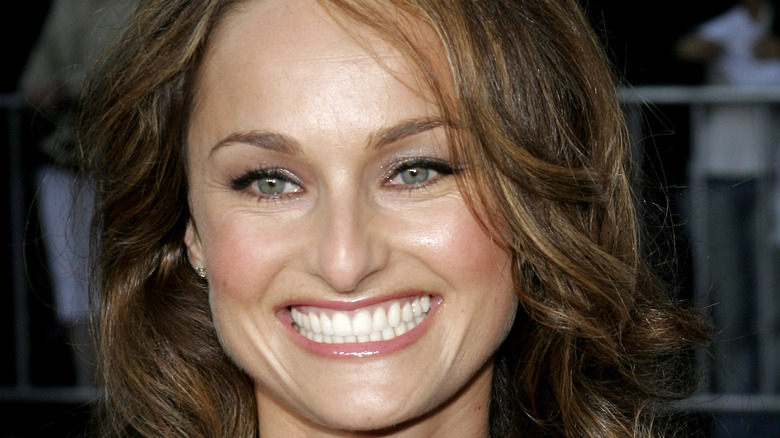 Tinseltown/Shutterstock
Taylor Swift and Ina Garten, Matthew McConaughey and Guy Fieri, and many more influential duos prove just how much everyone loves a good celebrity-chef friendship, right? We all enjoy watching one icon cross the boundary into another's universe, swooning from afar as the two bond over recipes, restaurants, and how hard it is to be famous. Such is the love story that began when Kristin Cavallari, entrepreneur and former star of the reality TV show "The Hills," posted a story on her Instagram about cooking from Giada De Laurentiis' cookbook, "Eat Better, Feel Better." As we reported last week, Cavallari was drawn to De Laurentiis' latest tome because of its health-focused angle, and because she was able to whip up the Food Network star's steamed cod for lunch in about 12 minutes.
De Laurentiis reposted the story on her own Instagram as a nod to her famous fan and the woman who once destabilized the entire social economy of "The Hills" (just kidding — as we've learned in the years since the reality show ended, most of the drama was made-up anyway). But then De Laurentiis took a page out of Cavallari's book — her cookbook, that is. In a recent Instagram story, De Laurentiis shared an update saying, "So today I'm making a really fun side dish," before posting a picture of a dish straight out of "True Comfort," the cookbook Cavallari published last year (via Google Books).
Love and friendship are (Brussels) sprouting up everywhere
"True Comfort," as described on Cavallari's website, is a cookbook inspired by comfort food, but with a healthy twist. Recipes that reflect Cavallari's current residence in Nashville, Tennessee (like "Nashville Hot Chicken Salad Cups") are nestled alongside creations that seem more skewed to an LA lifestyle, such as Cavallari's "Cashew Eggnog" and "Rosemary Charcoal Latte." But it was the Brussels sprouts that caught De Laurentiis' eye, or the "fried Brussels sprouts with pine nut and lemon vinaigrette," as the chef says in her Instagram story, exclaiming, "Look how good that looks." In the photo (which does look amazing), De Laurentiis tags Cavallari, her book, and Well Enough, an arm of the health and wellness press that puts out both De Laurentiis' and Cavallari's cookbooks (via Crown Publishing Group). "SOO DELISH!" reads the text on the image.
It makes sense that De Laurentiis and Cavallari would connect over food. Besides just the Italian surnames and connection to Hollywood (don't forget, De Laurentiis has a family history filled with showbiz), the women are both incredibly health-conscious when it comes to food. "True Comfort" is a gluten-free cookbook free of refined sugar, and "Eat Better, Feel Better" is all about gut health and boosting your immunity through good foods and a healthy lifestyle. Do we smell a food-centric, celebrity-filled, reality TV show baking in the oven for De Laurentiis and Cavallari? For now, we're just enjoying the rising friendship.