Dairy Queen Fans Won't Want To Miss This Bacon Cheeseburger Deal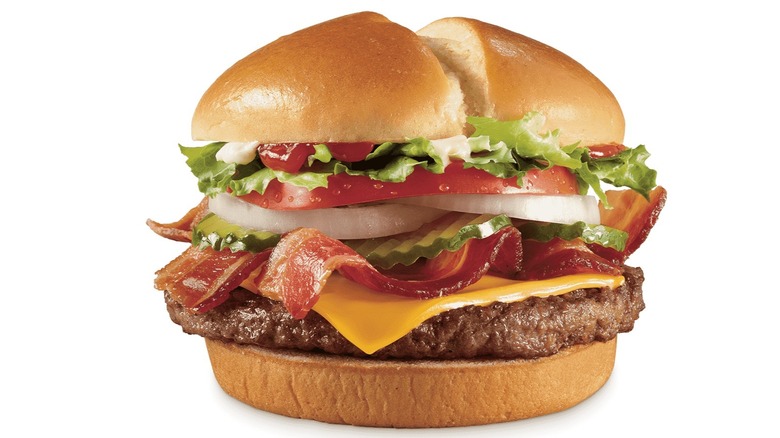 Dairy Queen
Dairy Queen is a national fast food chain that has been around since 1940, when it first opened a shop in Joliet, Illinois (via Dairy Queen). Since then, it's become a go-to for, as the name suggests, frozen treats. You can get a regular soft serve vanilla ice cream dipped in chocolate fudge, a banana split, or, of course, the ever popular Blizzard, which is essentially a super thick milkshake that comes in a range of flavors, from Chocolate Chip Cookie Dough to Reese's Peanut Butter Cup.
But before you get to dessert — or if you want something that pairs well with your Blizzard — Dairy Queen also offers some drool-worthy burgers on the menu that get rave reviews from its customers. One of those is the Bacon Cheeseburger, which features thick slices of applewood bacon and melted cheese. If you suddenly have a hankering for something meaty and juicy, you're in luck, because there's an amazing deal on Dairy Queen's Bacon Cheeseburger going on right now that's worth checking out for yourself.
You can get a DQ Bacon Cheeseburger meal for just $6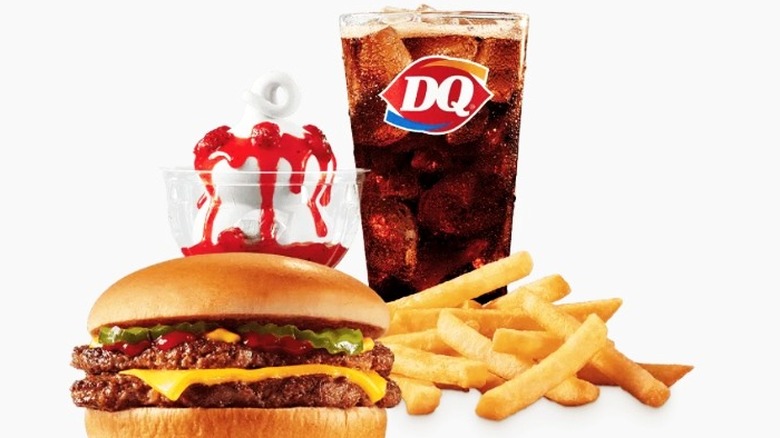 Dairy Queen
If you're craving a delicious cheeseburger, you don't have to spend a bunch of money at a fancy steakhouse or settle for something subpar at the McDonald's drive-thru. Now at Dairy Queen, you can snag a whole Bacon Cheeseburger, plus sides, for just $6. The combo meal is a delicious deal, including your burger, a side of regular fries, a 21 oz. drink, and a small ice cream sundae (via Brand Eating). According to Dairy Queen, "From salty bacon to sweet soft serve, this combo has everything you need and more." 
The deal is currently available at participating Dairy Queen locations, so you may want to call your local store before you show up to make sure it's valid there. Your Bacon Cheeseburger will normally come topped with lettuce, tomato, pickles, and onions, as well as bacon and cheese, but those are a given. You can also customize your sundae with the toppings of your choice, from hot fudge to caramel to pineapple. With this deal, now's the perfect time to head over to Dairy Queen.