Jet-Puffed's New Mini Marshmallows Will Take Your Hot Cocoa To The Next Level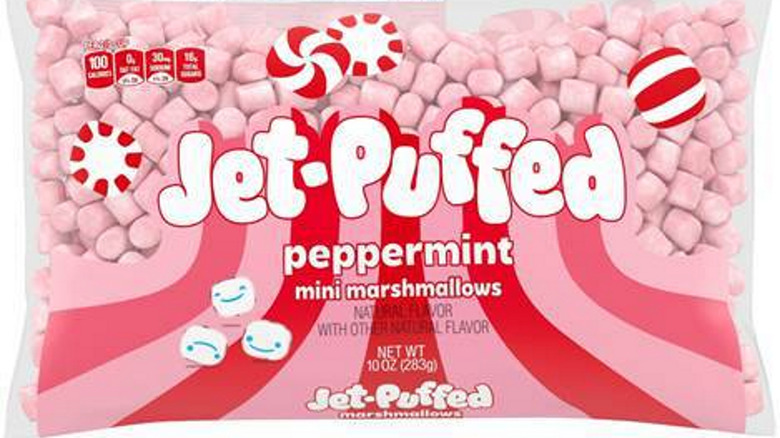 Walmart
We may receive a commission on purchases made from links.
Winter might as well be nicknamed hot chocolate season. When the temperatures drop and the weather forecast calls for blustery winds and icy snow, there's nothing better than wrapping your hands around a steaming hot mug of cocoa. It's a tradition that 42% of people say they look forward to the most this time of year, even ahead of sledding or building a snowman (via Penn Live).
Whipping up a cup of instant hot chocolate — looking at you, Swiss Miss — is a nostalgic wintertime activity that both adults and kids enjoy. But everyone knows that the tiny marshmallows provided in the powdery mix aren't exactly the best, since they usually just melt away within seconds. A better option is to add your own fluffy marshmallows on top (or better yet, make creamy hot chocolate from scratch for an extra indulgent sip). However, if you are looking to keep things simple, and you don't want to settle for regular mini marshmallows, you could get really fancy this holiday season and top your hot chocolate with Jet-Puffed's new peppermint mini marshmallows. 
Jet-Puffed peppermint mini marshmallows are available at stores nationwide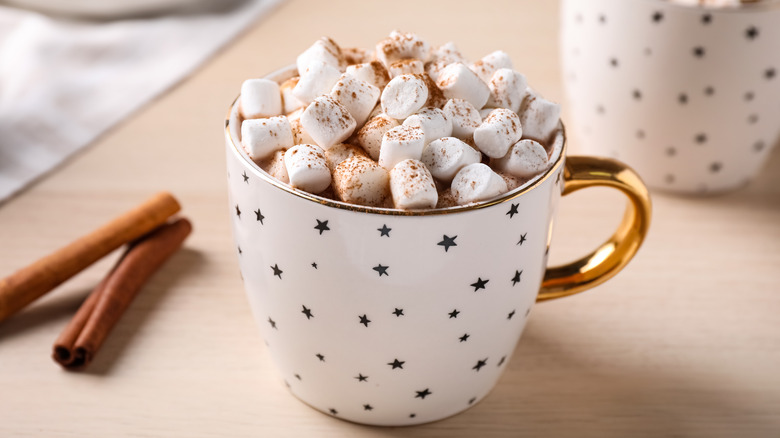 New Africa/Shutterstock
If you're looking for a seasonal twist on your traditional mug of hot chocolate, look no further than Jet-Puffed's peppermint mini marshmallows. The popular marshmallow brand has released the minty mallows just in time for the holidays, and you can snag a 10-ounce bag at Walmart stores across the country, on Amazon, and at a handful of other large grocery retailers. "Our miniature marshmallows deliver the sweet taste and fluffy texture you know and love with mouthwatering peppermint flavor," Jet-Puffed describes. Even better? The tiny marshmallows are 100 calories per serving and contain zero grams of fat, so you can add them to your hot chocolate or Rice Krispie treats to add flavor without fat. It's a win-win.
So far, it looks like Amazon shoppers love the peppermint marshmallows. "Wonderful flavors and fun to use," one reviewer wrote, while another added, "Not an overpowering peppermint flavor, fresh, and the perfect pairing to my hot chocolate." If you want to try them for yourself, you may want to snag them fast, though — as people say that these delicious treats can be hard to find in stores this time of year.