Chrissy Teigen Reveals What She Would Choose For Her Last Meal - Exclusive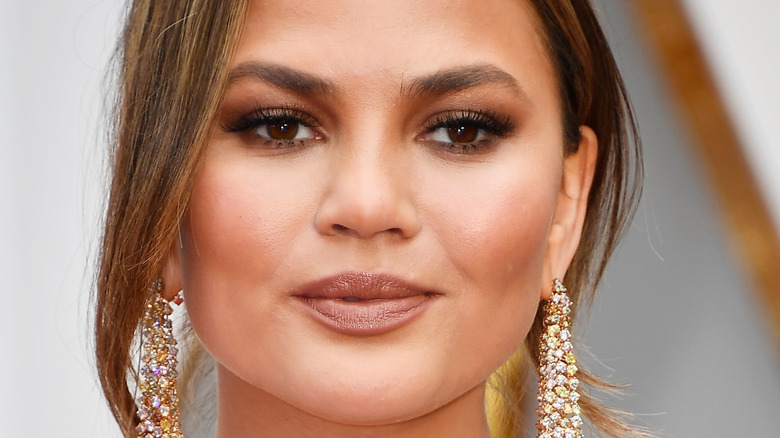 Frazer Harrison/Getty Images
Chrissy Teigen is her mama's daughter. Exhibit A: They have a shared love for ensuring that all food is "Hot Ones"-level spicy. In a previous exclusive interview with Mashed, her mom Pepper Teigen even let us in on mom and daughter's special hot sauce – one that the Teigen matriarch says they literally put on "everything." Exhibit B of their mutual affections: Both of the Teigen ladies share a talent for serious cooking that borders on ambrosian perfection (and both have New York Times best-selling cookbooks to prove it).
And, Exhibit C of the mom-and-daughter bond is seen in what Chrissy Teigen just revealed as the dish she would choose for her last meal. No, it's not a dish from the three-Michelin starred feast that she and husband John Legend enjoyed while in Saint Tropez, which is forever documented thanks to People. Neither is it a pasta dish from Via Veneto in Los Angeles, although the upscale restaurant (which has a separate menu solely dedicated to truffles!) is, as Teigen revealed to Vogue France, a go-to date night destination for the power couple. 
Instead, Chrissy Teigen's last meal would be something solidly relatable. The supermodel-turned-comfort food queen exclusively dished to Mashed that her last meal would be a Pepper Teigen masterpiece. 
Chrissy Teigen's last meal pick is a carb-filled treasure
Chrissy Teigen's last meal, she said, would be creamy, carb-filled, and topped with smokey bacon. Teigen exclusively told Mashed that her mother Pepper's scalloped potatoes "would definitely be my final meal in general." You can find the recipe on her Cravings site — it's chock-full of russet or Idaho potatoes, onions, ham, bacon, garlic, onion, butter, and whole milk.
Not only does Teigen sell the dish well, but so did her husband John Legend during the Mashed interview. "It could be a meal on its own, it's grand ... it's really perfect, truly," Legend told Mashed. "That's why I would pick it," Teigen said, and then added, "Because it has the protein, it's got potatoes, it's got cream." Unlike other scalloped potato recipes floating around, you may have noticed that Pepper's does not call for cheese. And Chrissy argues that's exactly what brings mama Teigen's dish to another level. "Listen, I agree that cheese makes everything better, but this is the one thing in my life that cheese doesn't make better," the "Cravings" empress argued. "It just needs that creaminess, and that smoky bacon, and it's just so delicious."
For more holiday recipe suggestions from Chrissy Teigen and John Legend, check out 12daysofchexmas.com, where you'll find Chrissy & John's Specially Curated 12 Days of Chexmas Holiday Countdown and other Chex holiday recipes. You can also tap into hosting hacks, crafts, and a gift guide, and be entered for a chance to win John and Chrissy's Ultimate Holiday Gift Haul, valued at over $500, by scanning QR codes on limited-edition holiday boxes of Chex cereal or by heading directly to the website.