Is Subway Open On Christmas 2021?
Just to give an up front answer to the question you came here to find, as far as we can tell, there is no companywide Subway holiday schedule. Your best bet is to contact your local store to see what they're planning to do on Christmas Day. However, if you'd like to know a bit more about why that is, please keep reading!
Of all the fast food sandwich joints, Subway is arguably one of, if not the most, popular. In fact, according to Insider, it's the largest fast food chain in the world, even beating out McDonald's. With more than 22,000 locations in the United States alone (as of 2021, via New York Post), you'd be hard-pressed to drive more than five miles down any highway without seeing the bright green and yellow logo luring you in for a bite to eat. Subway is, of course, known for its made-to-order subs, which come in 6- and 12-inch sizes that you can completely customize with any number of meats, cheeses, fresh toppings, and condiments. The menu also features signature subs — like Baja Chicken and Bacon or Meatball Marinara — wraps, salads, and the chain's famously soft and chewy cookies.
So, why doesn't the world's most famous sandwich shop have a uniform policy on its hours on December 25? The short answer is that Subways are mostly operated by individual franchisees, who have some flexibility in setting store hours. But even that's a bit murky this year. 
A new Subway franchise contract could affect stores' Christmas hours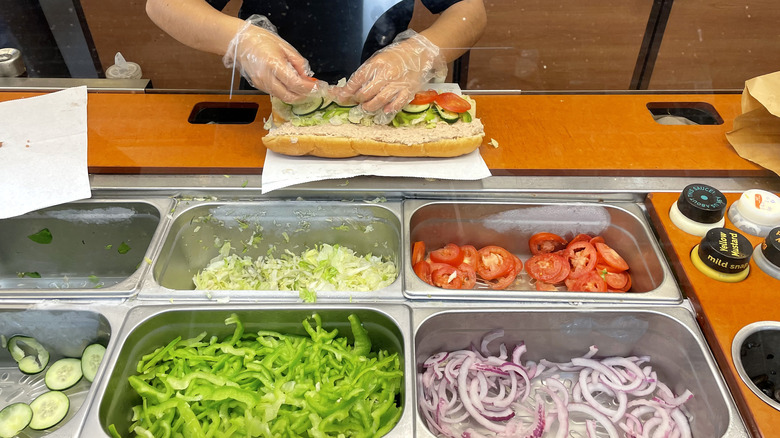 Justin Sullivan/Getty Images
Maybe you're traveling on Christmas Day and need a spot to stop and grab a quick bite to eat while you're on the road. Or maybe after a day of present-opening and merry-making, and you won't feel like turning on the oven. Regardless, if you're planning a trip to Subway on December 25, you might be out of luck. Many alleged Subway employees reported in a 2020 Reddit thread that their stores shut down for the holiday (and a variety of others) — but it varied by franchisee.
Heavy took the Subway Christmas query one step further in 2020 by contacting a company rep, who told the outlet, "All Subway restaurants are independently owned and operated so holiday hours vary." Adding even more mystery to the question of whether or not you'll be noshing a 6" tuna under the tree this year, the New York Post reported in June 2021 that the sandwich giant rolled out "new store closure rules" that restricted franchisees to only shutting the doors once "every 12 months." Whether they'll use that one golden day off for Christmas is anyone's guess. 
Was that a really long-winded way to say, "We don't know if Subway will be open on Christmas"? Yep. But it seems like the only way to find out is to contact the store you plan to visit in your Santa hat to verify their plans.