Crispy Smashed Potatoes Recipe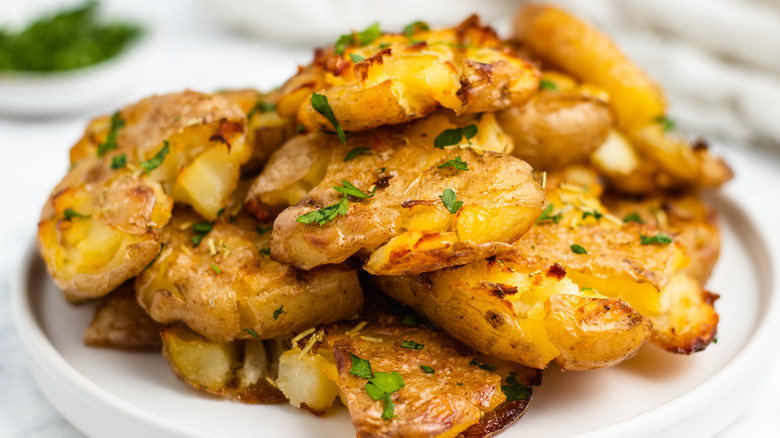 Catherine Brookes/Mashed
While potatoes come in all shapes and sizes, one thing seems to remain constant: a near universal love for these spud-y treats. From French fries, to baked potatoes, to mashed potatoes, and every thing else in between, there are so many ways to prepare this starchy treat. If you are looking for something that's slightly out-of-the-box when it comes to potatoes, we have the perfect recipe for you. These smashed potatoes are soft in the center and crispy on the outside, and they come with a lovely olive oil glaze with a hint of garlic powder. (Are you drooling yet?)
Recipe developer Catherine Brookes came up with this recipe for crispy smashed potatoes that is sure to be a hit at your next family dinner or party. "One of the best things about this recipe is that you don't have to spend lots of time peeling the potatoes," Brookes shares. "Just boil them whole, smash them, and pop them in the oven. And they still end up super crispy!" 
We love the sound of that. Keep reading to find out how to make this yummy side.
Gather the ingredients for crispy smashed potatoes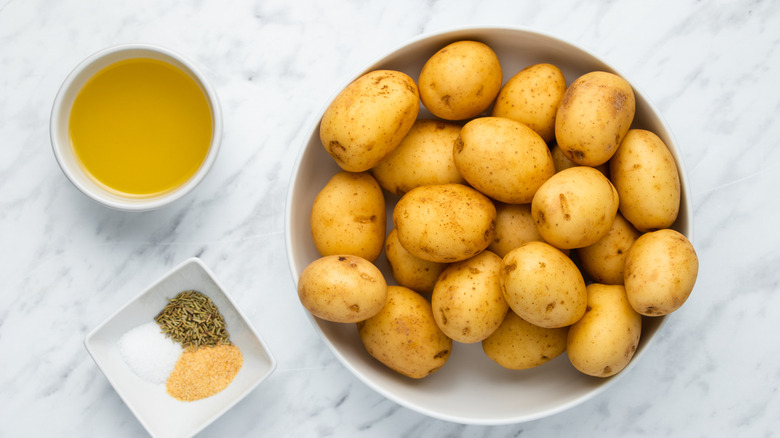 Catherine Brookes/Mashed
These crispy smashed potatoes are pretty basic, and they only require a few ingredients you'll need to pick up at the store. When you arrive at your go-to grocery stop, be sure to pick up two pounds of medium-sized potatoes. You will also need olive oil, which is pretty standard in most recipes that involve potatoes. The last stop you'll need to make in the store is the spice aisle. Be sure to grab garlic powder, dried rosemary, and salt. (You may even have these at home!) Once you've loaded up your cart, check out, and head home to make this delicious side.
Boil the potatoes, and preheat the oven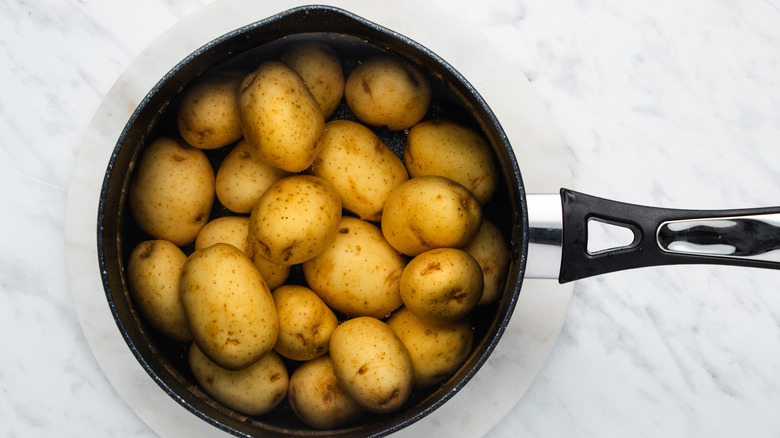 Catherine Brookes/Mashed
Let's get right down to business. The faster you get to cooking, the faster you get to enjoy these incredible potatoes, and we mean that in every sense of the word. Take out a large pan, and fill it with water. "The water should be just high enough to cover all of the potatoes," Brookes notes. 
Toss in the potatoes, and cook until they're fork-tender. This should take about 25 minutes. While your potatoes cook, take a little trip over to your oven, and preheat it to 390 F.
Smash the potatoes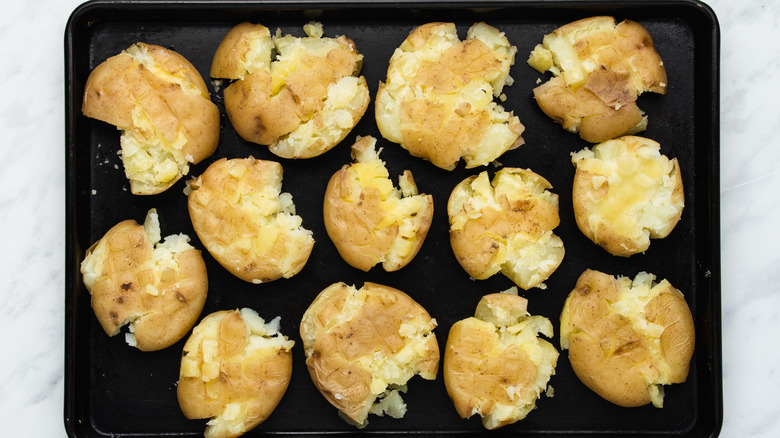 Catherine Brookes/Mashed
Once you finish cooking the potatoes, drain them, and then start placing them on a baking sheet. Just leave a little space between each one, as they will expand when you smash them. Continue placing the potatoes on the baking sheet until you use them all up. They should take up roughly one to two baking sheets.
Using the back of a fork or a potato masher, smash each potato so they're about ½ inch thick. "They should be quite tender by this point, so don't require too much strength," Brookes shares. Repeat the process with all of the remaining potatoes.
Mix the topping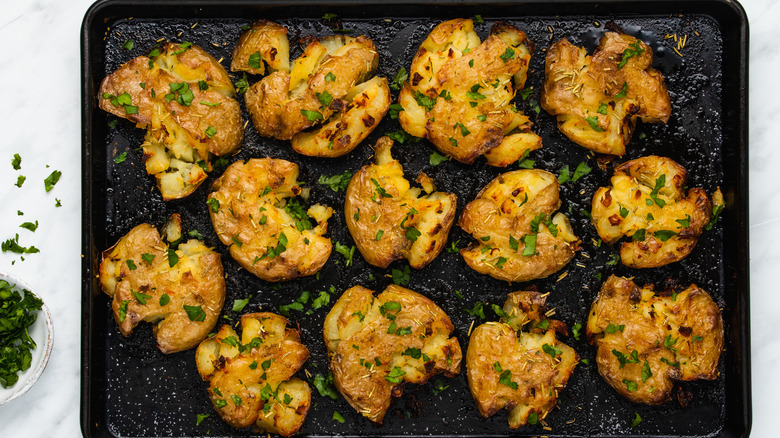 Catherine Brookes/Mashed
Before you put the potatoes in the oven, you will need to make the dressing to go on top. Simply grab a small bowl, and add the olive oil, garlic powder, and dried rosemary. If you don't like rosemary, you could always sub. "Feel free to skip [the rosemary,] or perhaps add thyme, dill, or extra parsley/garlic," Brookes shares. 
Give the mixture a few good stirs to incorporate all of the ingredients together. Then, drizzle the mixture over the potatoes, ensuring that each one is well-coated. The last thing that you will need to sprinkle over is the salt.
Now, pop the baking sheet (or sheets) into the oven, and set your timer for 30 to 35 minutes. You will want to cook the potatoes until they're browned and crisp.
Serve, and enjoy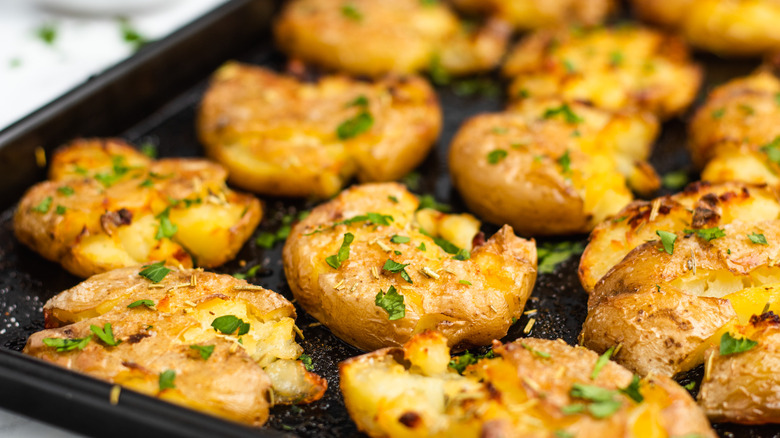 Catherine Brookes/Mashed
Once your timer goes off, grab the oven mitts, and take the potatoes out of the oven. You can serve these as you wish. Brookes recommends adding a little bit of chopped parsley on the top. They would be a great addition to any meal, or they would make a great appetizer. "I like to dip them in mayo. Garlic mayo or sour cream would be great actually," Brookes says. Can you say drool-worthy?!
If you have any leftovers, be sure to save them! "Leftovers can be kept in the fridge up to 3 days. You can reheat them in the oven," Brookes suggests. We hope you love this potatoes as much as we do!
Crispy Smashed Potatoes Recipe
These smashed potatoes are soft in the center and crispy on the outside, and they come with a lovely olive oil glaze with a hint of garlic powder.
Ingredients
2 pounds small to medium-sized potatoes
⅓ cup olive oil
1 teaspoon garlic powder
½ teaspoon dried rosemary
½ teaspoon salt, or more to taste
Optional Ingredients
fresh chopped parsley, for serving
Directions
Add the potatoes to a large pan of boiling water, and cook until fork-tender, about 25 minutes.
Preheat the oven to 390 F.
Place the potatoes on 1 to 2 baking sheets.
Smash each potato with a fork or potato masher so they're about ½ inch thick.
Mix the olive oil with the garlic powder and dried rosemary.
Drizzle this mixture over the potatoes, making sure each one is well-coated. Then, sprinkle over the salt.
Bake for 30 to 35 minutes, or until browned and crisp.
Serve with fresh chopped parsley.
Nutrition
| | |
| --- | --- |
| Calories per Serving | 225 |
| Total Fat | 12.2 g |
| Saturated Fat | 1.7 g |
| Trans Fat | 0.0 g |
| Cholesterol | 0.0 mg |
| | |
| --- | --- |
| Total Carbohydrates | 26.9 g |
| Dietary Fiber | 3.4 g |
| Total Sugars | 1.2 g |
| Sodium | 203.5 mg |
| Protein | 3.1 g |