Chrissy Teigen Shares The Christmas Breakfast Tradition You'll Want To Copy - Exclusive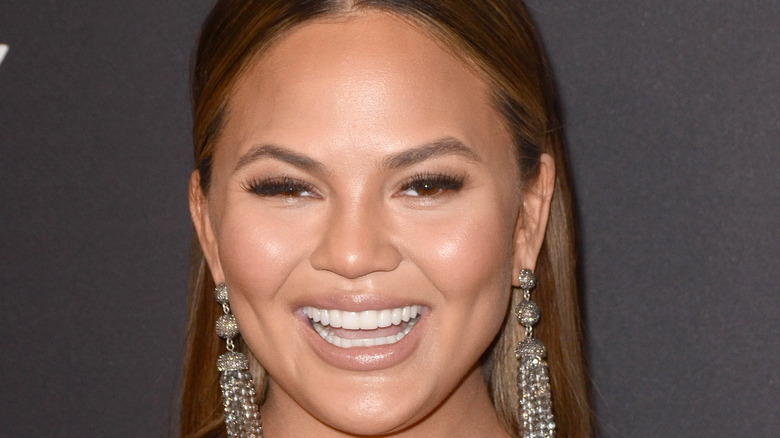 Kathy Hutchins/Shutterstock
Listen up, novices. Chrissy Teigen is about to give you a Master Class in a Christmas morning must-have. While Teigen and her family (including husband John Legend and children Luna and Miles) have been known to revert to McDonald's for some Christmas Day comfort every now and then — according to what the best-selling cookbook author told Today in 2018 — it's her Christmas a.m. tradition that one-ups even that hack.
The comfort food queen is a firm believer in Dutch baby pancakes for holiday breakfast, which will start making the house merry from the moment everyone wakes up. Teigen's oven-baked recipe — which you can find on her Cravings site — is the decadent, butter-heavy version that her dad used to make for her when she was a kid. "It's such a delicious alternative way to do pancakes, that don't take much watching or much fuss. It's really cool," the former supermodel-turned-lifestyle-and-kitchen guru told Mashed in an exclusive interview. Here's how to make them á la Teigen.
Here's the secret to mastering Chrissy Teigen's Christmas morning pancakes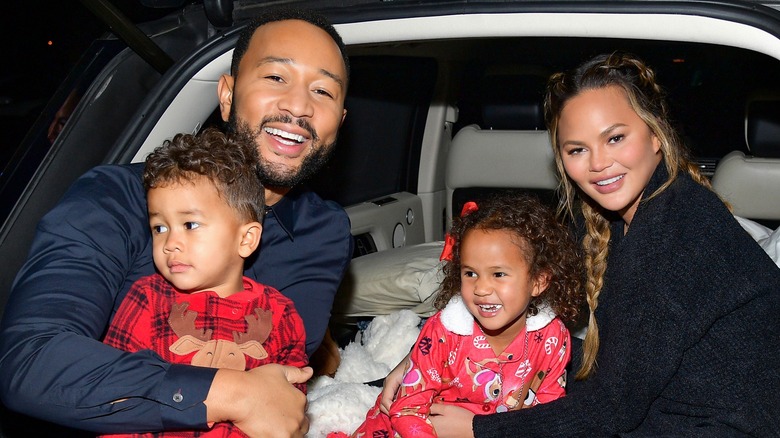 Matt Winkelmeyer/Getty Images
If you want to commit to making Chrissy Teigen's amazing Christmas morning pancakes, you'll need to set your alarm just a little bit earlier than everyone else's, as she told Mashed. "You [need to] wake up early because it needs room temperature milk, it's key in it," Teigen advised. After that, pour yourself a cuppa joe, turn up the Christmas carols (courtesy, perhaps, of John Legend?), and then relax. "You could just make a triple batch of batter ... and make them as you can go for people. It's not something that you have to watch that's on the stovetop, [since] it's baked," Teigen added. "You pour the batter into a cast-iron skillet ... pop it in the oven, and watch it do this beautiful puff to the top."
And like the Beef Wellington that Teigen has perfected for Christmas dinner (with the help of pre-made phyllo dough, as she told Mashed), her Christmas morning breakfast plans monopolize oven space, too, so plan ahead. But it's really as uncomplicated as that. Teigen also suggested serving the finished Dutch babies buffet-style. "You [could] set up a little bar with berries, powdered sugar, and maple syrup, lemon ... whatever people would want to put on it," she recommended, calling the breakfast "gorgeous, "beautiful," and "so tasty." Hubby John Legend agreed, saying, "They present very well ... put them in the oven, it's like a magic trick."
Chrissy Teigen and John Legend have another Christmas tradition that revolves around Chex cereal. You can find Chrissy & John's Specially Curated 12 Days of Chexmas Holiday Countdown and other Chex holiday recipes, as well as hosting hacks, crafts, and a gift guide, plus be entered for a chance to win John and Chrissy's Ultimate Holiday Gift Haul valued at over $500, by scanning QR codes on limited-edition holiday boxes of Chex cereal or by heading directly to 12daysofchexmas.com.