Cardi B Wants You To Dip Doritos In This Unexpected Sauce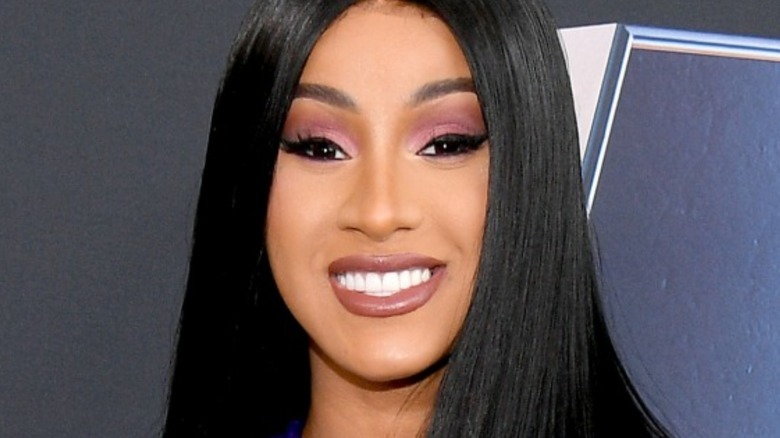 Dia Dipasupil/Getty
We may receive a commission on purchases made from links.
Whether you prefer classic Nacho Cheese or the bold Cool Ranch, Doritos are one of the most popular — and most recognizable — chips around the world. According to Statista, more than six million Americans consumed eight or more bags of the flavored tortilla chips in 2020 alone. Available in 16 flavors — including Poppin' Jalapeño, Spicy Sweet Chili, and Supreme Cheddar — Doritos are sold at almost any and every grocery and convenience store, and are even available in taco form at Taco Bell (hello, Doritos Locos Tacos!). They're a favorite snack for both kids and adults alike, and are often spotted at parties and football tailgates.
Even celebrities are big fans of the cheesy chips. Take Cardi B, for instance. On Twitter, the rapper recently posted a video of herself snacking on Doritos. But there's a catch. Cardi doesn't just eat her tortilla chips straight out of the bag — she dunks them in a common condiment. Here's what she recommends dipping your Doritos in the next time you're craving a late-night snack.
Cardi B recommends pairing Doritos with barbecue sauce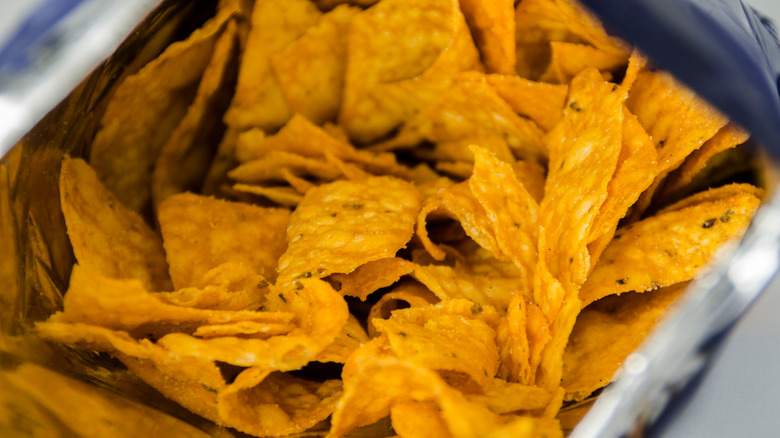 Fauzan Fitria/Shutterstock
In the Twitter video, which Cardi B claims was filmed around 2 a.m., she was hungry, but found that there was nothing to eat in her house except chips and candy. So Cardi decided to get creative and started dipping Doritos in barbecue sauce. 
"I really don't like to eat chips mad dry, but I don't have no dip, so I got some barbecue sauce," she explained in the short clip. "Yo, I think I did something ... [it's] dumb good." While some people were skeptical, those who have tried it are big fans. One person admitted that they've been dipping their Doritos in BBQ sauce for 15 years! However, a few people also pointed out that the flavor profile is nothing new: "Girl you made barbecue chips ... Go to bed lol love you," one person commented.
Plus, Cardi might not be the first person to have thought up the Doritos and barbecue sauce combination. We did some digging and found that many years ago, Doritos actually sold its own smoky-flavored side: Doritos Flamin' Barbecue Dip Sauce. Unfortunately, it's no longer available, so you'll have to settle for the bottle of Sweet Baby Ray's you have in the fridge.