Aldi Shoppers Are Loving These Holiday Tortilla Chips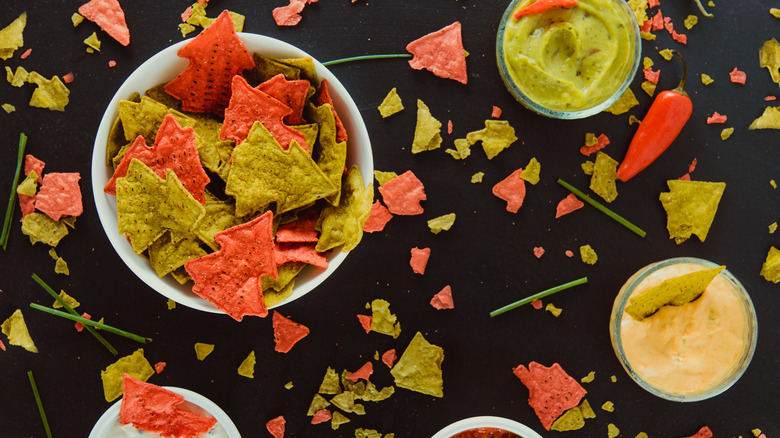 Okrasiuk/Shutterstock
Who said the holidays were just for sweets? Don't get us wrong, we love a good Christmas cookie and chocolate gelt. However, if you prefer savory snacks, Aldi has you covered with these holiday tortilla chips.
The chips are made by El Sabroso, which is the food producer that also came out with a guacamole-flavored chip that had people running to Sam's Club in 2020. On the packaging, these chips are described as "festive," and they are a limited edition. The bag also sports the holiday colors and has giant snowflakes printed on the edges. The chips themselves just scream the holidays, and come in either red or green. So if you're not even buying them for eating purposes, these chips are definitely worth getting to add to the aesthetic of your holiday party.
With that in mind, it's no wonder that Aldi shoppers on Instagram are eating them right up.
They are the perfect holiday appetizer
On the December 8, 2021 Instagram post of Aldi fan @adventuresinaldi, the user describes them as, "too festive to pass up." They admit to not even knowing what they taste like, but users in the comments reassure them that the chips are definitely worth grabbing off the shelf, even aside from the holiday theme.
"These are delicious!!! I always stock up when they come out each year," said one user, @mmrousse. Another fan, @aldiforpresident, writes, "um yes!!! these are delicious! seriously so good."
One other person, @twass5, also joined in the party, writing, "Bought them yesterday – they are super yummy! Thin crispy and perfectly seasoned!!"
So if you're on the fence about grabbing a bag of these chips, this is your sign to run to your nearest Aldi to get them. Not to mention, they would be great to enjoy with one of the great holiday dips that Aldi also sells. If you need a holiday appetizer dish, or something to just enjoy with your spinach artichoke dip, look no further than El Sabroro's Holiday Tortilla Chips.