The Top 5 Recipes Of 2021, According To Google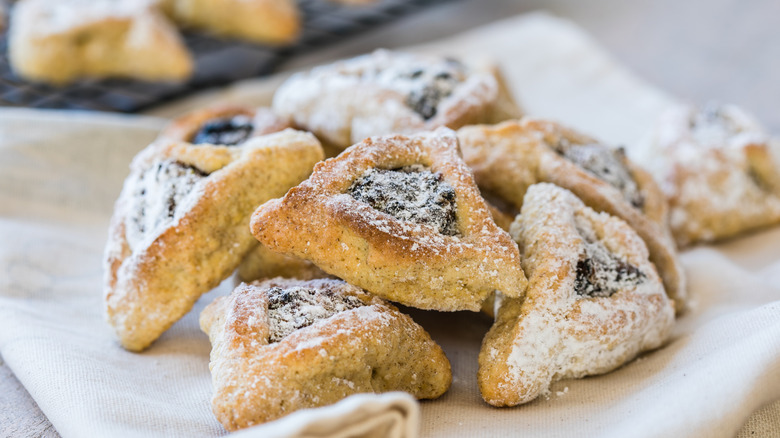 Sokor Space/Shutterstock
We didn't know what the food scene of 2021 was going to be like. Even though lots of restaurants opened back up after temporary, pandemic-related shutdowns, many of us were still cooking at home way more than we used to, trying to social distance as we weathered the ongoing spread of COVID-19. Google's year in review showed that the most popular recipes to search for in 2021 reflected some of our fatigue for cooking at home. While the most Googled recipes of 2020 included whimsical items like whipped coffee recipes, Disney churro recipes, and sourdough bread recipes (remember when everyone started baking up a storm?), 2021's list reflects a more humdrum year of cooking.
There were exciting foods that made the list, though. Hamantaschen, a Jewish cookie (shown above) that's served during Purim, was number five on the list, so people were clearly still in the mood to celebrate the holidays with their favorite homemade sweet treats. Birria tacos, which have seen soaring popularity in Los Angeles (via L.A. Taco) and around the country, came in at number three. Crockpot chicken recipes was the uninspired fourth-most-searched-for food of 2021, and though it's boring, we get it — who doesn't need a few more slow cooker chicken recipes in their back pocket to make it through those busy weeknights?
The top two recipes on Google in 2021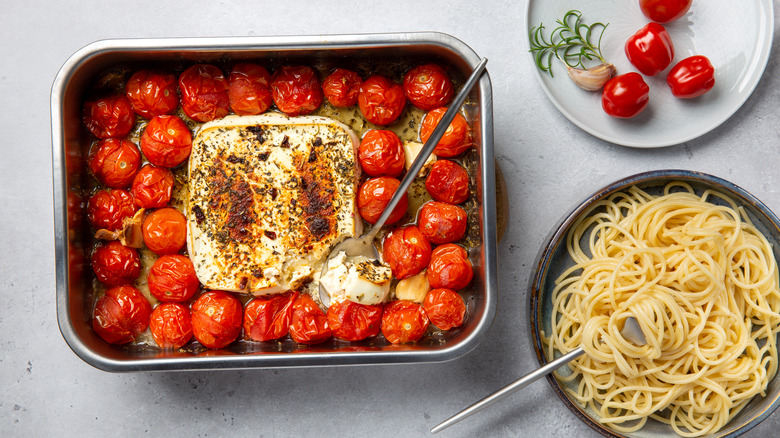 Geshas/Shutterstock
The two most-searched for recipes on Google in 2021 are so different from each other, it's kind of funny. Number two was bacon jam, which made us wonder if we had gone back in time to the bacon everything heyday of 2013, when bacon shaving cream and bacon cupcakes were the talk of the town (via Time). But hey, it's a sweet and savory, giftable meat jam, and if ever there was a time when we wanted to slather bacon on everything (it would probably make the Crockpot chicken recipes more exciting), it was this year.
Soaring to the top of the list? TikTok pasta, which we can only assume refers to the viral baked feta pasta recipe that took the world by storm in February, though it was invented in 2019 by a Finnish food blogger. The dish features a whole block of feta cheese that's baked with cherry tomatoes and tossed with pasta, and it seems like endless variations were shared on social media this year. Does the fact that the number one recipe of the year was basically an easy weeknight pasta dish speak to our cooking burnout compared to 2020? We can't say for sure, but we can confirm that pasta, cheese, and tomatoes is a winning trio any year.