Christmas Old Fashioned Cocktail Recipe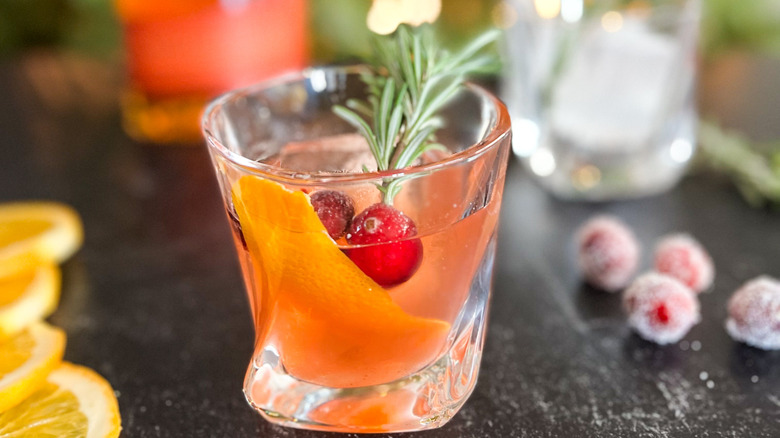 Erin Johnson/Mashed
If you are a bourbon fan, then there's no doubt that you've tried an old fashioned — aka one of the best and most popular bourbon cocktails around. And if you haven't? You are totally missing out. (But don't worry, because we can change that!) 
People typically make an old fashioned with bitters and an orange peel, but this festive Christmas-inspired recipe adds a little bit of cranberry and rosemary that will give you major holiday vibes. Recipe developer Erin Johnson came up with this tasty twist on the classic, and we are so grateful for that. "Bourbon is my go-to spirit, and I have long been a fan of a classic old fashioned," Johnson raves. "I loved the idea of making it feel a little more like Christmas with the cranberry and the rosemary."
If you're intrigued, keep reading to find out how to make this fantastic cocktail. It's perfect for your next festive get-together or just for a cozy night in sipping and streaming holiday flicks.
Gather the ingredients for this Christmas old fashioned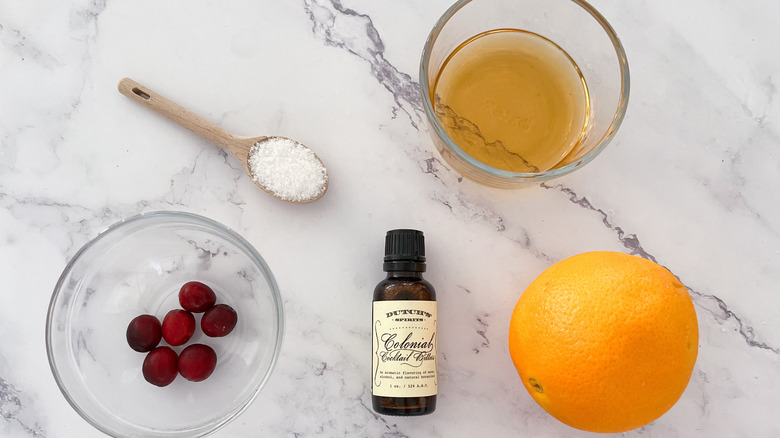 Erin Johnson/Mashed
Once you decide to make this holiday drink, you will need to take a trip to the grocery store and get all of the required ingredients. Start with fresh cranberries, which provide the perfect festive flair to this drink. You will also need a little bit of sugar and water. As a reminder, check at home for any items that you may have to save time and money.
Next, you will need the typical old fashioned ingredients like bitters and bourbon. Then, grab an orange, rosemary, and cranberry for garnish to wrap things up. If you have some vintage glasses, you can really prepare a Pinterest-worthy beverage presentation.
Muddle the cranberries, sugar, and water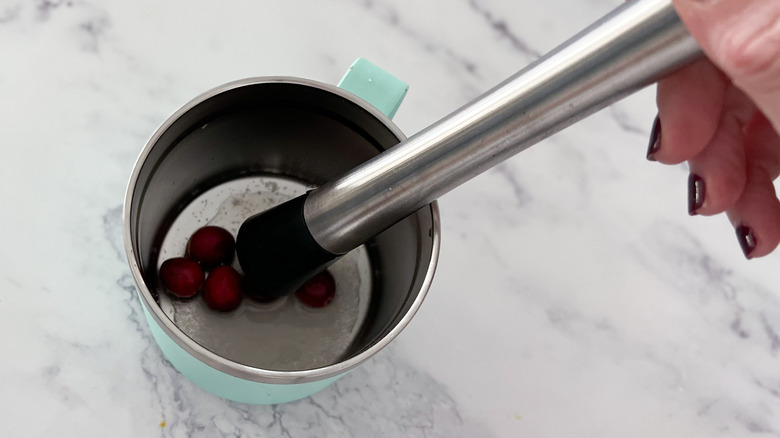 Erin Johnson/Mashed
Now that you have all of the ingredients to make this tasty cocktail, you can get to work on making it! First, grab a cup or a bowl or really just anything to put the cranberries in. Then, add the water and sugar, and start to muddle! "Muddling is easy — you just need to squish the fruit until all the juices are released. When it looks like nothing but [the] skin is left of the cranberries, you're finished!" Johnson shares. "If you don't have a muddler, you can use a wooden spoon or anything with a blunt end."
As a note, Johnson doesn't recommend making these ahead of time. "I would not. They are best served immediately," she shares.
Add the bitters and bourbon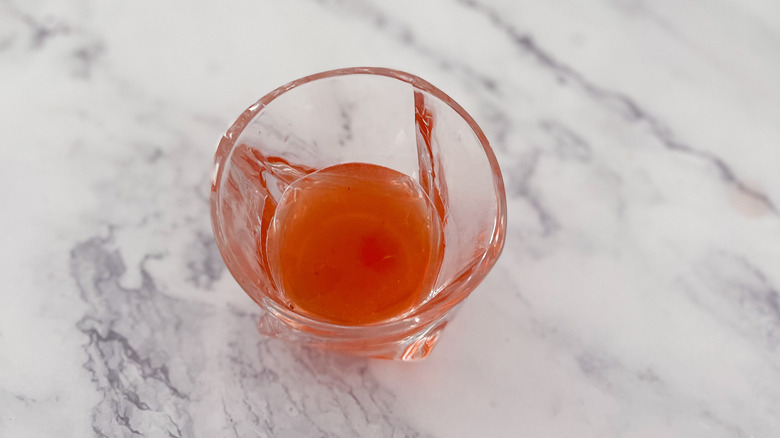 Erin Johnson/Mashed
As with any old fashioned, you will need bitters and bourbon, as they quite literally make the drink. Add them into the bowl with the muddled cranberries, and stir until the sugar dissolves. "If you'd like, you can make more than one drink at a time. "You can increase the recipe to make several drinks at once, if you prefer. Muddle and mix in a cocktail shaker, and strain into individual glasses," Johnson shares.
As far as flavors? "[The] old fashioned is very bourbon-forward, so if you don't like a cocktail that tastes like alcohol, this one probably isn't for you," Johnson says of the drink. "The addition of the cranberry adds a tart punch to the traditional old fashioned flavors."
Strain the drink, and add the garnishes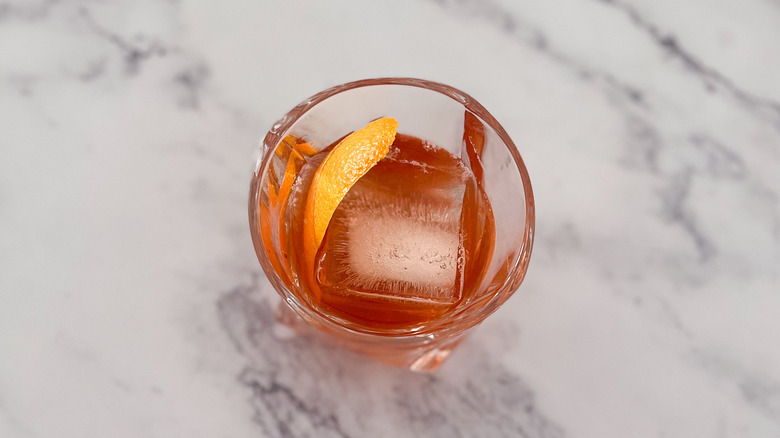 Erin Johnson/Mashed
Now, strain the liquid into a serving glass using a sieve or a cocktail strainer. You just want to be sure to remove all of the muddled cranberries, since you already extracted their wonderful juices out. Then, add a large ice cube, and either zest or peel an orange over the glass and drape against the ice. Now the drink is really starting to shape up, and there are only two things left to do!
Add the remaining garnish, and serve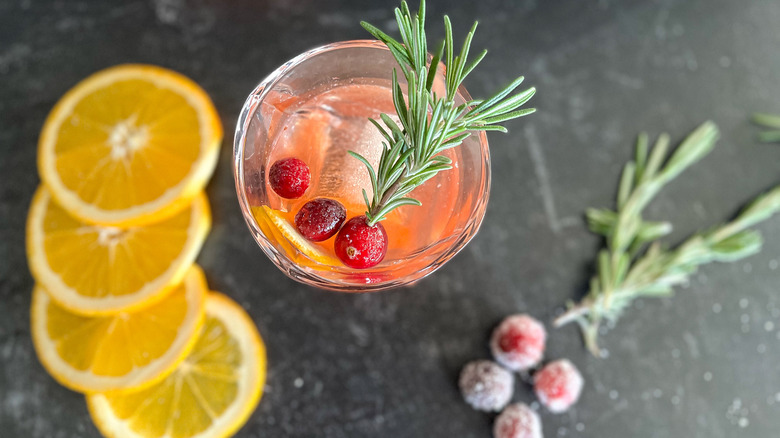 Erin Johnson/Mashed
For the festive twist on this scrumptious libation, you will need to go a step beyond the standard orange peel. Go ahead and add the rosemary and cranberries, if you desire. These two things are optional, but they add great flavor to the cocktail.
Now, the only other thing left for you to do is to have a toast, and enjoy! These cocktails are great by themselves, but they would also pair well with a nice steak at dinner. After all, what's better than bourbon and steak?
Christmas Old Fashioned Cocktail Recipe
This Christmas old fashioned recipe adds a little bit of cranberry and rosemary to a classic cocktail that will give you major holiday vibes.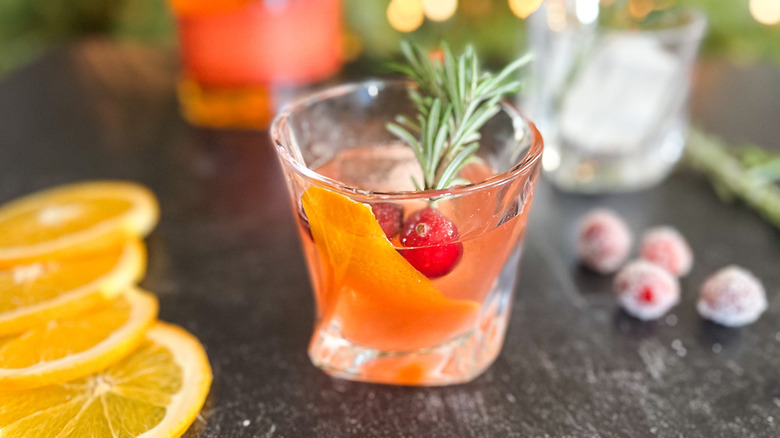 Ingredients
5 whole, fresh cranberries + more, for garnish
1 teaspoon granulated sugar
1 teaspoon water
3 dashes bitters
2 ounces bourbon
1 orange peel
1 sprig fresh rosemary, for garnish
Directions
Muddle together 5 cranberries, the sugar, and water until the berries are thoroughly mashed.
Add the bitters and bourbon, then stir until the sugar is dissolved.
Using a sieve or cocktail strainer, strain the drink into the serving glass.
Add a large ice cube, and zest or peel a slice of orange peel over the glass, then drape against the ice.
Garnish with a sprig of fresh rosemary and cranberries, if desired.
Nutrition
| | |
| --- | --- |
| Calories per Serving | 177 |
| Total Fat | 0.3 g |
| Saturated Fat | 0.1 g |
| Trans Fat | 0.0 |
| Cholesterol | 0.0 mg |
| | |
| --- | --- |
| Total Carbohydrates | 7.6 g |
| Dietary Fiber | 1.6 g |
| Total Sugars | 4.9 g |
| Sodium | 1.9 mg |
| Protein | 0.3 g |