35% Say This Is The Best Burger At Applebee's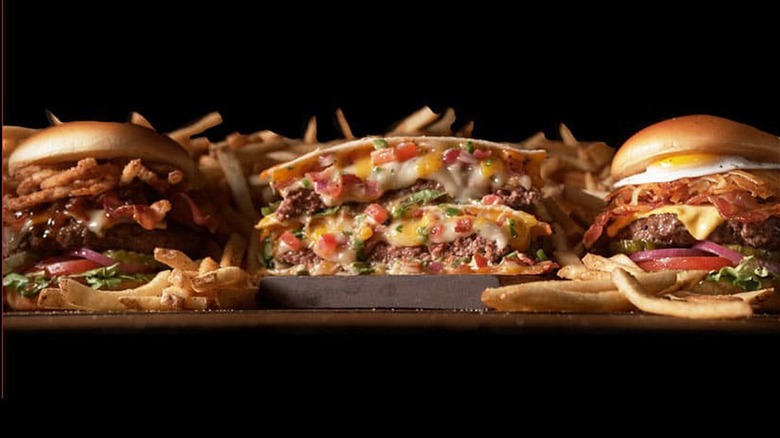 Applebee's
If you've ever opened up the menu at Applebee's, you're all too aware of how extensive it is. The national restaurant chain — which has nearly 2,000 locations across the country — offers casual American fare for anyone and everyone. There are chicken wings drenched in hot sauce, a wide variety of fresh salads, creamy pastas, the ever-popular Bourbon Street steak, Oreo shakes, and, of course, burgers galore. From the classic cheeseburger to the Whisky bacon burger, which is topped with pepper jack cheese, crispy onions, and whiskey-infused steak sauce, you can customize any patty to your liking with your choice of toppings and condiments (via Applebee's). 
The neighborhood chain may have received a 77% overall satisfaction score from the latest American Customer Satisfaction Index report, per the Chicago Tribune, but what's its best burger? To find out, Mashed polled more than 600 people in the U.S. Here's which burger more than a third of respondents chose as their go-to Applebee's order.
People love the classic bacon cheeseburger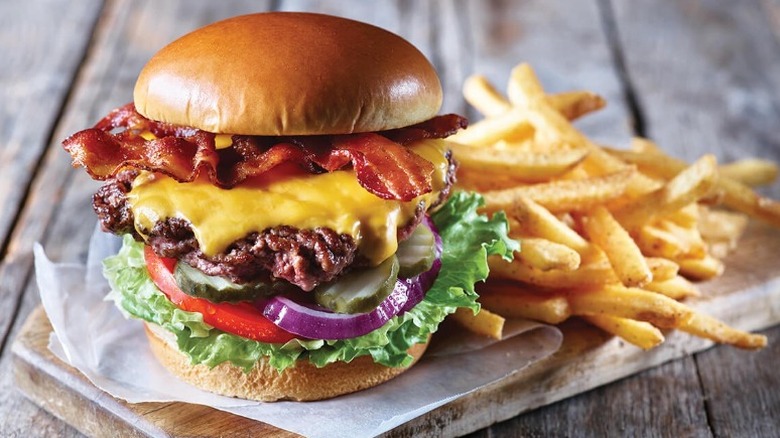 Sudhanshu92/Shutterstock
Of all the burgers you could order at Applebee's, the classic bacon cheeseburger may be the best choice. According to Mashed's poll results, it's the number one burger at the chain restaurant, with nearly 35% of survey respondents dubbing it their favorite. The handmade patty is topped with two slices of gooey American cheese and two strips of Applewood-smoked bacon, all sandwiched on a fluffy Brioche bun (via Applebee's). Be warned: Only order this burger if you're hungry. Eat This, Not That! reports that the meal is "just large" and clocks in at a whopping 1,340 calories.
Where did the other burgers on the Applebee's menu fall in comparison? Diners must really love bacon, as the Whisky bacon burger was the second-favorite, receiving 27% of the votes. The quesadilla burger took third place with 16% of the votes, followed by the classic cheeseburger with 12%. As for which burger people like the least, that title goes to the classic burger. Only 9% of respondents chose it as their top pick.