Every Qdoba Menu Item, Ranked From Worst To Best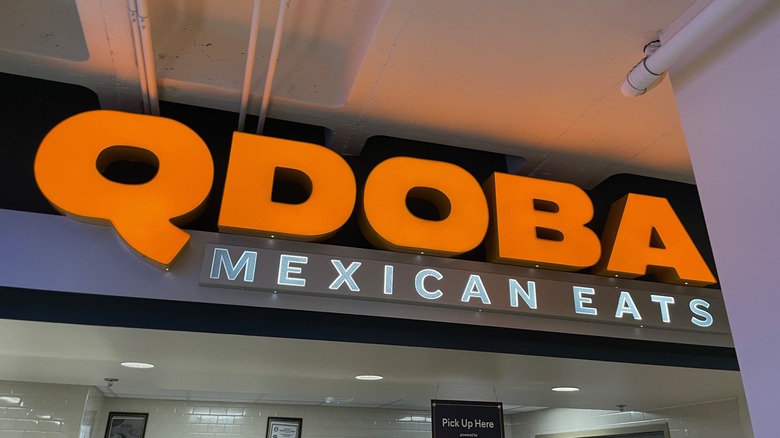 Crawford Smith/Mashed
Qdoba Mexican Eats is a Mexican fast-casual chain where you can build your own burritos, bowls, salads, etc. from a wide variety of toppings. Formerly known as Zuma and Z-Teca, you can think of it of it as Chipotle's little cousin that's always going through an identity crisis.
Ordering "every item" on the menu at a place like Qdoba is an interesting challenge, as everything is customizable, giving you theoretically thousands of different possible combinations. To complicate things further, the menu can vary quite a bit from location to location; the online menu at our local Qdoba was different from what they advertise on their national website.
Even more confusingly, when we arrived at Qdoba, the IRL menu didn't resemble the online menu much at all. Some proteins were missing, some entrees were different, and there was a different selection of salsas and toppings. Despite these challenges, we soldiered on. Here are our reviews of (more or less) everything on the menu at Qdoba, ranked from worst to first.
12. Chips and Guac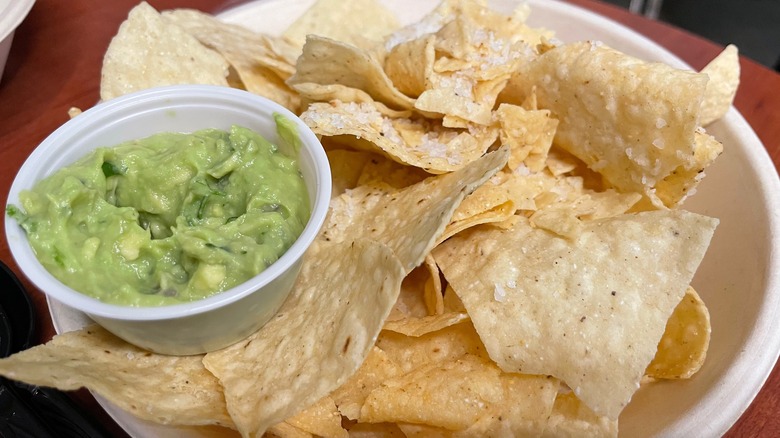 Crawford Smith/Mashed
Guacamole is the crown jewel of any Mexican-ish fast-casual place, the add-on that makes people happily plop down a couple of extra bucks to upgrade their Chipotle burrito. Generously, Qdoba gives out their guacamole for free as a topping on any of their entrees. It seems like you get what you pay for, however, as Qdoba's guac is nothing special.
First, the good: The guacamole is clearly made fresh in-house, with real ingredients. It was bright green and had identifiable chunks of onions and other vegetables that added pops of crunch. Sadly, it just didn't taste like anything. Good guac should sing with a zesty punch of lime juice and have enough salt in it to cut through the naturally-fatty avocado. Qdoba's guac just tasted like straight up mashed avocado. The chopped chunks of onions were strangely bland, and there was no hint of heat or acidity coming from any component. This wasn't as much of a problem when we used it as a topping on our entrees, but as a standalone dip it left a lot to be desired.
11. Beef Taco Salad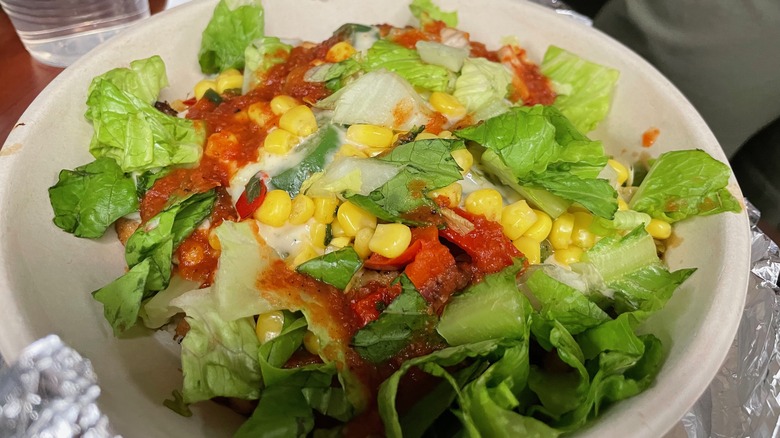 Crawford Smith/Mashed
The taco salad was one of the areas where we were most disappointed at the difference between our local Qdoba's online menu and what they actually serve in the store. We were looking forward to a salad served inside a taco shell, but in reality, it was just placed in the same cardboard bowl that most of the entrees are served in. You have the option of placing tortilla chips on top, but that's the closest this salad gets to being a "taco."
Qdoba's ground beef is tasty enough, but it's nothing special. If your idea of Taco Night growing up involved ground beef sautéed with a packet of dried taco seasoning, you already know what this tastes like. While lack of seasoning is somewhat of a problem in much of Qdoba's food, it's particularly pronounced in the salads, as the lettuce base doesn't bring much flavor of its own to the party.
10. Veggie Burrito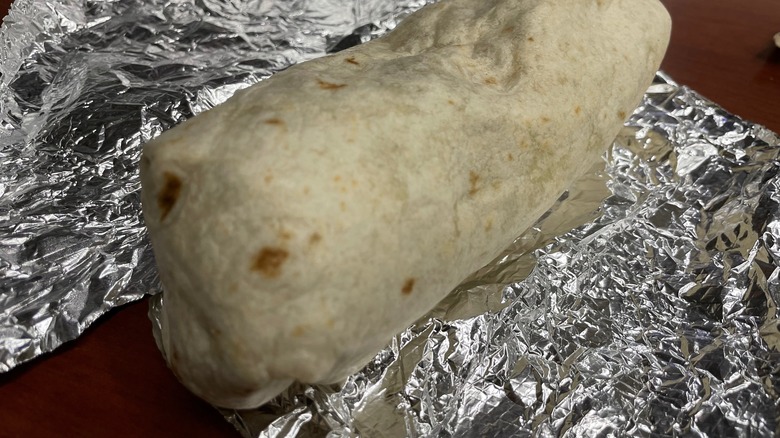 Crawford Smith/Mashed
Now we come to the star of the show, and what Qdoba is known for: the burrito. Like other burrito chains, Qdoba doesn't skimp on the portions. This thing was massive, the size of a brick or a small baby. We elected to go veggie for our first burrito to test out how well Qdoba serves the non-meat-eaters among us. It definitely wasn't bad, and given what a small percentage of a standard Qdoba entrée is taken up by the meat anyway, the vegetarian route might be the way to go, as it's slightly cheaper.
We also got brown rice with this instead of white, which was a mistake. The brown rice was significantly drier than the white, perhaps because it had been sitting on the heat table for longer. The tortilla, on the other hand, was soft, moist, and fresh-seeming, and it was wrapped well, not coming apart even as we cut up portions to divide among the taste testers.
9. Beef Burrito Bowl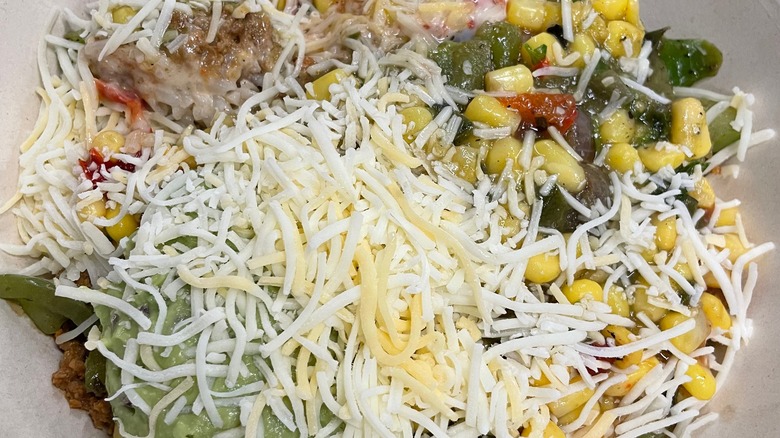 Crawford Smith/Mashed
If you're the type of person who likes to get every single topping at a build-your-own entree type of place, the burrito bowl is for you. Unconstrained by the limits of a tortilla, you're free to go wild, throwing everything you possibly can together like some kind of Mexican food mad scientist. We definitely did that with this burrito bowl, and while it came out looking like a hot mess, it tasted alright. You can't go wrong with adding more cheese, so we did a combo of queso and shredded cheese, adding that on top of rice, beans, fajita veggies, beef, and multiple kinds of salsa. It easily fed two people.
Since the rice is the base of the burrito bowls, it's worth discussing in more depth here. Although the menu claims that the white rice at Qdoba is "cilantro-lime rice," we couldn't really taste either of those flavorings in any of the things we got with rice in them. The rice also could have used a little more salt. However, it was properly cooked and moist, which is more than you can say for some places, so it wasn't all bad. All in all, the bowl experience is okay, but with the right toppings, a burrito can be better.
8. Impossible Burrito Bowl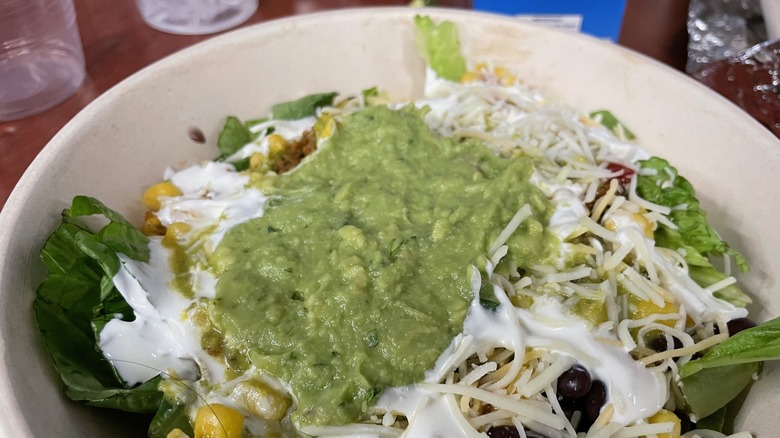 Crawford Smith/Mashed
The Impossible burrito bowl was just as fully-loaded as the beef, but we'll give it an edge because no animals were harmed in its creation. This is as good a place as any to highlight Qdoba's corn salsa, which we quite enjoyed and got on a lot of our entrees. With any bowl-based food, there's a real risk that all the soft, wet ingredients will combine to make a mushy, textureless mash. Anything that can provide a little texture is welcome, and the corn salsa does that in spades. The whole corn kernels are pleasantly crunchy and very sweet, and they work well with the chopped up raw peppers.
You definitely get a bigger portion of beans in the burrito bowl than you do in the burrito, which we're not sure is a good thing. They're not bad, but they don't taste all that different from plain canned black beans, so they mostly just function as filler.
7. Chips and Salsa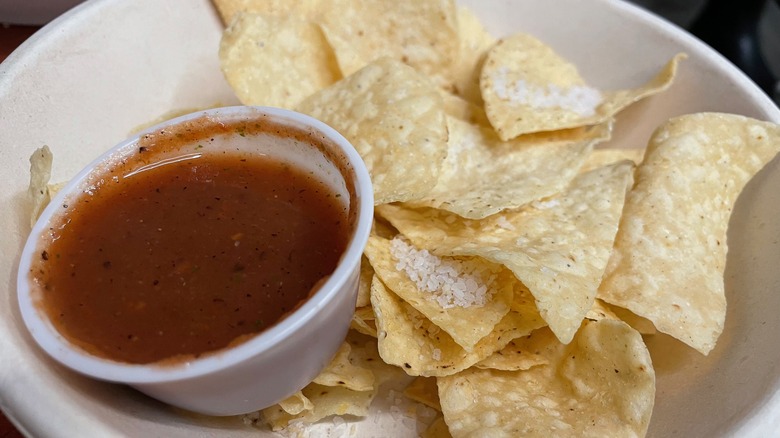 Crawford Smith/Mashed
Many Tex-Mex restaurants give you chips and salsa free of charge, but not Qdoba, where you have to pay a couple of bucks for a large order. The salsa is tasty, however, so we didn't resent having to pay. Our local Qdoba had a salsa bar with nine options, all of which were made fresh in-house. You can get any of their salsas as a free topping on your entrée as well as with chips. There's a huge difference between jarred salsa and fresh, and the salsa bar was one of the highlights of our trip.
For our chips, we went with the roasted tomato salsa. It was quite flavorful, with a hint of smokiness from the roasting process and an appealing deep-red color. Blessedly, it had enough salt and acidity to wake up our palates. The chips tasted fresh and had solid crunch, but the salt that Qdoba used to season them was too big to stick to them effectively. When we dumped our bag of tortilla chips into a bowl, several tablespoons of salt that had fallen to the bottom of the bag came out with them. This wasn't a huge deal, as the chips were still pretty good, and we were even able to use the excess salt to season our entrees.
6. Impossible Nachos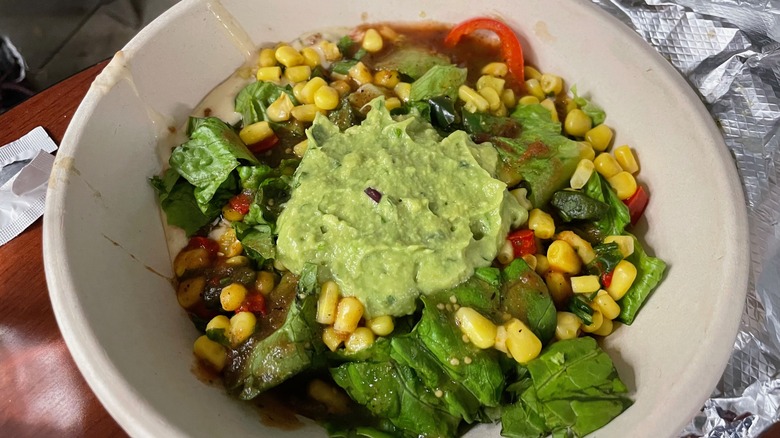 Crawford Smith/Mashed
In general, Impossible does a scary-good job at replicating the taste of real ground beef, and it's no exception in this context. It tastes exactly like Qdoba's beef, which is to say, it tastes fine. If you're avoiding meat but are craving the taste of classic taco meat, you could do worse than to get this option.
The nachos (at this particular Qdoba at least) are served in an unconventional way. You select all your toppings, which are put into a bowl by themselves. Then, at checkout, you're handed a bag of chips for dipping. While this results in a poor aesthetic outcome, with all the nacho toppings piled together in the bowl, it does solve a couple of common nacho issues. Since you dip each chip individually, they never have a chance to get soggy. Even better, you're in control of topping distribution, so you're not left with sad, bare chips at the bottom of the bowl. We are in favor of this type of nacho innovation.
5. Veggie Taco Salad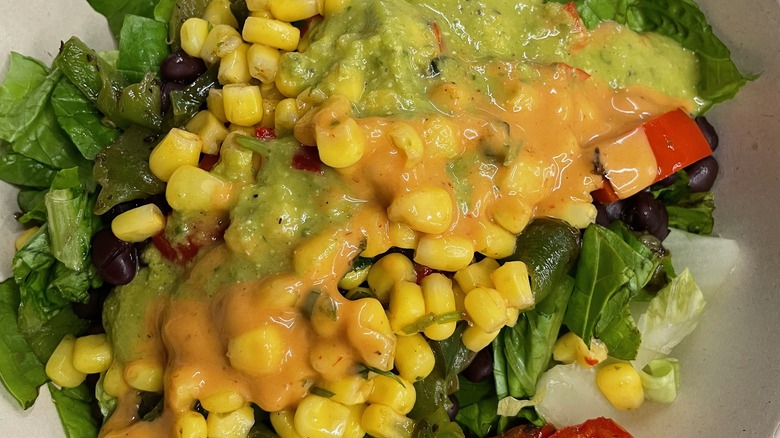 Crawford Smith/Mashed
Qdoba is definitely a good choice for vegetarians or vegans who need a quick, nutritious, affordable meal. With all of the veggies, plant-based proteins, and salsas, it's easy to get a meal with more nutritional health than, say, an Impossible Whopper or a bean burrito from Taco Bell. They cut the veggies fresh, and they were all crunchy, colorful, and tasty. You can really load up on toppings in a salad too, so you'll be full for a while.
This salad definitely lacked the amount of salt we were craving, but it still had plenty of flavor. You can choose any of Qdoba's salsas as the "dressing" for your salad, and we decided to throw caution to the winds by selecting the fiery habanero. The person making our salad made a point to warn us that the habanero was really hot, and they weren't lying. We love getting wrecked by spiciness, so we were in to it, but it would definitely have been inedible to some people with lower spice tolerances. With the addition of this salsa, the veggie taco salad ended up tasting way, way better than the beef one, an illustration of why topping choice is so important at Qdoba.
4. Brownie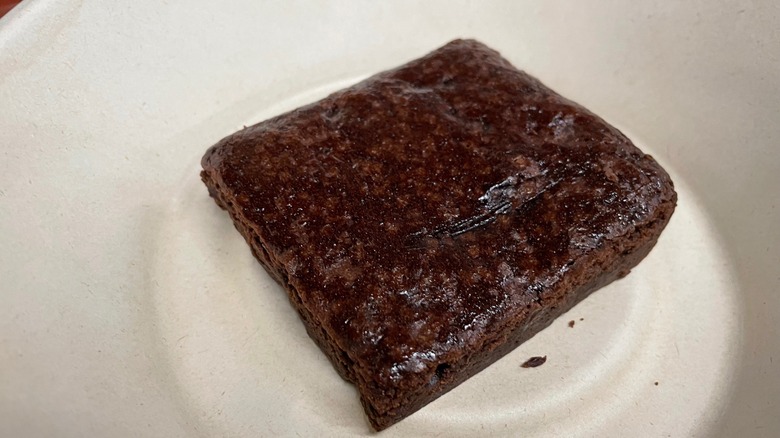 Crawford Smith/Mashed
Have you had a Cosmic Brownie before? If so, you know what you're getting into when you order the brownie at Qdoba. For some people, that's a selling point; for others, it's a warning to stay far, far away.
The aesthetics of Qdoba's brownie were not promising. The plastic wrap left an impression on the exterior of the brownie, giving it tell-tale crinkly patterns. The outside was also weirdly shiny, like it was covered in condensation. As die-hard Cosmic Brownie fans, however, the taste and texture won us over. The brownie was super dense and fudgy, with the type of consistency that leaves a precise impression of your teeth marks every time you take a bite. It also didn't go over the edge into overly-dense or chocolatey territory either, with a pleasantly mild milk chocolate taste.
It's certainly not the finest gourmet brownie in the world, but it did its job admirably. If you find yourself craving something sweet at Qdoba, the brownie won't do you wrong.
3. Chocolate Chip Cookie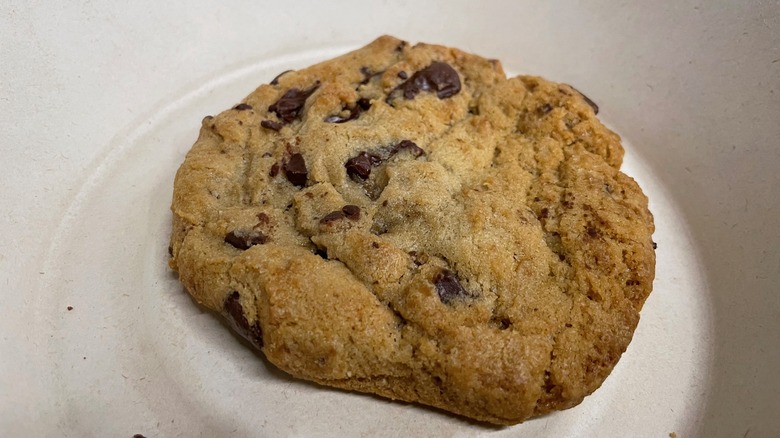 Crawford Smith/Mashed
Like the brownie, the chocolate chip cookie did its job well. It certainly had more visual appeal than the brownie, since it was too firm for its plastic wrap sheathe to deform it. That alone puts it above its sweet brother in this ranking. It hit all the notes you would expect and hope a chocolate chip cookie from a mid-level fast-casual chain to hit, neither disappointing us nor exceeding our expectations.
The cookie itself had the familiar butterscotch flavor profile you know and love, with just enough sodium in the mix to add seasoning and keep it interesting. There was a generous but not overwhelming smattering of milk chocolate chips that tasted decently high-quality. This certainly isn't your Instagram-darling chocolate chunk cookie that oozes with melted chocolate, and there wasn't any Maldon salt on top or any other novel twists, but it was tasty nonetheless.
If we have one complaint about this cookie, it's that it was very crispy, with none of the chewiness we enjoy in a chocolate chip cookie. That's more of a personal preference thing though, so we can't take off too many points for texture.
2. Chicken Burrito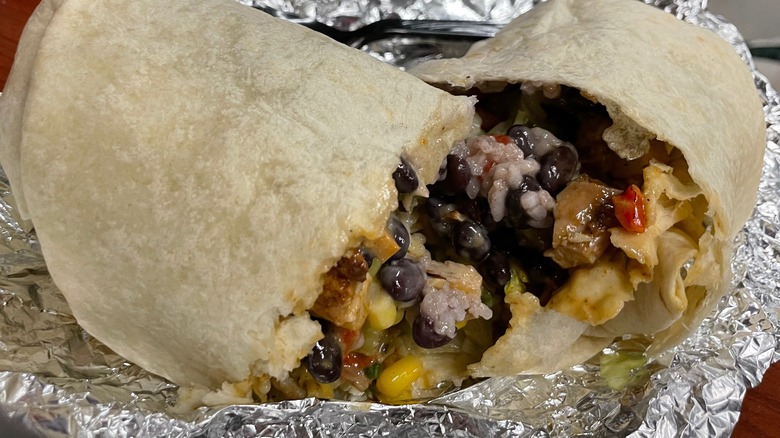 Crawford Smith/Mashed
The chicken is the best meat option at Qdoba, with a nice adobo marinade on it that tastes like chili pepper, cumin, oregano, and garlic. Impressively, for cut-up chicken sitting in a chafing dish, it actually retained some moisture as well. If you choose to order a meat entrée at Qdoba, getting a burrito is a good choice, as the meat doesn't get as overwhelmed by the other toppings as it does in a bowl or a salad. We chose the salsa verde to complement our chicken, which lent the burrito a nice pop of acidity.
We got our chicken burrito with fajita veggies and queso, which we would definitely recommend. The sweet, slightly charred bell peppers added some much-needed complexity to the burrito, playing well against the other fillings. As we'll get to later, the queso at Qdoba is just awesome, and since it's free to add to any entrée, there's no reason not to get it.
1. 3-Cheese Queso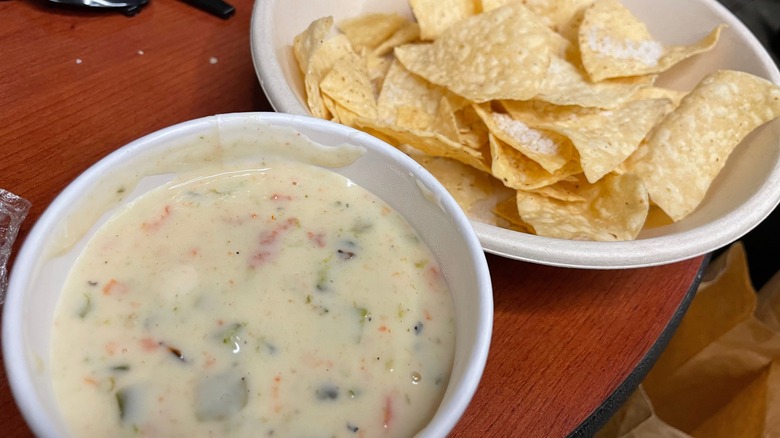 Crawford Smith/Mashed
This was the best thing on the menu by far. Although you can easily make an okay queso dip by simply microwaving processed American cheese with a can of Ro-Tel, the queso at Qdoba was clearly made from scratch, and the extra effort showed in the final product. Judging by its color, Qdoba's queso uses a white cheddar base, and the telltale sharpness of that cheese shone through, adding a pleasant tang to every bite. The roasted peppers, onions, and tomatoes mixed in with the cheese were a welcome addition, bringing contrasting flavors and textures to what can be a one-note dish.
Crucially, unlike many of the other things on the menu, the queso was well-seasoned. It was very salty, which you want from a dip, and it had a faint cumin and chile pepper taste that made us think it was seasoned with some kind of dry Mexican seasoning blend. On the textural side, many queso dips, especially ones made with real cheese like this, solidify into a solid mass if you don't eat them while they're piping hot. Qdoba's queso stayed soft and pliable throughout our meal. If we make a repeat trip to Qdoba, this'll be the first thing we order. We've had plenty of worse quesos at more expensive sit-down restaurants.