Christmas Baking Will Be A Snap With These Pillsbury Treats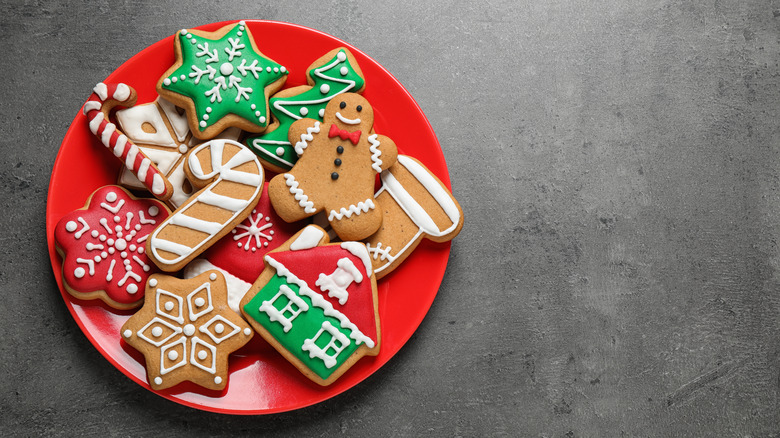 New Africa/Shutterstock
For many, the Christmas season is a time to enjoy all kinds of baked treats with seasonal flavors, from spicy gingerbread and tart cranberry to fresh peppermint, as well as the comforting tastes of cinnamon, nutmeg, and more. However, not everyone is particularly skilled when it comes to baking. Luckily, Pillsbury is here to help out, as the brand recently released a variety of fun, festive treats that will give you all those home-baked vibes without needing much actual baking prowess, as Brand Eating reports.
For those who prefer good old-fashioned Christmas cookies during the holiday season, Pillsbury is serving up a range of $3.29 cookie dough tubes, which contain 30 ounces of dough that you can use to make whatever size cookies you like. The timely flavors include gingerbread, candy cane sugar cookie, Reese's peanut butter cookie, and classic sugar cookie dough. If you're feeling extra creative, you could even combine two or more doughs to create sweet morsels packed with all kinds of holiday flavors. And if you're looking for something even easier to pop into the oven, Pillsbury has you covered there, too.
Try Pillsbury's pre-cut Christmas cookie dough
If the idea of portioning a roll of dough into individual cookies sounds like too much after all that gift-wrapping and tree-decorating — and you're not sure what size to make your cookies to ensure that they all bake evenly — don't worry: Pillsbury also has a variety of pre-cut cookie dough this holiday season, per Brand Eating. When using the brand's line of pre-cut dough, composed of perfectly sliced cookies sporting holiday designs, all you have to do is place the cookies on a baking sheet and bake them according to package instructions. This year, you can find cookies inspired by reindeer, the movie "Elf," and more. Other, non-round shapes are cut out into snowmen, Christmas trees, and gingerbread men, all for $2.50 a pack.
Finally, those who want a sweet treat in the morning can swap their favorite cinnamon rolls for Pillsbury's Grands Hot Cocoa Rolls, which are baked chocolate rolls with marshmallow icing that capture all the flavors of a festive cup of hot cocoa for $4.49 per tube. Indecisive shoppers, beware: All these products are limited-edition offerings, so you'll want to grab a few packages before they disappear.