What Makes Padma Lakshmi's Thumbprint Cookies Unique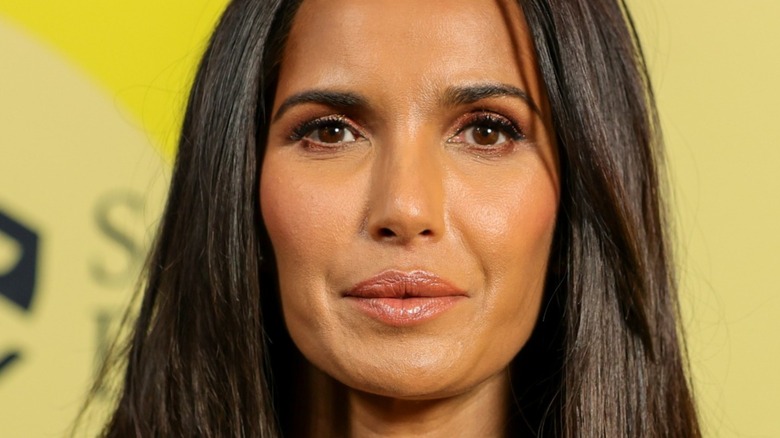 Rich Fury/Getty
While technically any cookie eaten around the holidays could be considered a Christmas cookie, there are certain varieties that are more traditional this time of year. Whether you're setting out treats for Santa or exchanging goodies at a holiday party, some of the most common Christmas cookies include gingerbread, peanut butter blossoms, sugar cookies, and chocolate crinkles. According to a YouGov survey, the most popular Christmas cookie, however, is the classic chocolate chip.
Another nostalgic treat around the holidays — especially for those who aren't super into chocolate — is the thumbprint cookie. Featuring buttery, fluffy shortbread filled with jam, the bite-sized sweets are seen in cookie tins all across the country in the cooler months. In fact, they appear to be one of Padma Lakshmi's favorite cookies during the holiday season. The "Top Chef" host recently shared her go-to recipe for thumbprint cookies, and it has a delicious twist. 
Lakshmi makes thumbprint cookies with a Cuban flair
In celebration of the season, Padma Lakshmi recently appeared on "Good Morning America" to share with fans her thumbprint cookie recipe. She calls them pastelito cookies after the popular Cuban guava and cream cheese pastries, pastelitos, which she describes as light and fluffy. According to Lakshmi, her recipe is inspired by the holiday edition of her Hulu show, "Taste The Nation," during which she was inspired by the Cuban culture in Miami. "When I visited Miami to celebrate Nochebuena for 'Taste the Nation' I ate delicious pastelitos and washed them down with strong Cuban coffee," Padma wrote on her Instagram.
While thumbprint cookies are traditionally filled with raspberry jam, Lakshmi's version uses guava jam instead. She also adds a few sprinkles of lime zest to the shortbread dough for a hint of tangy flavor. When trying out these twists on your thumbprint cookies this season, you can take another page from Padma's book and sprinkle them with flaky salt to bring out the sweetness.