Joel McHale's Cranberry-Orange Whisky-Glazed Pork Shoulder Recipe - Exclusive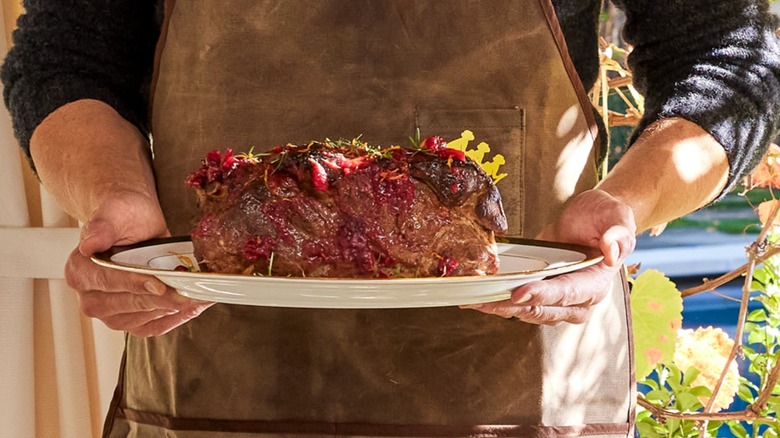 Justin Sisson
Fresh off of hosting duties from his first season of "Crime Scene Kitchen," actor and comedian Joel McHale shared a holiday recipe with Mashed that's almost criminally delicious. "What pairs better with whisky than a giant hunk of meat?" McHale asked Mashed, before answering, "A giant hunk of meat glazed in whisky." This isn't Savoy-trained, Michelin-starred wisdom. McHale earned his meat-master status from a more relatable alma mater. You're listening to a guy who learned mad meat-cooking skills straight from his local L.A. butcher, who — the actor once admitted to Bon Appétit — he'd literally text for advice.
McHale developed his whisky glazed pork shoulder recipe thanks to his partnership with Monkey Shoulder Scotch Whisky, and it's that particular whisky that McHale thinks you should use: no ifs, ands, or buts. "Monkey Shoulder Scotch Whisky's notes of orange zest, malt, and honey perfectly complement the glaze, while bringing out the rich, smokey flavors of the pork roast," he assured Mashed.
Fair warning: you'll need a 4-pound (!) pork shoulder to pull McHale's holiday delicacy off. Breathe. The actor may have just landed a recurring role in DC's "Stargirl", but rest assured, this is not something that needs Starman-level superpowers to pull off. "This recipe is deceivingly simple," McHale told Mashed. "Most of the cooking time is passive, giving you plenty of downtime to mix up some Monkey Shoulder cocktails and argue with your guests about why 'Die Hard' is definitely a holiday movie."

For more information on Monkey Shoulder, visit their website. 
Joel McHale's Cranberry-Orange Whisky-Glazed Pork Shoulder Recipe - Exclusive
Joel McHale of "Crime Scene Kitchen" shares with us his recipe for a whisky-glazed pork shoulder that's sure to impress your holiday dinner guests.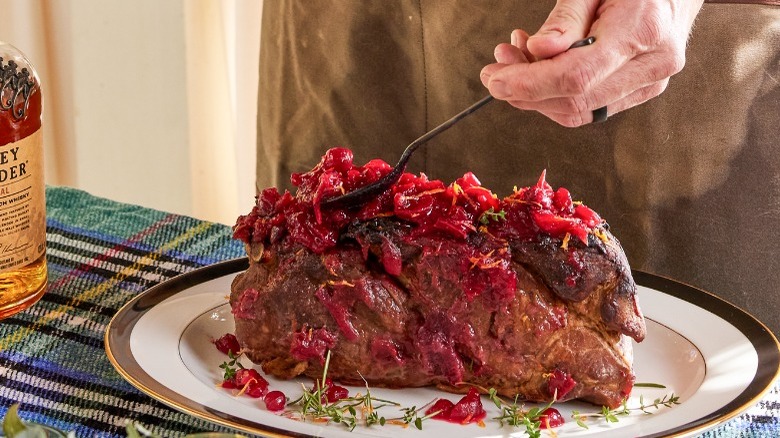 Ingredients
4 quartz warm water
¾ cup kosher salt
1 ½ cups sugar
One 4-lb, bone-in pork shoulder
½ tablespoon orange zest
1 cup orange juice
1 large shallot, minced
½ tablespoon grated fresh ginger
12 oz. fresh cranberries
¼ cup Monkey Shoulder Scotch whisky
3-4 sprigs fresh thyme
1-2 sprigs fresh rosemary
Directions
In a large pot, combine warm water, ¾ cups salt and ¾ cups sugar. Stir until dissolved. Submerge the roast in the brine and refrigerate for 1-2 days.
Next, make the cranberry glaze by combining fresh cranberries, ¾ cup sugar, orange zest, orange juice, shallots, ginger, thyme, rosemary and 2 tablespoons of Monkey Shoulder Scotch whisky in a saucepan over medium heat. Simmer, stirring occasionally, until the cranberries begin to burst and the glaze starts to thicken, about 20 minutes. Remove from heat, stir in remaining 2 tablespoons of whisky, and let the glaze cool.
Remove pork shoulder from the brine and pat dry all over.
Cover the pork shoulder on all sides with ½ cup of the glaze.
In a large roasting pan, roast the glazed pork shoulder at 450° F for 20 minutes.
Then, reduce heat to 250° F and continue roasting for 4 ½ - 5 ½ hours until the internal temperature reaches 180° F.
Remove from the oven and top with ¼ cup of cranberry glaze, then return roast to oven to finish at 450° F for 10-15 minutes.
Remove from the oven and let the roast rest for 20 minutes before serving.
Nutrition
| | |
| --- | --- |
| Calories per Serving | 1,213 |
| Total Fat | 61.6 g |
| Saturated Fat | 21.3 g |
| Trans Fat | 0.0 |
| Cholesterol | 241.5 mg |
| | |
| --- | --- |
| Total Carbohydrates | 96.5 g |
| Dietary Fiber | 5.4 g |
| Total Sugars | 85.1 g |
| Sodium | 1,664.2 mg |
| Protein | 59.9 g |