The Truth About Jonah Nigh And Patrick Herron From Baking It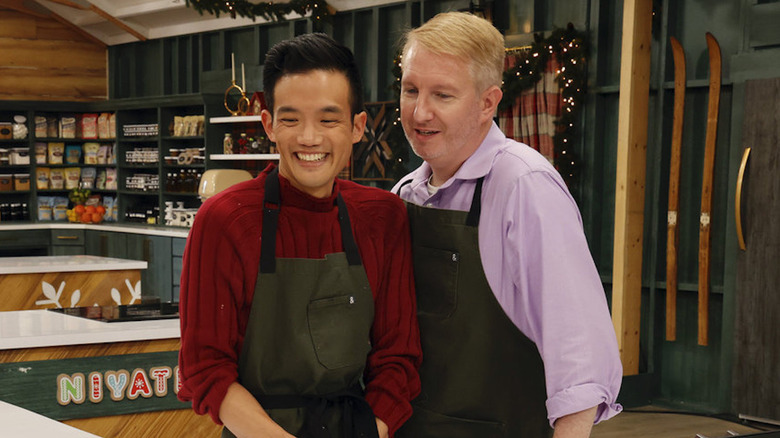 Jordin Althaus/Peacock
There is no denying that funny things happen in a kitchen. There are pun-inducing foods, like Fromunda cheese, the joke-worthy shape of many vegetables (ahem), or even a simple face full of flour from a mixer turned on too high. So, it's no surprise that NBCU's streaming service, Peacock, aims to capitalize on just that by making the holidays hilarious with "Baking It," a new series hosted by Maya Rudolph and Andy Samberg.
Amy Poehler, the creator of NBC's "Making It," is passing the hosting torch to her fellow "Saturday Night Live" alums in the similarly formatted food show series and viewers are ready for the laughs, per Mass Live. The holiday-themed competition features eight teams of talented home bakers competing for a $50,000 grand prize. Samberg told People, "I'm not going to go so far to say we were born for this," and Rudolph jumped in and quipped, "I mean, some of us were." The hilarity ensues as the hosts serve up jokes along with contestants' sweet and savory offerings.
Contestants will welcome the comic relief from their hosts after facing a panel of judges made up of the toughest critics in the business: A table of opinionated grandmothers (via Fansided). The teams are made up of best friends, siblings, and spouses who need to bring their creativity to holiday baked goods and be on their best behavior for their elders.
Patrick Herron and Jonah Nigh applied to Baking It as a joke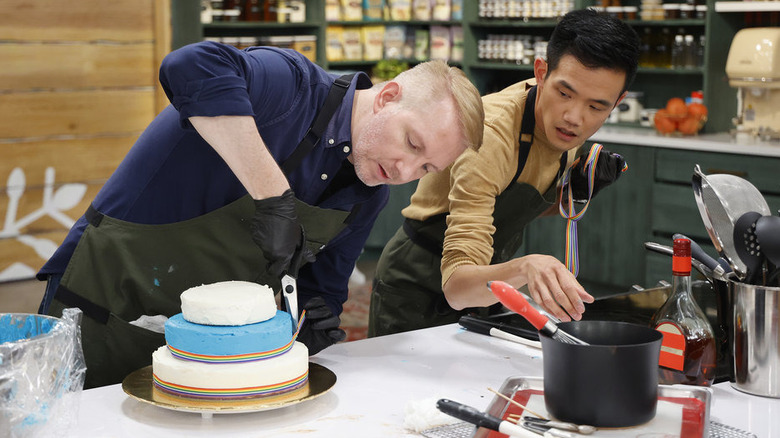 Jordin Althaus/Peacock
Spouses Patrick Herron and Jonah Nigh are one of the eight teams competing on the new Peacock series "Baking It" hosted by Maya Rudolph and Andy Samberg. According to OFM, Nigh filled out the application to become a team on the show as a joke after his husband sent him the link from an Instagram advertisement.
In his video application, Nigh said, "I was like, hey, I'm Jonah; I'm a diversity BINGO card. I'm gay; I'm Brown, dual-faith family, married to a white guy; we'll give you everything you need." He was more than a bit surprised when the show contacted him three hours later to set up a meeting. After a rigorous audition process, the home baking duo was cast on the show.
For some spouses, cooking together can be too many chefs in the kitchen, but the Bronx-based bakers were more nervous about pleasing the panel of grandmothers than they were about competing as a couple on the show. The team that initially applied to the show as a joke seriously loved working with the hilarious hosts and said that being on "Baking It" was an amazingly positive experience that challenged their skills and brought them closer as a couple.