Easy Jarcuterie Recipe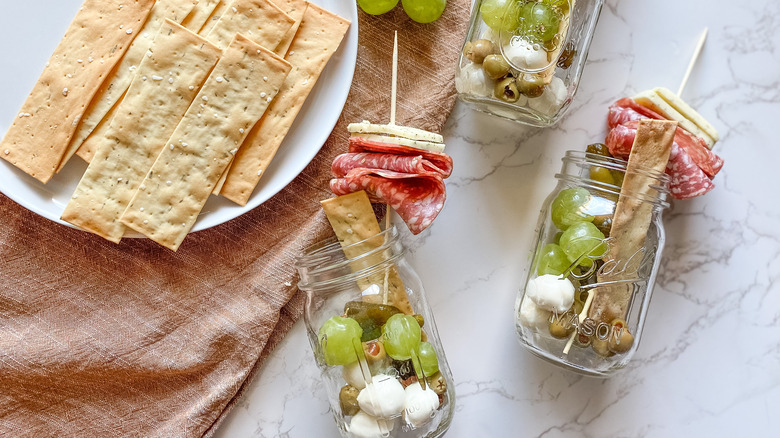 Kristen Carli/Mashed
The holiday season is filled with parties and celebrations with friends and family. Spending time with your loved ones is incomplete without a wide array of food. One of the most popular appetizers at these events is a charcuterie board. We love a good charcuterie board and have many suggestions as to what items to include. To switch it up a bit, registered dietitian and recipe developer Kristen Carli suggests turning your favorite board into individual portions served in jars, aka jarcuterie.
Jarcuterie is the perfect addition to your holiday party spread. You can serve this at your family's annual Christmas dinner or even at your holiday work party. It makes a great solution for an appetizer course at any upcoming festivity. Even if you don't have a party coming up, jarcuterie makes for a balanced and well-portioned snack. If you dabble in meal prep, jarcuterie can be your new solution to snack time.
Gather your ingredients for this jarcuterie recipe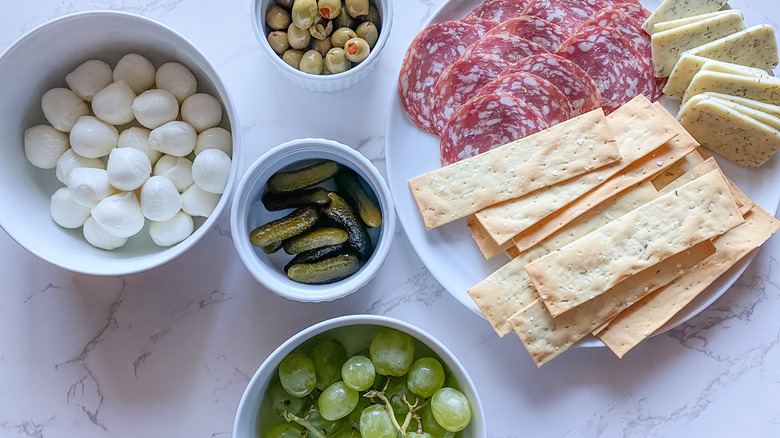 Kristen Carli/Mashed
To make these adorable charcuterie jars, gather your ingredients. You will need long crackers, mozzarella balls, cornichons (aka tiny gherkins), grapes, green olives, sliced salami, and sliced dill Havarti cheese. We asked Carli why we should be using long crackers here and she explains that "long crackers are perfect for this dish so that they stick out of the tops of the jars. This makes them easy to grab and enjoy." You can find many types of long fancy crackers in the specialty cheese section of your grocery store.
Grab the necessary equipment and start assembling the jars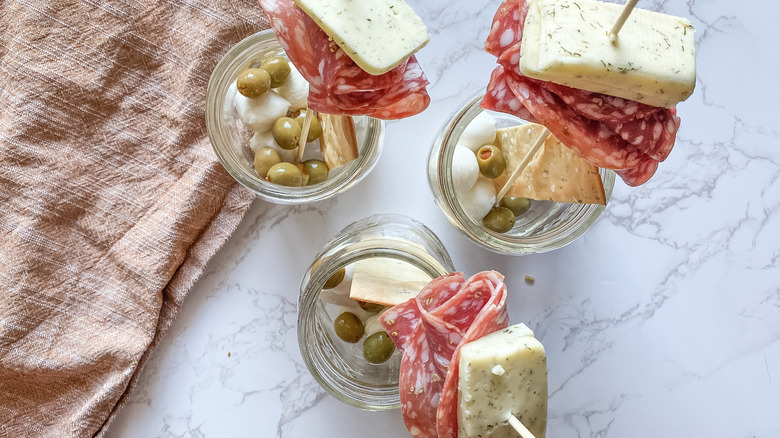 Kristen Carli/Mashed
Next, you will need a few important pieces of equipment to make this dish. While this recipe does not require a lot of time or any actual cooking, make sure to have four small mason jars and four skewers. The jars are essential for jarcuterie to ensure your guests have their own individual portion of food. The skewers are used as a decorative way to display the meat and cheese and they also act as a utensil. This way guests can use their skewers to poke the smaller items at the bottom of the jar without digging in with their hands.
Once you have your ingredients and equipment ready, you can begin filling your jars. Start by adding one large cracker to each jar — it will stick out from the top. Then, add the mozzarella balls, cornichons, grapes, and green olives to the bottom of each jar in any order. Carli advises to be sure to "spread these items out so that they are visible from within the clear jar."
Add cheese and salami to skewers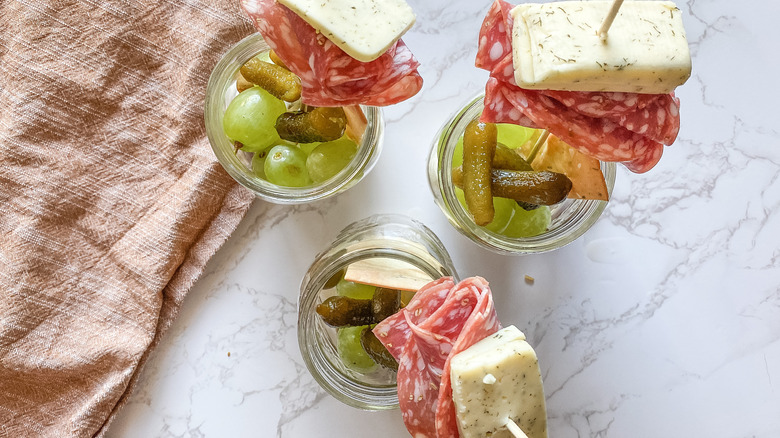 Kristen Carli/Mashed
Next up, is the most difficult task and we'll be honest, it's not that hard — trust us. Take several slices of salami and fold them in a decorative fashion, back and forth. Then, using your skewer, stick the folded salami onto the skewer close to the top. Then add a few slices of dill Havarti cheese on top of the salami. Once you have both items on the skewer, add the stick to the jar. Repeat with the remaining salami and cheese.
What other ingredients can you use?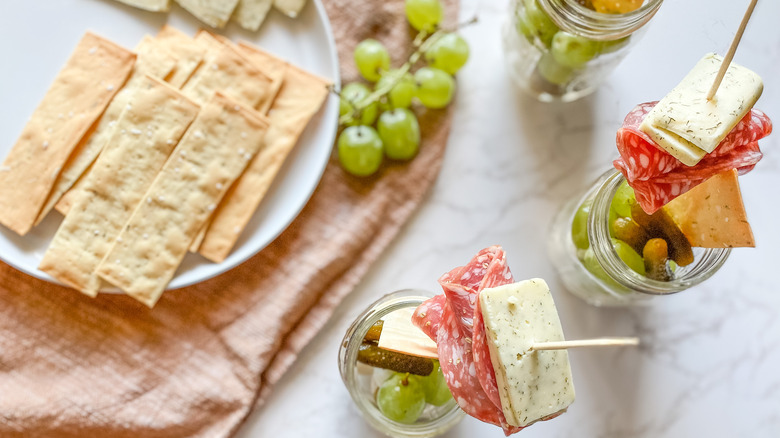 Kristen Carli/Mashed
This recipe is incredibly versatile so if you are struggling to find certain ingredients or aren't a fan of others, you can easily substitute them. We asked Carli what she recommends as possible ingredient substitutions and here's what she has to say: "Some other great ingredient options include cherry tomatoes, figs, dried apricots, raspberries, blackberries, marinated mozzarella balls, large chunks of Brie cheese, salami-wrapped cheese sticks, cheese cubes, pistachios, pecans, and even baguette slices." Clearly, there are endless options for all tastes. 
People generally love a good charcuterie board and with this convenient idea, everyone gets their own individual portion to tote around while they mingle. One hand for your jarcuterie and the other for a drink — sounds like a party!
Easy Jarcuterie Recipe
These adorable charcuterie jars, aka jarcuterie, are the perfect appetizer for your next party. Fill them with your favorite foods for a personalized touch.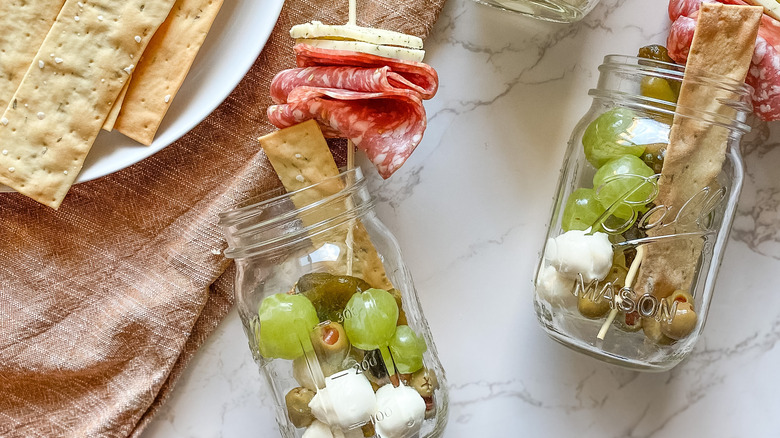 Ingredients
4 large long crackers
8 ounces mozzarella balls
¼ cup cornichons
¼ cup grapes
¼ cup green olives
4 ounces sliced salami
4 ounces sliced dill Havarti cheese
Directions
Place 1 cracker each in 4 small mason jars.
Add mozzarella balls, cornichons, grapes, and green olives to each jar.
Poke a skewer through a slice of salami and Havarti cheese in a decorative fashion.
Repeat with the remaining salami and Havarti cheese to make a total of 4 skewers.
Add the skewers to the jars and serve.
Nutrition
| | |
| --- | --- |
| Calories per Serving | 408 |
| Total Fat | 31.0 g |
| Saturated Fat | 15.8 g |
| Trans Fat | 0.2 g |
| Cholesterol | 104.3 mg |
| | |
| --- | --- |
| Total Carbohydrates | 6.2 g |
| Dietary Fiber | 0.5 g |
| Total Sugars | 2.5 g |
| Sodium | 1,208.7 mg |
| Protein | 25.9 g |