Is Golden Corral Open On Christmas Day?
Picture this: The marathon of merriment that is the modern Christmas season is winding down. You've sung, sparkled, baked, bought, wrapped, and unwrapped, and everyone is hugging and expressing gratitude and joy, basking in the warm glow of this cherished holiday. You and your awesome family are savoring every minute of this festive experience. And now it's time to feed them, and you are just about fed up. You've done all the requisite prepping and baking and presenting, and the thought of one more meal extravaganza is not bringing visions of sugarplums to your holiday head.
If you are contemplating foregoing all the cooking and cleaning that Christmas dinner can entail, there are options for you. Quite a few restaurants, ranging in prices and menu options, are open on Christmas Day, according to Taste of Home. And if you'd rather check out a buffet than order a la carte, you're in luck. The perennial buffet favorite Golden Corral has you covered, offering up some of its brightest and best menu items, like banana pudding, sweet corn pudding, and cheesy scalloped potatoes.
Buy Christmas dinner, with all of the fixings, at Golden Corral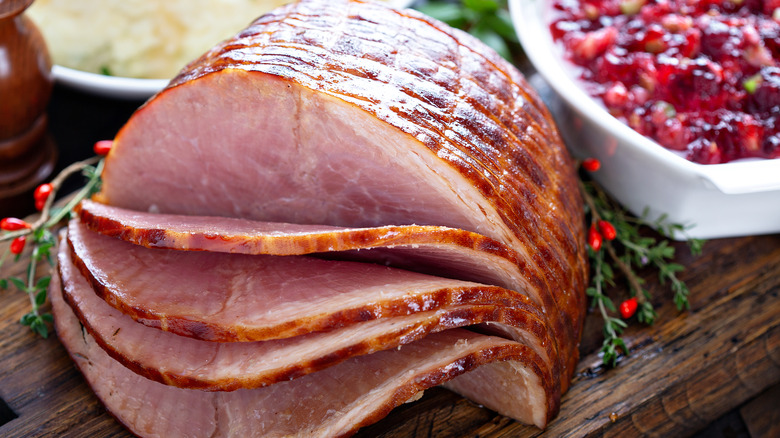 Elena Veselova/Shutterstock
Sites such as Holiday Shopping Hours says that Golden Corral will indeed be open on Christmas Day, though we say it is best to call ahead and confirm the hours of operation at your favorite locale through the contact information on the chain's website. Depending on your area, some locations may not be open, while others may be operating on a takeout-only model. In Dallas, for example, the chain will offer holiday meals to go through Christmas Eve, reports CultureMap.
At the Golden Corral restaurants that will be open on the holiday, expect to find the buffet's most popular items, like meatloaf and pot roast. Just in time for the festivities, the chain will also be offering holiday glazed ham and hand-carved turkey, according to the website. If you want your special feast to include multiple sides and desserts — and don't want to put in the effort that preparing all that fare would require — this buffet chain would definitely be the way to go. From heaping helpings of rolls with honey butter to sweet fruit cobbler, Golden Corral's dishes just might put the perfect little bow on your happy holiday package.