The Biggest Christmas Food Faux Pas You Can Commit In The Teigen-Legend Household - Exclusive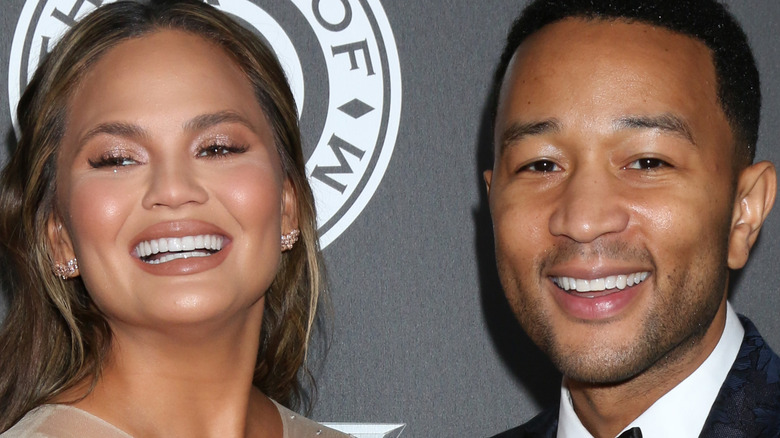 Kathy Hutchins/Shutterstock
Chrissy Teigen and John Legend have come to certain agreements about the holidays and the traditions they hold close to year after year. It's a big "yes" to Pepper Teigen's bacon-laden scalloped potatoes, Tyler Florence's Beef Wellington recipe, Chrissy's breakfast tradition for oven-baked Christmas morning pancakes, and even sometimes Mickey D's. It's also a "yep" to stockings filled with edible treats, and an array of hearty pies (particularly Teigen's sweet potato streusel pie). 
You may even catch Chrissy, John, and the kids watching The Rockettes in New York City close to the holidays. (Today documented that particular tradition in 2017, and Daily Mail confirmed that the family was back at it in 2021.) Though, it's a hard no to turkey — unless, as Teigen shared on Instagram — it's made out of popcorn balls and smothered in candy corn.
What else? "Oh, goodness," Teigen reflected in an exclusive interview with Mashed. "We don't try to set too many rules when it comes to the holidays." There is one holiday food faux pas, however, that will never, ever be broken in the Teigen-Legend household this time of year.
The one food rule Chrissy Teigen and John Legend follow during the holidays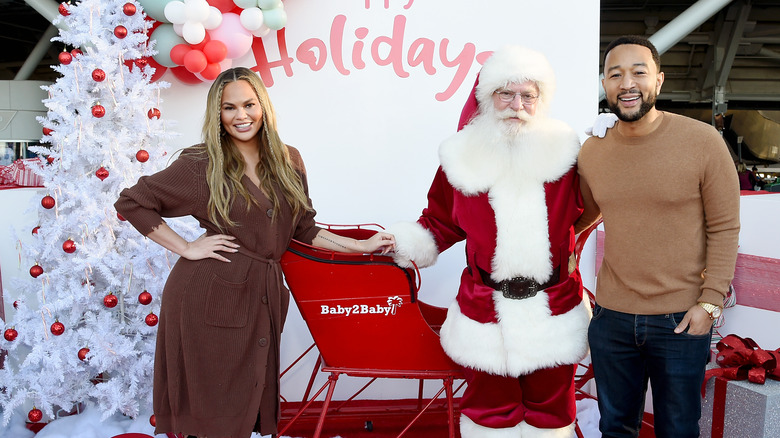 Michael Kovac/Getty Images
That rule: Never break with tradition. "I love keeping things very traditional, I don't like a lot of change when it comes to the holidays," said Teigen during the Mashed interview. So you will never find her or John Legend trying out a new figgy pudding recipe on Christmas Day. And you won't find Teigen testing out recipes for another New York Times best-selling cookbook this time of year either. As they said, there is no wiggle room for trial and error during the holidays — and their holiday food traditions are non-negotiable. 
"No newness for the holidays," Teigen affirmed. "The holidays are no time for experimenting! Winning recipes only. It's the big game day, you don't just try new things." Husband John Legend agreed. "You do old faithfuls," he advised. "Don't try to introduce too much room for error into your recipe. ... You've seen all the Twitter memes of aunties being mad that someone put some extra ingredients in the mac and cheese. I think it's a good time to keep it traditional." 
Want more Christmas traditions from Chrissy, John, and family? You can find Chrissy & John's Specially Curated 12 Days of Chexmas Holiday Countdown and other Chex holiday recipes, as well as hosting hacks, crafts, a gift guide, and be entered for a chance to win John and Chrissy's Ultimate Holiday Gift Haul valued at over $500, by scanning QR codes on limited-edition holiday boxes of Chex cereal or by heading directly to 12daysofchexmas.com.