The Holiday Dessert Ree Drummond Can't Get Enough Of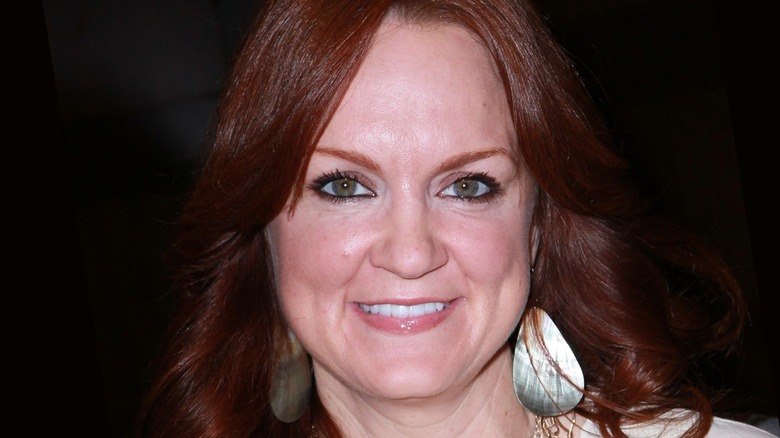 David Livingston/Getty
The holiday season is in full swing, and if you are still looking for that perfect dessert to bring to a party or to be the focal point of your sweet table, Ree Drummond has just the treat to tempt you. The Pioneer Woman is always offering up go-to dessert recipes that will please a crowd, impress friends, or help wrap-up date night on a sweet note, and we think this holiday classic that Drummond is crushing on is just one more to add to your must-have list.
What we love about this dessert is how it utilizes one of the most beloved flavors of the season: pumpkin. We realize that Starbucks may stop promoting their beloved Pumpkin Spice Latte when December rolls around, but that doesn't mean our craving for this flavor just disappears. A few years back, Danny Brager, senior vice president of alcohol beverage at Nielsen, explained to Fortune, "When you think of pumpkin, there's such a deep and intrinsic connection with the flavor and the fall." But once we get past November, many people move on to flavors that echo Christmas, like peppermint, sugar cookie, and gingerbread. Well, winter doesn't officially stake its claim to the calendar until December 22, so if you love the taste and just can't get enough of it, Drummond's pumpkin roll cake is just what you need.
All you need to make it is a sheet pan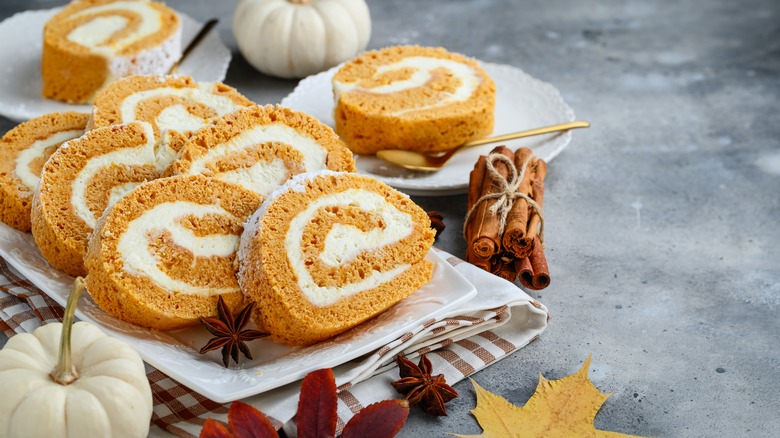 rom_olik/Shutterstock
The lifestyle guru shared her recipe for what she calls "the most beautiful pumpkin dessert of all" on her Pioneer Woman website. Drummond goes on to describe the cake, or what she affectionately refers to as a "Swiss roll" as being filled with a cinnamon-spiked cream cheese frosting — which could make any mouth water. What makes this roll cake a little more accessible to home cooks is the fact that it uses a half-sheet pan instead of a jelly roll pan. Translation: You don't need to go out and buy any new kitchen gear to create this dessert.
If you think it looks too difficult to make, Drummond quickly reassures fans not to be "intimidated." In fact, she says, "You don't need to be a star baker to nail the technique. If you read through the instructions and work quickly, you're well on your way to baking and rolling a picture-perfect pumpkin roll." Drummond explains that all of the hard work really happens right after you take the cake out of the oven. Namely, you need to roll it while it is still hot so it doesn't crack. Additionally, she says you need your frosting to be a light consistency so it spreads easily. 
People seem to love it, with one fan writing in the comments, "Wow! This is perfect and so delicious. Thanks you for the great recipe. Love." We concur. What a great way to keep pumpkin a part of your holidays. Thanks Pioneer Woman!