Nearly 22% Want To See This Appetizer At A Christmas Party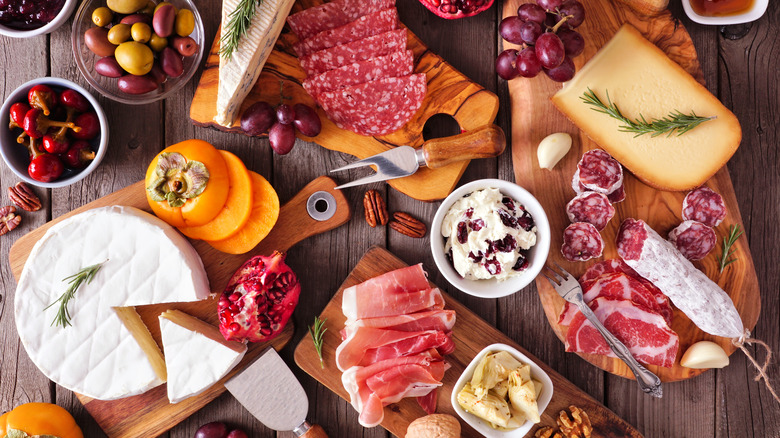 JeniFoto/Shutterstock
Christmas parties are about more than just gifts, decorations, and family time. Whether you're hosting a holiday party or attending one, everyone can agree one of the highlights of seasonal festivities are all the delicious foods. There are charcuterie boards galore, decorated with heaps of cured meat, hunks of cheese, and gourmet crackers. There's the honey baked ham, glistening with a sticky sweet glaze fresh out of the oven and served with fluffy rolls and creamy mashed potatoes. And of course, there are the endless tins and plates of homemade Christmas cookies, pies, cakes, and other assorted treats.
At many Christmas parties, you'll also find a plethora of appetizers and finger foods (hors d'oeuvres, if you're feeling fancy). But which ones would most guests prefer to dig into before the main course? Mashed polled more than 600 people in the U.S. to determine the most requested appetizer at holiday festivities. Here's which one nearly ¼ of respondents chose as their favorite pre-dinner bite.
Deviled eggs are the most popular holiday appetizer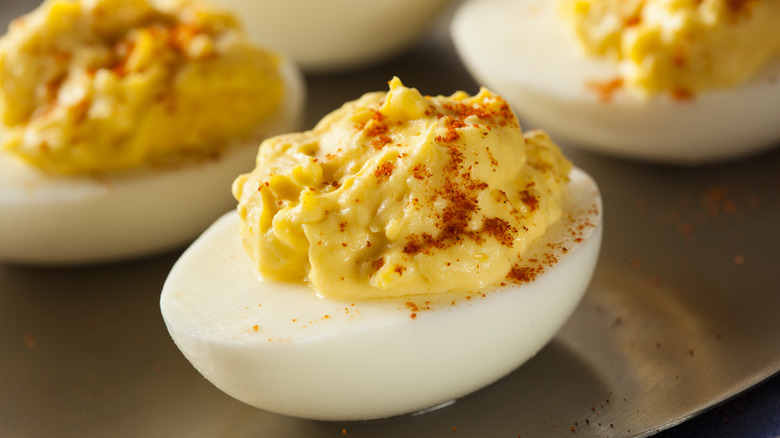 Brent Hofacker/Shutterstock
If you're like a lot of people, you'll be excited if you pull up to a Christmas party and find a platter of deviled eggs waiting for you. According to Mashed's poll results, the creamy bites are the most popular holiday appetizer, with almost 22% of people choosing it as their top pick. A party staple, deviled eggs are simply hard-boiled eggs sliced in half, whose yolks have been whipped with mayonnaise and (traditionally) sprinkled with paprika. However, it's one of those dishes you either love or hate — a PopSugar poll found people's opinions on deviled eggs are pretty divided, with 55% saying they love them and 37% saying they hate them (the remaining votes were undecided).
As for how other popular party appetizers stacked up in our poll? The classic cheese board took second place, with 19% of the votes, followed by bacon wrapped scallops and shrimp cocktail, both of which received 13%. Mini meatballs and spinach artichoke dip weren't close behind, with 11% and 10% of the votes, respectively. Last place went to baked Brie, which surprisingly only 9% of people dubbed their favorite appetizer to find on the table at Christmas.