Aldi Predicts This Surprising Trend Will Rule Charcuterie Boards In 2022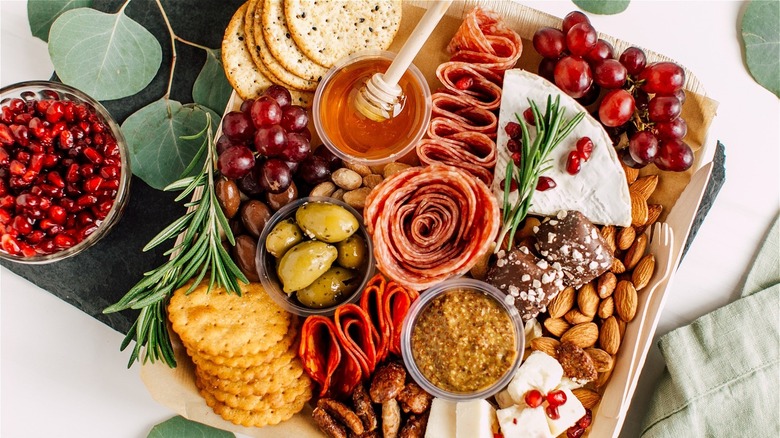 Katheryn Moran/Shutterstock
According to EatCuredMeat, traditional charcuterie dates back to the 15th century. But in a report shared with Mashed, the Aldi Charcuterie Board of Directors (CBoD) shared that, in the last year alone, this food item has skyrocketed in popularity by nearly 300%.
In 2021, people have gotten especially creative in assembling their charcuterie boards. A traditional one typically has meats and cheeses, usually accompanied by some nuts, olives, and wine. Furthermore, we usually enjoy charcuterie boards as an appetizer before a bigger meal (via Pampered Chef Blog). But, as the year did with many other things, 2021 has challenged a lot of our older customs.
Now, charcuterie boards can range in all sorts of shapes and sizes. Some popular trends in 2021 were the "fiesta theme," laden with chips and guac, and the "single-serve," which is both aesthetic and functional. If you have more of a sweet tooth, you could also enjoy "breakfast charcuterie," which includes flapjacks and French toast, or a dessert variation with s'mores, ice cream, and fruit.
The charcuterie trend that's up-and-coming for 2022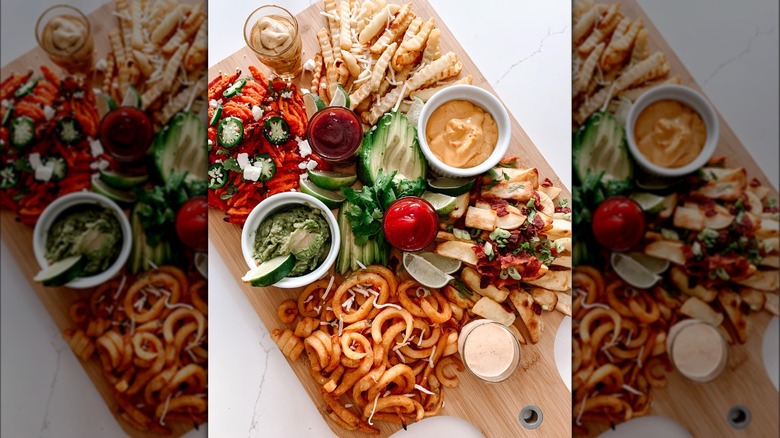 Aldi
It is safe to say that 2021 has taught us many things, including that charcuterie boards can come in all different shapes and sizes. And, the Aldi CBoD already has a handful of predictions for charcuterie trends in 2022.
One that stood out in particular was an "All Eyes on Fries" variation, which is made up of shoestring, waffle, steakhouse, and veggie fries and tater tots. As we all know, french fries can be enjoyed in many different ways, with some people even enjoying it with aioli and ranch over traditional ketchup. Which is what makes this charcuterie trend so great, since you can serve up endless amounts of sauces and dips from honey mustard to barbecue. Heck, you can even slice up some avocado to add some color and creaminess to the board. Additionally, with this type of display, you can include every single type of french fry there is, so you'll be able to satisfy everyone. And yes, that includes even the sweet potato fans!
Furthermore, with this option, vegans don't have to be left out of the mix. Despite traditional charcuterie boards containing dairy and meat products, you can easily substitute these items with plant-based equivalents on the french fry board. But, if you're a bit of a traditionalist and need lots of cheese, you might want to give the "melted cheese" charcuterie board a try. In general, for your holiday party this year, it's best to get creative with your usual go-tos. And if you need any further inspiration, check out these Instagram accounts for more unique ideas.