Taco Bell Fans Won't Want To Miss The New Chipotle Cheddar Chalupa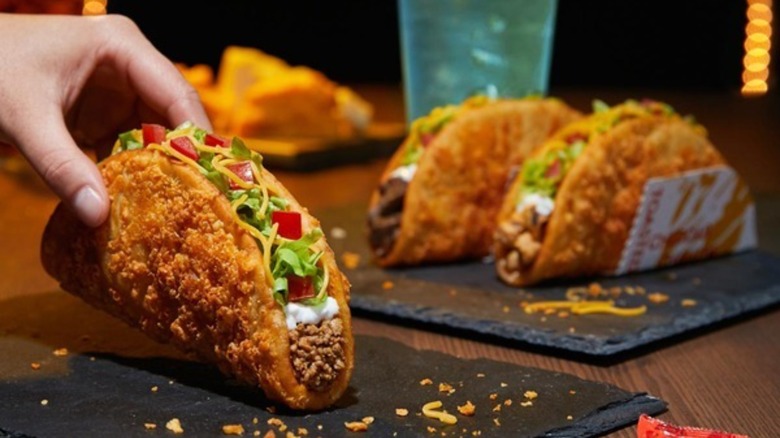 Taco Bell
Taco Bell has news for its fans: according to Thrillist, the restaurant is planning to introduce its customers to a new version of its popular dish, the Chalupa. Taco Bell fans will be able to confirm that this is one item that the brand has experimented with on multiple occasions. Customers have been treated to such varieties as the Naked Chicken Chalupa, a vegetarian alternative called the Naked Chalupa, and even an extra-long version dubbed the Triplelupa.
Per Chew Boom, in September last year, Taco Bell launched the Toasted Cheddar Chalupa, a dish that included ingredients such as seasoned beef, reduced-fat sour cream, cheddar cheese, lettuce, and tomatoes "in a Chalupa shell with six-month aged cheddar [that was] toasted directly onto the shell." This menu item received good reviews from a number of Instagram users. One commenter going by the name of youcanjustcallmeeric offered a pretty vivid description: "The exterior reminds me of the slightly singed superficial layer atop some fancy Mac 'n Chees[e]. It's light, crunchy, and delicious." They even suggested that Taco Bell had "another hit on their hands." Now, the chain is introducing a new cheddary Chalupa to try.
The Chipotle Cheddar Chalupa might be even cheesier
As reported by Thrillist, Taco Bell is getting ready for one of its newest items called the Chipotle Cheddar Chalupa. As you may have guessed from the name, it has a creamy chipotle sauce. Customers will have the option of ordering their Chalupas with fillings such as seasoned beef, black beans, chicken, or steak. The beef and black bean varieties are priced at $3.59. The chicken version is available for $3.99 while the most expensive option is the steak Chalupa at $4.19. The Chipotle Cheddar Chalupa is expected to be cheesier than its predecessors.
The Chalupas will be launched at Taco Bell outlets around the U.S. on December 23 and are only available for a limited period of time. So if you plan on trying it out, it's best to grab one while supplies last. According to Today, Taco Bell is also planning to add some more items to its restaurants such as the Crispy Chicken Wings (for just a week), the Beefy Melt Burrito, the Fiesta Veggie Burrito, and more.